Prominent appeals court judge accused of sexual harassment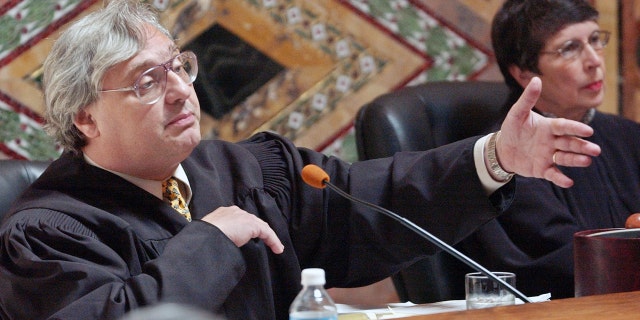 NEWYou can now listen to Fox News articles!
A former chief judge on the U.S. Court of Appeals for the Ninth Circuit has been accused of sexual harassment by multiple women who worked as clerks or externs on the court.
The claims against Alex Kozinski, 67, were first reported by The Washington Post. Two of the women told the Post that Kozinski asked them to look at pornography on a computer in his chambers. Four other women claimed he made inappropriate comments or subjected them to inappropriate behavior.
The accusations against Kozinski were reported in the same week that three members of Congress -- Rep. John Conyers, D-Mich.; Sen. Al Franken, D-Minn.; and Rep. Trent Franks, R-Ariz. -- announced they would resign or retire amid allegations of sexual misconduct.
One of the women, former clerk Heidi Bond, told the Post that Kozinski showed her pornographic images on at least three occasions and asked her if they aroused her.
Bond, who writes romance novels under the pen name Courtney Milan, posted a longer account of Kozinski's behavior online. She wrote that the judge once showed her a piece of paper listing names of women he and his friends had sex with while in college.
"Don't tell your co-clerks about this," Bond wrote that Kozinski told her. "It's not something I want them to know about."
On another occasion, Bond wrote, Kozinski forbid her from reading romance novels on her dinner break. When she protested, he told her, "I control what you read, what you write, when you eat. You don't sleep if I say so. You don't s--- unless I say so. Do you understand?"
"There was nothing to say but this: 'Yes, Judge,'" Bond wrote.
Another former clerk, Emily Murphy, told the Post that Kozinski approached her at a reception where she had been discussing training regimens with other clerks and suggested that she work out naked. When Murphy tried to change the subject, she said Kozinski steered the conversation back toward nudity.
"It wasn't just clear that he was imagining me naked, he was trying to invite other people — my professional colleagues — to do so as well," Murphy told the paper. "That was what was humiliating about it."
In a statement to the Post, Kozinski said, "I have been a judge for 35 years and during that time have had over 500 employees in my chambers. I treat all of my employees as family and work very closely with most of them. I would never intentionally do anything to offend anyone and it is regrettable that a handful have been offended by something I may have said or done."
After the Post report was published, other members of the legal community reacted on social media. Civil rights attorney Alexandra Brodsky tweeted that Kozinski's behavior was "an open secret."
"In law school, everyone knew, and women didn't apply to clerk for Judge Kosinski [sic] despite his prestige and connections to the Supreme Court," she wrote. "I always felt the men who took their places were traitors."
The Romania-born Kozinski was appointed to the federal bench by President Ronald Reagan in 1985. He served as chief judge on the San Francisco-based Ninth Circuit between 2007 and 2014.
The Ninth Circuit Court of Appeals handles cases for nine Western states, including Alaska and Hawaii, as well as Guam and the Northern Mariana Islands. It has drawn criticism from some conservatives, who claim many of the judges are politically biased toward liberal positions.
Click for more from The Washington Post.