Probe Into Palin Appearance Is Politically Motivated, Critics Say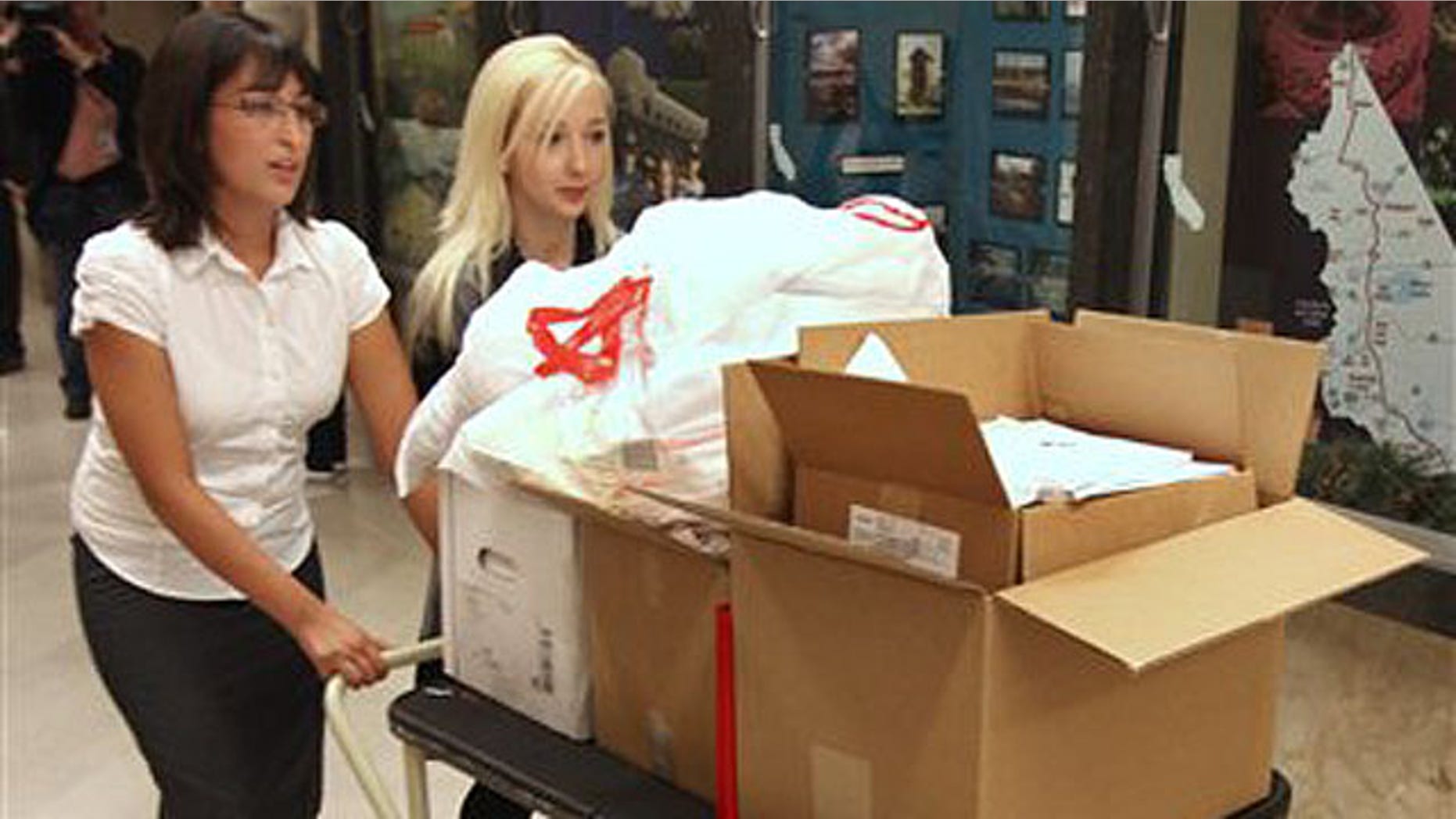 The investigation into a California university foundation that hired Sarah Palin to give a speech this summer is politically motivated, critics say.
California Attorney General Jerry Brown's office announced Tuesday it will investigate California State University Stanislaus and its foundation for its handling of a contract related to a $500-per-plate speech Palin will give there in June.
A five-page portion of the contract, which detailed some of Palin's stipulations for her speech, was widely publicized this week after students said they discovered it in a campus Dumpster. But the school says it was stolen from a campus recycling bin.
Brown, a Democrat who was governor of California from 1975 to 1983 and is running for governor again this year, said his office launched its probe to ensure "prudent financial stewardship" at a time when universities face decreased funding and increased student fees. He maintained the investigation has nothing to do with Palin, but critics say it appears to be motivated by partisan politics -- and not fiscal responsibility.
Bill Whalen, a research fellow who specializes in state and national politics at Stanford University's Hoover Institution, a public policy research center, questioned why Brown is devoting his time to the investigation when it's not clear exactly how the documents were acquired.
"This is probably not worth the attorney general's time," Whalen told FoxNews.com, adding that Palin is a "convenient target" for the Democrat. "Brown needs to get the Democrats a little more enthusiastic and is rallying them to his side. A story like this angers Democrats, so Jerry Brown, being on their side with this, it puts him in touch with more Democrats. It's as simple as that."
Whalen also questioned why Brown is continuing his investigation when university officials have said all funds for the event have been privately raised.
"It begs another question," Whalen continued. "It seems premature for him to jump into this."
Neal McCluskey, associate director of the Center for Educational Freedom at the Cato Institute, a libertarian Washington-based think tank, said he found it "very hard to believe" that Palin herself wasn't a motivating factor in Brown's investigation.
"It's very hard to believe that the initial objection of Sarah Palin wasn't about the politics, that the Dumpster diving for her contract wasn't motivated by politics, and now, that the investigation by Jerry Brown also isn't motivated by politics," McCluskey said.
"That said, it is plausible, certainly, that this is about trying to investigate very expensive speaking contracts," he continued. "And the difficulty is it's hard to really know for sure what it is."
The probe could merely be a "very thin disguise" on Brown's behalf to quash freedom of speech "under the guise of fiscal responsibility," said McCluskey, adding that the investigation might help Brown's campaign.
"Whenever somebody running for office can get their names in the newspapers and their face on TV, that's beneficial to them," he said. "But again, the flip side is that this is a legitimate concern for some people, or could be for anybody. How much is being spent?"
Palin's compensation for speaking at CSU Stanislaus has not been disclosed, but Brown noted that she earned $100,000 for speaking in February at a Tea Party convention in Nashville, Tenn. Brown has said his investigation is not about politics.
"This is not about Sarah Palin," he said in a statement released Tuesday. "She has every right to speak at a university event, and schools should strive to bring to campus a broad range of speakers. The issues are public disclosure and financial accountability in organizations embedded in state-run universities. We're not saying any allegation is true, but we owe it to the taxpayers to thoroughly check out every serious allegation."
Hamid Shirvani, the university's president, said a portion of the contract between a school foundation and Palin was stolen last week from the office of Susana Gajic-Bruyea, vice president for university advancement.
"Susana threw the pages into her recycling bin in her office some time ago," Shirvani said. "Somebody either broke into her office to get them or it was somebody who had access to her office."
Shirvani has asked police in Turlock, Calif., to investigate the matter.
Brown launched his investigation after two students said they found pages of the contract in a campus Dumpster. One of the students, Ashli Briggs, 23, said Shirvani's theft allegation was completely unfounded.
"It's a sad day when the university is accusing its own employees, its own students of committing a crime," Briggs said.
Shirvani said the students' claims that the documents were thrown away were preposterous and likened the controversy to political theater. All funds for the event have been privately raised by the school's foundation, he said.
"We're getting attacked over political ideology," Shirvani said. "If this was Michael Moore or Al Gore, forget it, nobody would ever ask us about the contract."
Matt Swanson, board president of the California State University Stanislaus Foundation, told Fox News on Thursday he feels the attorney general's investigation is "absolutely political" and said the university foundation is merely trying to raise funds in difficult economic times.
"We're thrilled to have Governor Palin coming," Swanson said. "It's been tremendous for our fundraising, and that's what we're here to do. We're here in difficult economic times in the state of California university system and the California state at large. We're here to fill the financial gap for students and services on this campus."
State Sen. Leland Yee, D-San Francisco, has called on Shirvani to provide answers surrounding Palin's speech and to explain Palin's visit requirements, as described in the contract, of a hotel suite, first-class airfare or a private Lear jet, pre-screened questions and "bendable straws" for her water bottles at the campus lectern.
"President Shirvani needs to stop the double-talk and start explaining the vast irregularity and impropriety surrounding his office," Yee said in a statement released on Thursday. "California taxpayers and CSU students deserve answers now."
University officials have told Yee they did not have documents related to the speech and referred the matter to Swanson, who cited a nondisclosure clause of Palin's contract. He also added that university foundations are not subject to the same public records requirements as universities themselves.
Swanson said the attention surrounding Palin's visit was somewhat surprising.
"When you say the words Sarah Palin, you know that there's going to be excitement," he told Fox News on Thursday. "But we didn't know we'd have this much excitement."
Herb London, president of the Hudson Institute, a conservative Washington-based think tank, said he also found the probe to be excessive.
"I think it's outrageous," he said. "It demonstrates something about the liberal sensibility that seems to dominate university life."
Palin, a Fox News contributor, was unavailable for comment.
The Associated Press contributed to this report.