Princeton Police: We're Not Going To Cooperate With Federal Immigration Agents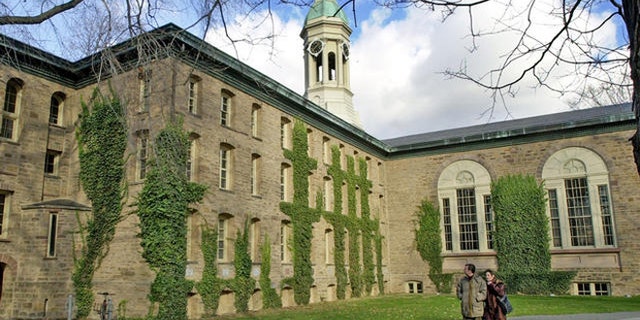 Weeks after federal immigration officials raided a home in Princeton, N.J., bypassing a routine courtesy of informing local police in advance, the town's authorities are assuring residents that they are not involved in immigration enforcement.
The Princeton Police Department is issuing an official resolution that establishes its policy of not taking part in raids by federal immigration agents. The department also has adopted a policy of not checking the immigration status of people who are arrested for non-violent crimes, according to the Daily Princetonian, the student newspaper.
The move comes after some members of the town council urged the department to clarify the boundaries between their duties and those of federal immigration agents, the publication said.
Princeton Police Capt. Nick Sutter said, according to the Princetonian, that the resolution's objective was to drive home the point in town, which is home to a growing undocumented population, that law enforcement officials "are not all the same."
"We [as local police] have a different charge than the federal authorities do," Sutter added.
In September, agents with Immigration and Customs Enforcement, the federal agency charged with arresting and deporting undocumented immigrants, raided a Princeton home looking for a resident named Jose Ramirez. The man's roommate called local police to let them know what had happened.
Sutter said that he did not want residents to lump together ICE agents and local police officers. Princeton officials have expressed concern that such confusion in the immigrant community can compromise the trust that people need to have in order to report a crime when they are victims or witnesses.
The resolution, Sutter said, was meant "to increase the trust and acceptance of the police department in all the communities."
As efforts to reform the U.S. immigration system have stalled in Congress, and deportations occur at record rates under the Obama administration, several local jurisdictions around the country have adopted policies of not turning over people to ICE who may be in the country illegally.
Princeton, at the urging of active immigrant advocacy groups, also has taken other steps to reach out to undocumented residents.
In 2010, local officials began issuing community identification cards that undocumented residents could use in town for identification.
Though the cards are not considered government IDs, they were endorsed by the local police department and the Mercer County sheriff's office.
Follow us on twitter.com/foxnewslatino
Like us at facebook.com/foxnewslatino