President Obama to Award Two Posthumous Medals of Honor to Korean War Vets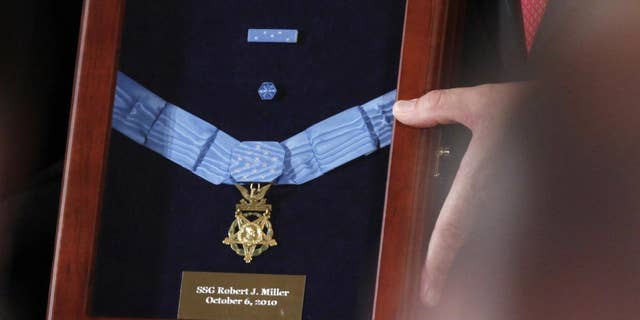 NEWYou can now listen to Fox News articles!
Nearly 60 years after they heroically served in the Korean War, President Obama will honor two soldiers at the White House next month with the highest military decoration awarded by the United States government.
Private First Class Anthony T. Kaho'ohanohano, and Private First Class Henry Svehla, who both served in the U.S. Army, will receive the Medal of Honor posthumously in a ceremony attended by their families May 2nd.
Kaho'ohanohano selflessly held-off enemy forces solo while his company changed position. After running out of ammunition and grenades, he fought face to face with enemy combatants until his death. In a statement the White House said, "His heroic stand so inspired his comrades that they launched a counterattack that completely repulsed the enemy."
Private Svehla charged into battle while serving in the Republic of Korea, causing many casualties to the advancing enemy. Of his heroic actions, the White House said in a statement, "When an enemy grenade landed among a group of his comrades, without hesitation and undoubtedly aware of the extreme danger, he threw himself on the grenade."
Siblings of Kaho'ohanohano and Svehla will attend the White House and join President Obama in honoring their brothers' service and sacrifice.
Most recently, President Obama awarded Staff Sergeant Salvatore Giunta the Medal of Honor. He became the first living service member from the Iraq or Afghanistan wars to receive the high award.
The qualifications for medal of honor recipients include bravery above and beyond those of one's comrades as well as risk to one's own life. "There must be incontestable proof of the performance of the meritorious conduct, and each recommendation for the award must be considered on the standard of extraordinary merit," says the White House. For those reasons, most recipients of the highest honor are awarded posthumously.