President Obama Hosts Spiritual Father of 300 Million Orthodox Christians at the White House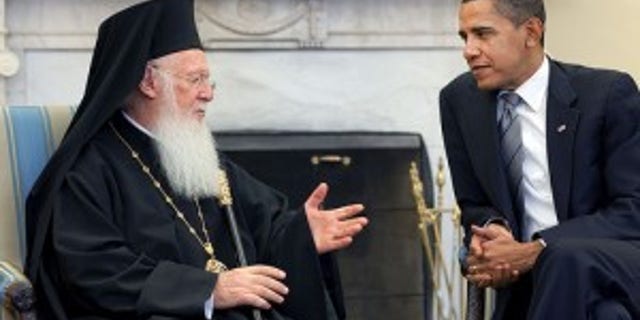 NEWYou can now listen to Fox News articles!
President Obama met privately this morning with His All Holiness Ecumenical Patriarch Bartholomew, who has served in that role for 18 years as spiritual father of the roughly 300 million Orthodox Christians worldwide.
His All Holiness is known as the "Green Patriarch" for being a leading environmentalist, and hosted a conference on the environment in New Orleans when he arrived in the United States almost two weeks ago.
While the Ecumenical Patriarch and the president discussed the environment, the more complicated issue is the ongoing struggle by Orthodox Christians for religious freedom in Turkey. The Turkish government has refused to recognize Bartholomew as being the worldwide leader of his Church, has insisted on being involved in the selection in future Patriarchs, and has confiscated thousands of properties belonging to the Orthodox Church.
This was their second meeting after Mr. Obama met with Ecumenical Patriarch Bartholomew in Istanbul on April 7th.
After the meeting, I asked His All Holiness about his priorities during his time here in Washington, and he said meeting with the highest representatives of the Obama administration is part of that - noting that he just met with Mr. Obama, he'll meet with Vice President Biden tomorrow, and will have dinner with Secretary of State Hillary Clinton on Thursday. The Ecumenical Patriarch is also due to meet with Congressional leaders on Wednesday.
"This is an honor for us, for our Church, and it is a concrete sign of the respect the American administration has for institutions with long history and valuable service to the human kind such as the Ecumenical Patriarchate," Patriarch Bartholomew said. "The Ecumenical Patriarchate is not simply the religious center, the center creating civilization, it has contributed much to the European culture and civilization. It is there. We must not forget it. It is there in Istanbul, the former Constantinople for 17 entire centuries. This interest of the White House is well understood."