President Boosts Community Colleges but Critics Say Money is Wasted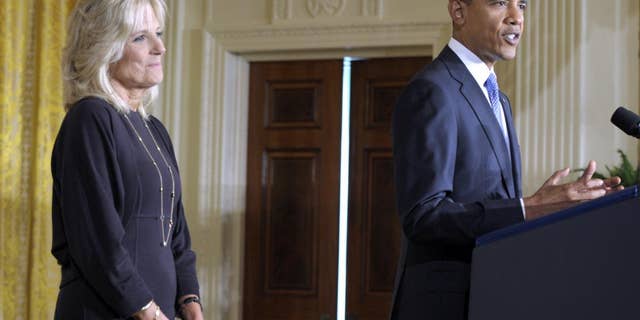 President Obama says community colleges are the "unsung heroes of the American education system," and he's counting on them to produce an additional five million graduates over the next 10 years, as part of his goal of regaining America's leadership in global college graduation rates. But critics say his $2 billion down payment on achieving that goal would be better spent on career colleges, which have almost three times the graduation rate as two-year institutions.
Mr. Obama spoke at the start of a White House gathering of educators, business leaders, philanthropists and federal and state officials, hosted by Vice President Biden's wife, who is a community college professor. Dr. Jill Biden calls community colleges "one of America's best kept secrets" and says she's working hard to make sure that's no longer the case, visiting community colleges across the country to spotlight their achievements.
Dr. Biden announced Tuesday several major businesses: Gap Inc., United Technologies, Accenture, McDonald's and Pacific Gas and Electric, will partner with community colleges to help them do a better job of training students for positions businesses want to fill. Mr. Obama says community colleges are particularly well suited to take on that goal, partly because they're more likely to be located in the communities where the businesses are located and partly because their curricula are more flexible.
The Coalition for Educational Success, a group of smaller, for-profit colleges and technical institutions, says the administration is "unnecessarily shortchanging millions of students" by excluding career colleges from the partnership. The group says students need more higher education choices not less.
Also today, the Bill and Melinda Gates Foundation announced a $35 million program called "Completion by Design," intended to boost community college graduation rates. Administration officials say just 25 percent of community college students get an associate's degree or transfer to four-year institutions. Career colleges, by contrast, graduate 58 percent of their students and three quarters of them find jobs within six months of graduation.
The president sees his community college initiative as part of the effort to lay a foundation for stronger, long-term economic growth. He notes jobs that require associate degrees are growing twice as fast as those that don't require any college at all. But career college officials say their training comes at less of a cost to taxpayers. And for some community colleges, like Northern Virginia Community College, where Dr. Biden teaches, the graduation rate is so low, less than 15 percent, that the taxpayers' cost per graduate exceeds $70,000. The taxpayer cost for career college graduation rates averages about $8,000.
Still, the soaring cost of four-year college tuition and the difficulty the recession presents in affording it are making community colleges a more viable alternative, according to Dr. Biden. And the president says his $2 billion commitment will help community colleges that are "under pressure to cap enrollments and cut costs" because of state budget cuts forced by the recession.
The community college event also gave Mr. Obama a chance to criticize Republicans, who've pledged to cut education spending and repeal a federal takeover of education loans. He compared potential education cuts to "unilateral disarmament" in the global economic battle, and made clear a recession is the wrong time to raise the cost of education loans.