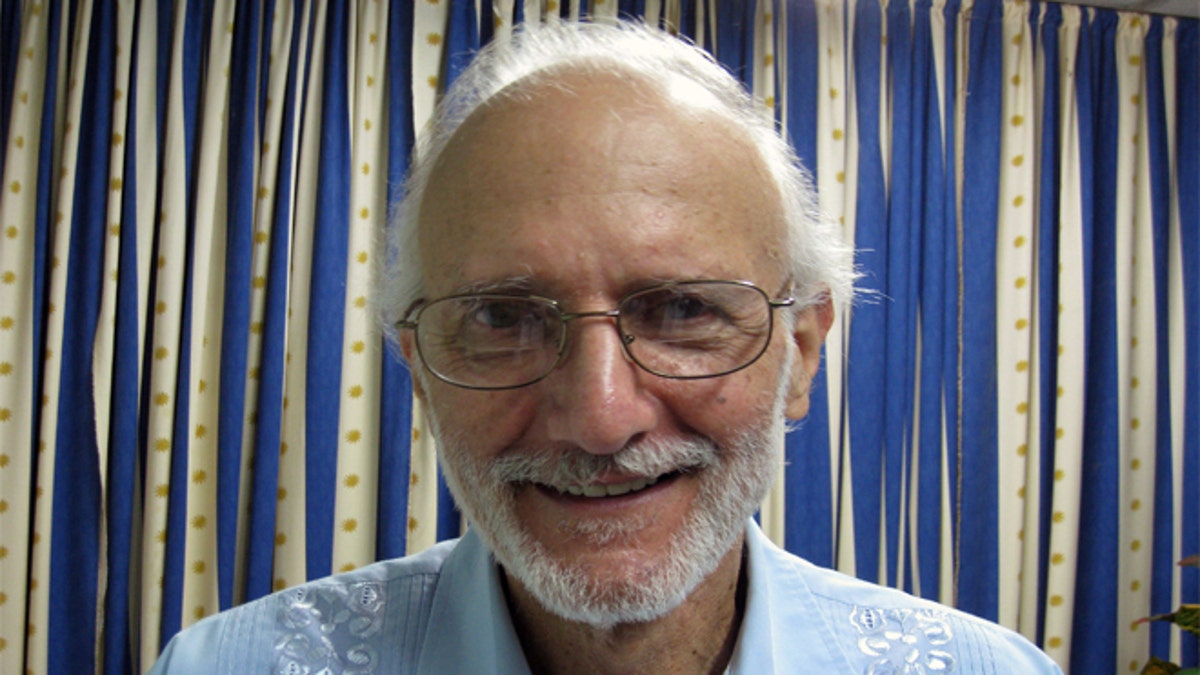 Popcorn, a corned beef sandwich and latkes were waiting on the plane when Alan Gross boarded in Havana, on his way home after five years in a Cuban prison.
Hours later, the 65-year-old former government worker was in his attorney's office in Washington, speaking briefly to the media and thanking a long list of people for bringing his ordeal to an end.
"This is great," Gross said to himself as he entered the press conference, before touching an American flag behind a podium. Then, he looked up at the swarm of reporters gathered to hear his first public comments since a sudden diplomatic breakthrough resulted in his release.
"Happy holidays, on this first night of Hanukkah," Gross said, his smile revealing severe dental damage that is just one of the health issues he suffered while imprisoned on the island nation. "So far it's the best Hanukkah ever.
"What a blessing to be a citizen of the United States of America," he added. "Thank you President Obama, for everything you have done today."
[pullquote]
A senior Obama administration official told Fox News that Gross was "released on humanitarian grounds by the Cuban government at the request of the United States."
Senior administration officials said Obama spoke with Cuban leader Raul Castro for more than 45 minutes on Tuesday, the first substantive presidential-level discussion between the U.S. and Cuba since 1961. The flurry of diplomatic activity also included Obama's pledge to take several executive actions, including expanding travel and economic ties to the island. According to a White House document, the U.S. government would raise remittance levels and authorize certain travel to Cuba, as well as start of review of Cuba's designation as a state sponsor of terrorism.
Gross thanked his wife, Judy, and attorneys who worked for his release for their "relentless and often intense efforts to free him. He also thanked several lawmakers who championed his cause after he was arrested in 2009 while in Cuba to work with the U.S. Agency for International Development (USAID) under a federally funded program that involved setting up computers and phones for the nation's Jewish community. Cuban officials accused him of being an American spy, and he was convicted of "acts against the independence or the territorial integrity of the state" and sentenced to 15 years in prison.
"I want to thank all of the members of Congress from all sides of the aisle who supported, spoke up for, and visited me, subjected themselves to my ranting, and helped me to regain some of my weight. Even in Cuba, M&Ms melt in your mouth, not in your hand.
Gross was first informed on Tuesday night over the phone by his attorney and was in a state of silent shock before replying; "I'll believe it when I see it."
The next morning, he was on a U.S.-bound plane with his wife, Sen. Patrick Leahy, D-Vt., and other lawmakers. The government plane was headed for Andrews Air Force Base, as he enjoyed some of the snacks and foods that he had gone without for half a decade.
At 8:45 a.m., the pilot announced that they had official left Cuban airspace. Gross stood up and took a deep breath. During the rest of the flight, he called and spoke with both of his daughters and told them, "I'm free."
At the base, Gross was greeted by Secretary of State John Kerry, who joined him as they watched a late morning press conference in which President obama announced his new diplomatic plans regarding Cuba.
"I was very happy to hear what the President had to say today – it was particularly cool to be sitting next to the Secretary of State as he was hearing about his job description for the next couple of months," Gross said. "In all seriousness, this is a game changer which I support.
"To President Obama and the NSC staff, thank you," Gross said later. "In my last letter to President Obama, I wrote that despite my five-year tenure in captivity, I would not want to trade places with him, and I certainly would not want to trade places on this glorious day. Five years of isolation notwithstanding, I did not need daily briefings to be cognizant of what are undoubtedly incredible challenges facing our nation and the global community.
"I also feel compelled to share with you my utmost respect for and fondness of the people of Cuba," he added. "In no way are they responsible for the ordeal to which my family and I have been subjected.
"To me, Cubanos, or at least most Cubanos, are incredibly kind, generous, and talented. "It pains me to see them treated so unjustly as one consequence of two governments' mutually belligerent policies. Five and a half decades of history show us that such belligerence inhibits better judgment; two wrongs never made a right."