Biden builds on momentum with Michigan and Missouri wins, in blow to Sanders
NEWYou can now listen to Fox News articles!
Joe Biden swept to victory in Michigan's pivotal primary contest Tuesday, while notching wins elsewhere in the Midwest and the South, building on the former vice president's momentum from Super Tuesday a week ago and further clouding Sen. Bernie Sanders' path forward in the presidential race.
Saying America needs a president who "believes in empathy and compassion and respect for everyone," rather than one bent on divisiveness, Biden sounded a measured tone as he addressed supporters in Philadelphia late Tuesday.
WATCH: BIDEN CALLS DETROIT AUTO WORKER 'FULL OF SH--' ON DAY OF MICHIGAN PRIMARY
"To all those who are knocked down, to all those who have been counted out, left behind -- this is your campaign," Biden said, his remarks frequently looking ahead to November's general election. "Just a few weeks ago, many of the pundits had declared this candidacy dead. Now we're very much alive."
Biden acknowledged "there's a way to go," but said it looks like "we're gonna have another good night."
It is too early to project a winner in North Dakota or Washington state, where polls have now also closed. With 67 percent of precincts reporting in Washington state, the two candidates were locked at 33 percent each. (Washington has vote-by-mail balloting, and other candidates who have since suspended their campaigns, including Elizabeth Warren, Michael Bloomberg and Pete Buttigieg, received votes prior to Tuesday.)
But Biden quickly claimed victories Tuesday night in Missouri and Mississippi, as well as Michigan, the largest delegate prize of the night. The Associated Press called the race in Idaho for Biden shortly after midnight, as well.
Biden was up 53 percent to 38 percent in Michigan with roughly 86 percent of precincts reporting; he was posting even larger margins of victory in Mississippi and Missouri as of late Tuesday night. With these three wins alone, Biden was likely to substantially grow his delegate lead over Sanders, even as the results of the three other races remain outstanding.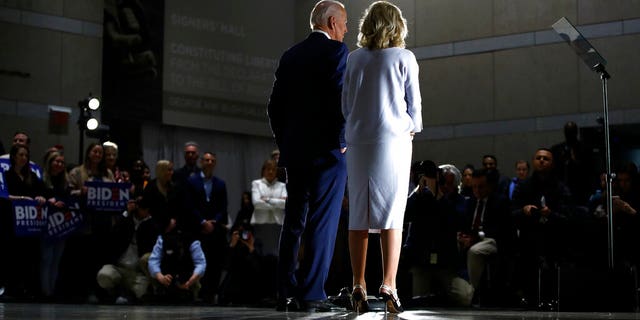 The win in Michigan, in particular, was a body blow to Sanders, who narrowly pulled off an upset in the state four years ago against Hillary Clinton and had fought anew to demonstrate his appeal in the vital Rust Belt state this time around. The Midwestern battleground state helped send President Trump to the White House.
Biden, in his remarks, seemed to extend a hand to Sanders supporters -- thanking the candidate and his voters for their "tireless energy and their passion."
"This campaign is taking off, and I believe we're gonna do well from this point on," Biden said, adding that he wouldn't take "anything for granted."
"Donald Trump's 'America First' policies made America alone," Biden went on, citing the U.S. withdrawal from an international climate change agreement. "Four more years [of Trump] would forever and fundamentally change the character of this nation. We can't let that happen."
Biden noted that he had canceled a planned rally in Ohio due to the coronavirus, following the guidance of local authorities. Sanders did the same.
'Just a few weeks ago, many of the pundits had declared this candidacy dead. Now we're very much alive.'
But Sanders' campaign said he would not speak publicly at all Tuesday night -- the first time the candidate has declined to address supporters in the aftermath of a primary vote this campaign season.
"There's no sugar coating this. It's a tough time for the movement," Rep. Alexandria Ocasio-Cortez, D-N.Y., one of Sanders' most prominent surrogates, said on Instagram.
The upcoming March 17 primary in Florida is expected to be challenging for Sanders as well.
Separately, House Majority Whip Rep. Jim Clyburn, D-S.C., told NPR that the Democratic National Committee should "shut this primary down" so that Biden doesn't get "himself in trouble" and into a situation he "cannot overcome." A debate is scheduled for March 15.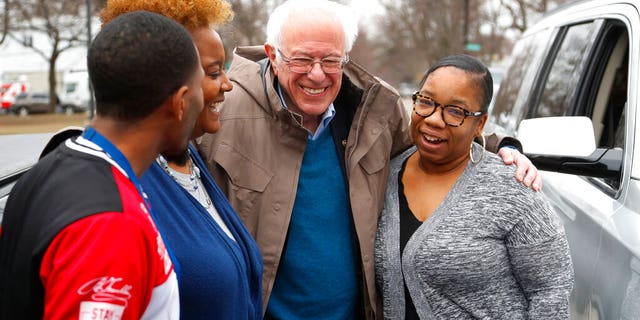 "I think when the night is over, Joe Biden will be the prohibitive favorite to win the Democratic nomination, and quite frankly, if the night ends the way it has begun, I think it is time for us to shut this primary down, it is time for us to cancel the rest of these debates — because you don't do anything but get yourself in trouble if you continue in this contest when it's obvious that the numbers will not shake out for you," Clyburn said.
Andrew Yang, the former presidential contender who backed Sanders in 2016, endorsed Biden live on-air Tuesday night as the results came in.
"I believe that Joe Biden will be the Democratic nominee, and I've always said I will support whover the nominee is, so I hereby am endorsing Joe Biden to be not just the nominee for the Democratic Party, but to be the next president of the United States," Yang, now a CNN political analyst, began. "The math says Joe is our prohibitive nominee. We need to bring the party together. We need to start working on defeating Donald Trump in the fall."
The Trump campaign, meanwhile, declared the primary race to be essentially moot, and pointed to what it has called Biden's cognitive decline.
"It has never mattered who the Democrat nominee turns out to be, and now that there are only two options left, it is clear that they are two sides of the same coin," Trump campaign manager Brad Parscale said in a statement. "The Democrat candidate for president will be running on a big government socialist agenda regardless of the name on the ballot. It is also clear that the Democrat establishment has rallied around the confused Joe Biden in an effort to deny the nomination to Bernie Sanders. Either way, President Trump is on an unstoppable drive toward re-election."
In the Michigan Republican primary, with results incoming, Trump had already received more votes than any "other incumbent president seeking re-election since Ronald Reagan," the Trump campaign announced.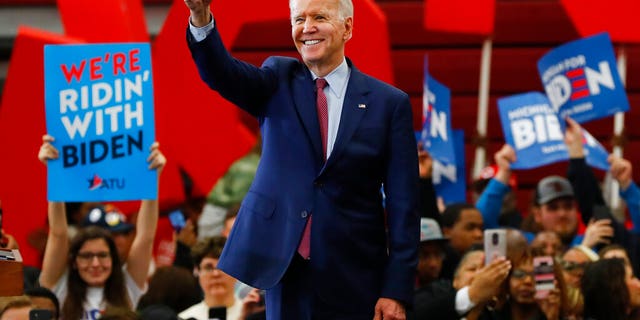 On the Democratic side, Michigan is worth 125 delegates, and Mississippi and Missouri award 36 and 68 delegates, respectively. In all, 352 delegates were up for grabs on "Super Tuesday 2.0."
Tuesday marked the first time voters weighed in on the Democratic contest since it effectively narrowed to a two-person race between Sanders and Biden, with Rep. Tulsi Gabbard still in the contest but trailing far behind.
The day began inauspiciously with Biden berating a worker at a Detroit auto factory and calling him "full of sh--", but it ended with an apparent signal that Democratic voters don't see Biden's repeated gaffes and stumbles as disqualifying.
"You're the best damn workers in the world," Biden shouted through a megaphone while touring the Detroit auto plant as workers in hard hats chanted, "Joe! Joe!"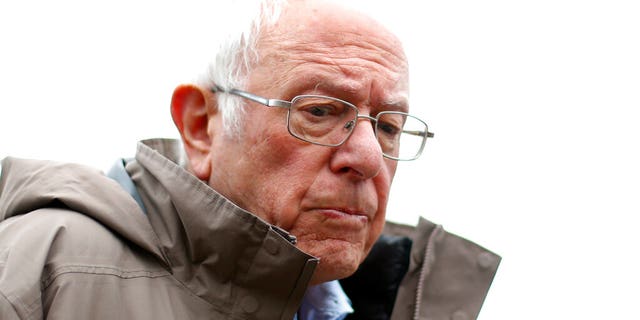 Biden now frequently ticks off the names of six former presidential rivals who have endorsed him just in the past week, saying he is "the candidate that they think can win." The former vice president has campaigned in recent days with two of them, Sens. Cory Booker and Kamala Harris, and appeared with Michigan Gov. Gretchen Whitmer.
All three have been mentioned as possible vice presidential picks.
WATCH: AT FOX NEWS TOWN HALL, SANDERS TAKES ON BIDEN, CLINTON
While rallying at the auto plant, Biden was interrupted repeatedly by protesters angered by Biden's support for the North American Free Trade Agreement and reluctance to embrace sweeping environmental proposals outlined in the Green New Deal. In a scuffle with demonstrators, Biden senior adviser Symone Sanders was knocked to the ground but was unhurt. Less than a week ago, she tackled a protester who rushed the stage as Biden spoke in California.
During the earlier confrontation Tuesday, Biden unloaded the expletive on a worker and seemingly threatened to slap him when he accused Biden of "actively trying to end our Second Amendment right." That was a reference to Biden's informal naming of Beto O'Rourke, who has vowed to take all Americans' AR-15 rifles, to lead his gun-control initiatives.
"Do you need 100 rounds?" Biden asked, after berating the worker. Biden's official gun control plan reinstates the assault weapons ban and includes a voluntary buyback program for assault weapons, stopping short of a mandatory buyback program that some of his opponents had supported in the primary.
Trump won Michigan by only about 10,000 votes in 2016. That was even closer than Pennsylvania or Wisconsin, which, along with Michigan, are credited with handing the president a narrow Electoral College victory even as Hillary Clinton clinched the popular vote.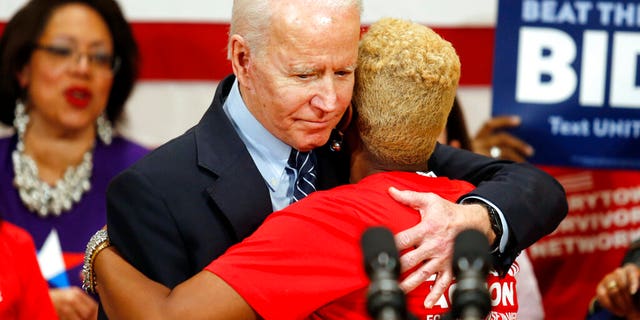 Sanders, who added credibility to his insurgent 2016 primary challenge against Clinton with a win in Michigan, had predicted he'd emerge victorious there on Tuesday. If he can't recover soon, he'll be in danger of becoming essentially a protest candidate as Biden piles up a wide lead in delegates to the Democratic National Convention this summer in Milwaukee.
SANDERS RELEASES DETAILS ON HOW HE'D PAY FOR MAJOR PROPOSALS -- ARE THERE ISSUES?
Although he has rejected notions he could drop out of the race if Tuesday goes badly, Sanders was visiting polling stations in Detroit on Tuesday, scrounging for late-breaking supporters. He's said he's now battling the "Democratic establishment" and scoffed at suggestions that so much of the party's elite supporting his opponent means Biden is more electable.
"In a general election, which candidate can generate the enthusiasm and the excitement and the voter turnout we need?" Sanders asked. "If you want to defeat Trump, which all Democrats do and the majority of independents do and some Republicans do, we are that campaign."
Fox News' Tyler Olson and The Associated Press contributed to this report.