Petition for Sheriff Arpaio's Resignation Gets Thousands of Signatures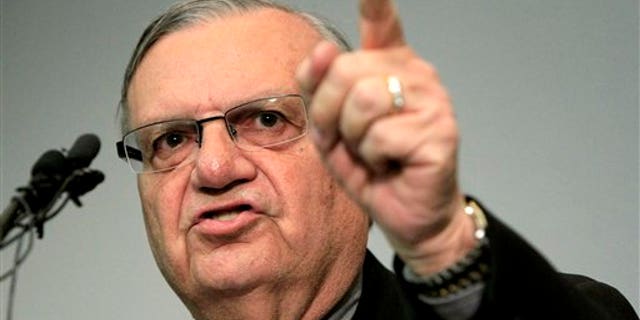 An online petition calling for the resignation of a controversial sheriff in Arizona has amassed 13,500 signatures in its first two weeks, say organizers.
The petition, which is on the www.change.org, seeks the resignation of Maricopa Sheriff Joe Arpaio, who has made national headlines with his tough handling of inmates and undocumented immigrants.
A key reason for the petition, according to organizers, is what they characterize as Arpaio's office's disregard for constitutional rights. The letter that is part of the petition cites the Maricopa County Sheriff's Office failure "to investigate hundreds of sex-crime cases involving children," which it says "is just one in a long list of atrocities that have taken place during Arpaio's 20 years in power."
Arpaio has come under fire for a variety of reasons in recent weeks. The accusations range from botching sex crime cases to singling out Latinos for tougher enforcement. Intensifying the heat on Arpaio was the death last week of an inmate who had to be rushed to a hospital after he was found unresponsive at the jail run by Arpaio's office. The man, Ernest Atencio, 44, died after being taken off life support, and his family is considering suing Arpaio.
"All of that put together has led so many people to join the campaign," said Jackie Mahendra, director of organizing for Change.org, which describes itself as an online platform for social change. "The petition has spread though social media, through e-mail."
"The next step is to deliver the signatures," she said.
Last week, a federal judge barred the sheriff's deputies from detaining people based solely on the suspicion that they're in the country illegally.
The ruling sets the stage for a possible trial in a lawsuit that alleges racial profiling among law enforcement officers in Maricopa County, and would further limit Arpaio's authority after Washington yanked his federal powers to enforce immigration laws earlier this month.
Arpaio has denied the racial profiling allegations, saying people pulled over in the patrols were approached because deputies had probable cause to believe they had committed crimes and that it was only afterward that deputies found many were illegal immigrants.
Lawyers pushing the lawsuit on behalf of five Latino clients also won class-action status that lets other Hispanics join the case if they have been detained and questioned by Arpaio's deputies as either a driver or passenger in a vehicle since January 2007.
Arpaio's attorney said last week that he plans to appeal and that deputies will comply with the ruling while continuing to enforce immigration-related laws.
U.S. District Judge Murray Snow hasn't yet ruled on the ultimate question of racial profiling, but notes the case's evidence could lead a judge or jury to conclude that Arpaio's office racially profiles Latinos.
"Sheriff Arpaio has made public statements that a fact-finder could interpret as endorsing racial profiling," Snow said.
The judge noted that the sheriff has said that even without authority to enforce federal immigration laws, his officers can detain people based upon their speech or they appear to be from another country.
The Change.org petition, an effort begun by a freelance writer, comes after officials with the Citizens for a Better Arizona were pushing for the Board of Supervisors in Arpaio's district to pass a resolution that seeks his ouster.
The board members have budgetary authority over the sheriff, but don't have the power to fire Arpaio.
The sheriff, who is seeking re-election in 2012, has rejected other resignation calls.
This story contains material from The Associated Press.
Follow Elizabeth Llorente on Twitter: @Liz_Llorente
Elizabeth Llorente can be reached elizabeth.llorente@foxnewslatino.com
Follow us on twitter.com/foxnewslatino
Like us at facebook.com/foxnewslatino