Pete Domenici, former New Mexico GOP senator, dead at 85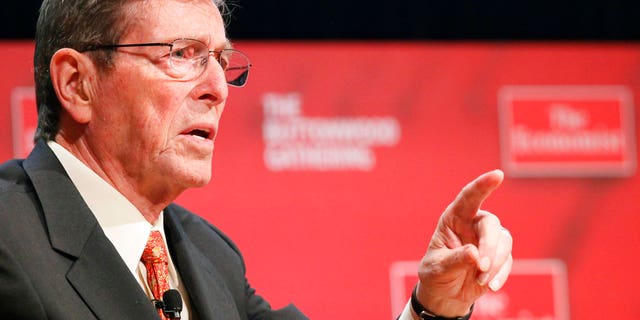 NEWYou can now listen to Fox News articles!
Pete Domenici, the longest-serving senator from New Mexico, died on Wednesday, Fox News confirmed. He was 85 years old.
The former longtime Republican senator recently underwent abdominal surgery and was placed in intensive care after a recovery setback, the Albuquerque Journal reported.
"He is out of pain and we all feel good about that," the Domenici family told the newspaper. "We are grateful for all of the people who helped here at the hospital and elsewhere."
Domenici was former chairman of the budget committee and served six terms as senator from 1973 to 2009. He declined to seek a seventh term in 2008 after revealing he had been diagnosed with an incurable brain disorder.
The Albuquerque-born son of Italian immigrants carried a consistent message of fiscal restraint from his first term in 1972 until leaving office in early 2009.
He even refused once to buckle to President Reagan, who wanted him to delay the budget process.
In a 1996 interview, Domenici said: "I am not just a Republican senator, it is not a Republican role...The facts are, when I got elected, I got elected by a lot of Democrats."
Former President George H.W. Bush had also considered him for vice president.
Senate Majority Leader Mitch McConnell expressed his condolences on Twitter Wednesday afternoon.
"The Senate is saddened today w the news of the passing of our friend Senator Pete Domenici. We offer our deepest condolences to his family," McConnell tweeted.
Fox News' Chad Pergram and The Associated Press contributed to this report.