Pentagon May Allow Recruits With Undocumented Relatives To Enlist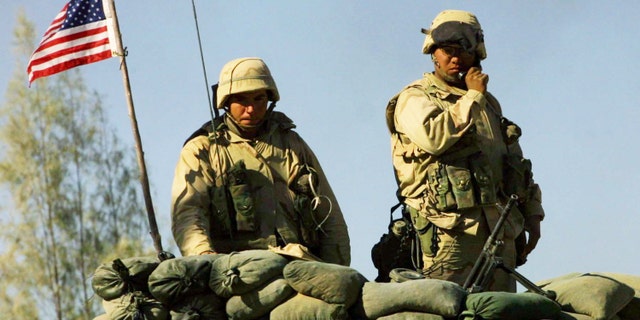 The Marine Corps and Navy may begin allowing applicants who have undocumented spouses and children to enlist, according to Military.com
The possibility hinges on a review by the Pentagon of policies, followed by the Marine Corps and the Navy, that block applicants from serving because of a spouse or children who are not in the country legally.
The decision to review, Military.com said, followed a Nov. 21 letter by a bipartisan group of 33 congressional members expressing concerns about policies that shut out certain U.S. citizens from military service.
Also last month, the Obama administration said it was going to suspend deportation for children, spouses and parents of U.S. military service members and veterans, and give them a parole status that would allow them to stay.
The Army and Air Force do not follow policies that bar U.S. citizens with undocumented relatives from enlisting, Military.com said.
Maj. Gen. Thomas Seamands, the Army's director of military personnel management, said the Pentagon review results will be sent to the congressional members in about two months.
U.S. Rep. Luis Gutierrez, one of Congress's most vocal proponents in favor of immigration reform that would provide a path to legal status for many of the estimated 11 million undocumented immigrants, said qualified applicants should be allowed to enlist, regardless of the legal status of their relatives.
"I have constituents who are serving with distinction in the armed forces whose spouses or parents are under threat of deportation," Gutierrez said through a spokesman Tuesday, according to Military.com. "As a policy, it makes no sense and it makes no sense to bar citizens from serving their country because of an undocumented family member. I am glad the Pentagon is taking our bipartisan inquiry seriously."
Follow us on twitter.com/foxnewslatino
Like us at facebook.com/foxnewslatino