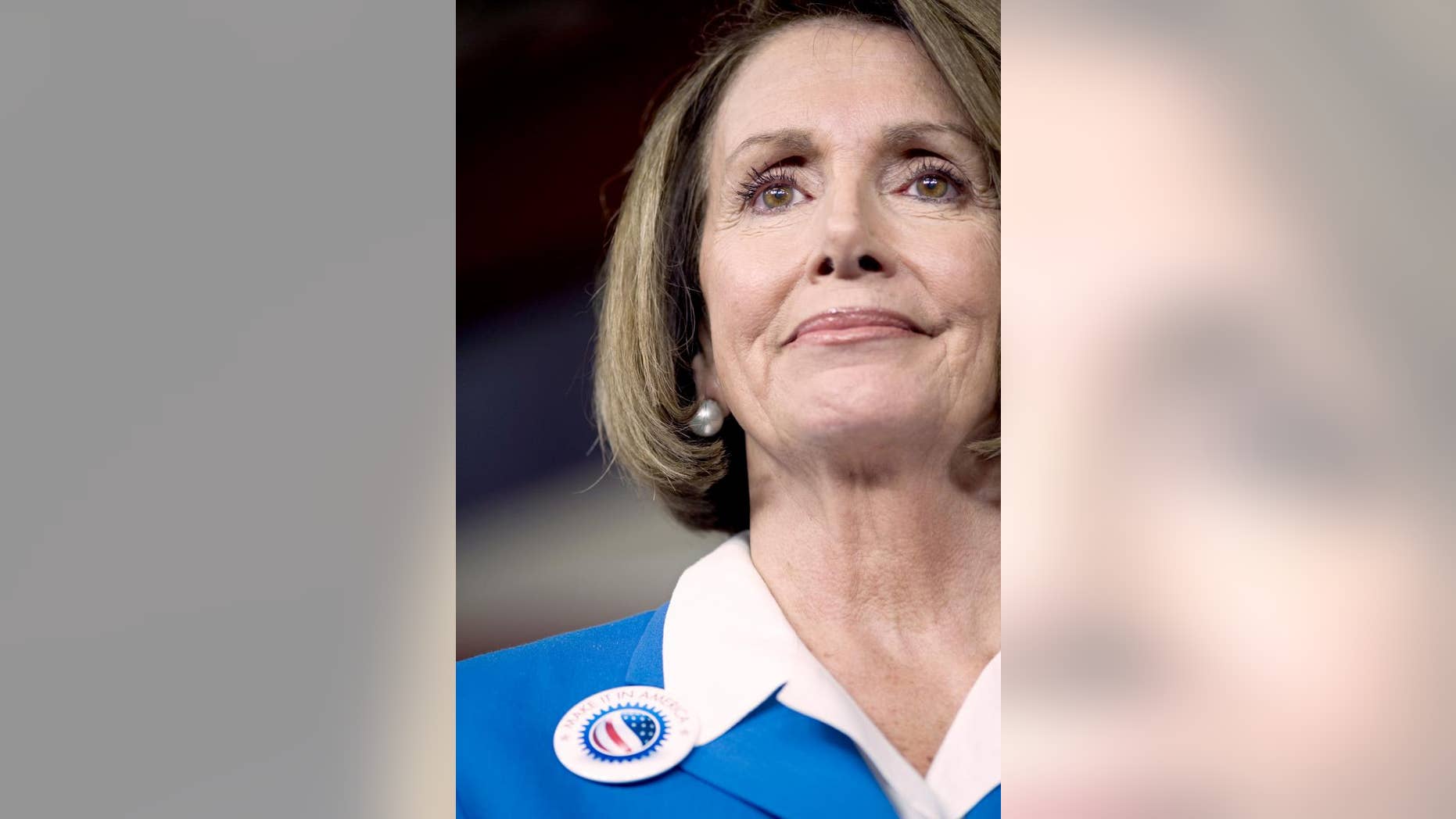 Republicans think they've figured out who can help them win control of the House of Representatives this fall.
And it's not House Minority Leader John Boehner (R-OH).
Instead, it's the woman Boehner hopes to succeed, current House Speaker, Nancy Pelosi (D-CA).
Candidates for the House of Representatives generally don't have a running mate. But tell that to dozens of Democratic House candidates around the country.
The National Republican Congressional Committee (NRCC) crafted anti-Pelosi TV commercials to run in 47 districts. They weld the Democratic nominee to the unpopular Speaker. In some cases, Pelosi practically appears as though she's on the ballot in districts ranging from Indiana to Tennessee.
"This is a referendum on her," said a Republican House aide.
In the vernacular of the banking industry, Republicans believe Pelosi is a "toxic asset." Which perhaps explains why a growing list of moderate House Democrats say they wouldn't support Pelosi for speaker again.
"Nancy Pelosi has near universal name ID and high unfavorable ratings in every competitive race across the country," said NRCC spokesman Ken Spain. "She is the face associated with these unpopular policies."
But Democrats argue that the GOP is targeting the California Democrat for other reasons.
"Republicans and their special interest allies have attacked Speaker Pelosi with an unprecedented level of money for one reason - she's effective," said Jennifer Crider, Deputy Executive Director of the Democratic Congressional Campaign Committee (DCCC).
Republicans have toiled in the minority in the House for nearly four years. And since Democrats vanquished Republicans from the majority, the GOP has labored to inform the country that Pelosi is Speaker of the House and tar her at every turn.
Gasoline prices started skyrocketing in the summer of 2008. President Bush was still in office. However, Republicans held news conferences and even handed out bumper stickers alleging that drivers were now paying the "Pelosi Premium." Later that summer, Republicans excoriated Pelosi for shuttering the House chamber in August to prevent them from debating gas prices. Never mind that the House democratically voted to adjourn. But no matter. Republicans were working overtime to define the Speaker of the House.
Now the midterm elections are just weeks away. Most Americans know who Nancy Pelosi is. And 56 percent of them view her unfavorably.
Compare those stats to the last GOP Speaker of the House. Few Americans even knew the name of former House Speaker Dennis Hastert (R-IL). And even fewer knew enough about Hastert to have much of an opinion about him.
Pelosi may only be up for re-election in her home district of San Francisco. But her policies are on the ballot all over the country.
This is called nationalizing an election. And in particular, it's nationalizing an election around a specific, polarizing figure.
For instance, Republicans erected billboards targeting Rep. Ron Klein (D-FL). The Klein billboard shows him as a puppet manipulated by strings pulled by Pelosi.
In western Tennessee, Democrat Roy Herron is running against Republican Stephen Fincher. Rep. John Tanner (D-TN) is retiring after 22 years in office. But even though Herron has never served a day in Congress, Republicans are linking Herron to Pelosi.
The speaker is the central theme of an anti-Herron TV ad concocted by the NRCC. A graphic declares that "Roy Herron sides with Nancy Pelosi." It goes on to say that "Herron and Pelosi would oppose the repeal of Obamacare." The spot ends with this invitation: "Want to put the brakes on Pelosi? Vote against Ron Herron."
Republicans have even tried to trump Democrats who run away from the speaker.
"I don't work for Nancy Pelosi," brags Rep. Mike McIntyre (D-NC) in his ad. Yet Republicans lifted that line from McIntyre's commercial and aimed it right back at him.
"But he voted with her 90 percent of the time," the ad goes, noting the North Carolina Democrat supported last year's controversial stimulus bill.
"Start fighting for North Carolina jobs. Not Nancy Pelosi," the ad warns.
In southwest Pennsylvania, Republican hopeful Tim Burns has targeted Pelosi since a May special election to fill the seat once held by the late-Rep. Jack Murtha (D-PA). In fact, some political handicappers argued that Burns' use of Pelosi in his advertisements was one of the reasons Rep. Mark Critz (D-PA) defeated him.
In one spot, Burns asks the viewer "Why am I running for Congress? Meet one of the biggest reasons." He then gestures over his shoulder as an image of Pelosi fills the screen.
In another commercial, Burns shows a picture of the speaker and the president as he discusses environmental legislation. Later, a photo of San Francisco's Golden Gate Bridge comes into focus behind him, followed by Pelosi.
Republicans use geography to their advantage with these anti-Pelosi messages. That's why they implement visual cues like the Golden Gate Bridge. The bridge is iconic. But it nudges voters to fill in their own blanks about what they think about Pelosi and the city she represents.
In other words, it's more than just a shot of the Golden Gate Bridge. For instance, a picture of a San Francisco emblem might help a voter conjure images of pot-smoking hippies in Haight-Ashbury while listening to Jefferson Airplane. Those are "San Francisco" values and they don't mesh with the values of rural America. So Republicans use San Francisco as a fulcrum to undercut Pelosi and the Democratic candidate.
Interestingly, Rep. Jim Marshall (D-GA) swipes a page from the GOP playbook. In his commercial, an announcer speaking with a southern drawl states that "Georgia is a long way from San Francisco," as pictures of flower children adorn the screen.
"Jim Marshall doesn't support Nancy Pelosi," the announcer continues, highlighting a series of votes where the Congressman opposed the speaker on key issues.
Republicans are also using candidates' voting records to wed them to Pelosi. The graphic in one commercial reveals that Rep. Ben Chandler (D-KY) "votes with Pelosi 94% of the time." But there is a slight variation in the voice track. As the "94%" graphic pops onto the screen, the narrator says "Ben Chandler votes with Pelosi's leadership 94 percent of the time."
It's a small but important distinction. But here's why it's done that way: it's easy to assert that someone "votes" with Pelosi. But tradition dictates that the Speaker of the House only votes a fraction of the time. That helps maintain the "independence" of the speakers. The House has voted 565 times this Congress. But Pelosi has voted just less than 100 times. Hastert voted 120 times during the last Congress he was speaker.
So, Chandler did not really vote 94 percent of the time with Pelosi. But he certainly voted 94 percent of the time with the "leadership" that Pelosi heads.
Few viewers will catch that nuance. And the graphic, which is technically inaccurate, probably overwhelms the narration.
But Pelosi isn't the only political chimera for Republicans this fall.
Democrat Trent Van Haaften is running to succeed Rep. Brad Ellsworth (D-IN). Ellsworth is making a bid for the Senate. The GOP zeroes-in on Van Haaften by tying him not only to Pelosi, but others.
The commercial asks which politician would have endorsed a bloated budget, higher taxes and voted to nearly double his salary.
"Nancy Pelosi? Barack Obama? Harry Reid?" the narrator asks, invoking the holy trinity of the Democratic establishment.
Then the announcer claims Van Haaften made those votes in the Indiana state legislature.
"With his bad habits, he'd fit right in," the announcer concludes about Van Haaften.
It's only natural that Republicans are angling for Pelosi this fall. Democrats did the same with former House Speaker Newt Gingrich (R-GA). The average American knew little about Gingrich when he became speaker in 1995. But that all changed a few months later. And Democrats tried to link GOP candidates to Gingrich, whose "brand" was far more toxic than Pelosi's.
Interestingly, the attempts to demonize Gingrich never helped Democrats win the House back.
"There's a reason those ads didn't work then," said one House Democrat. "And they won't work now, either."