Overcoming fear, thousands of immigrants line up for a driver's license in California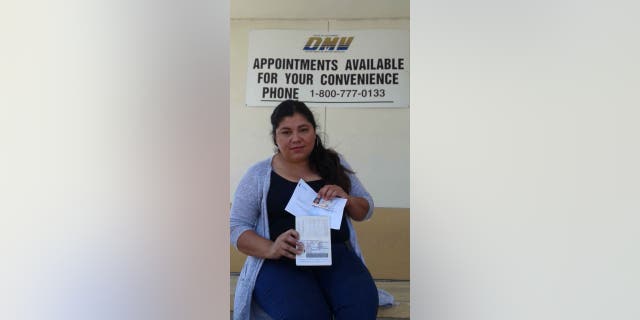 NEWYou can now listen to Fox News articles!
For the past five years, Carmela Gonzalez was scared every time she got behind the wheel.
"I would make the sign of the Holy Cross," she said in Spanish. "My mom would always tell me, 'trust in God, everything is going to be all right.'"
She no longer has to put herself in his hands.
In March, Gonzalez walked into her local Department of Motor Vehicles (DMV) office, Mexican passport and a utility bill in hand, and applied for a driver's license as an undocumented immigrant – protected by the law AB60.
The bill, known as the Safe and Responsible Driver Act, was signed into law by California Governor Jerry Brown in 2013 and promised to grant all California residents, including undocumented immigrants, the ability to get a driver's license. It went into effect on January 1.
"The process was a little bit long," the 39-year-old mother of four said. "But I did it!"
Gonzalez only started driving because of necessity. For 10 years, she took the bus to get where she needed to go. But, as her kids got older and began participating in extracurricular activities, the bus was no longer a viable option. Tired of asking people for rides, she decided to learn how to drive. But in doing so, she said, she also put herself at risk.
"I panicked whenever I would see a policeman next to me. I felt like my heart was going to come out of my chest if someone was behind me," Gonzalez, who lives in Orange County, California, said.
Some are criticizing the law, saying it makes roads dangerous.
"Driving is a privilege, not a right. It (AB60) makes it easier to let them live here and work here," said Ira Mehlman, media director for the Federation for American Immigration Reform. "They're in violation to immigration laws…the other concern is that the state becomes complicit to letting people establish false identities; we don't know who these people are, they can provide false information."
Esmeralda Lazcano, who was brought to the U.S. at age 2, said that without a license she's never truly felt like a Californian.
"We want to work and want to drive, but we're scared that the cops are going to pull us over, so we just ask for another ride or just walk," said Lazcano, 21, to kcra.com.
Lazcano said that getting a driver's license is step forward in achieving her goal of ultimately becoming a citizen.
"With this open now, it feels like I have more opportunities in life now," Lazcano said. "I'm thinking about going to college now, better work."
Gonzalez and Lazcano are among the roughly 397,000 AB60 applicants to get a license in the first six months of the year. The DMV issued a total of 435,000 licenses in the first six months of 2014.
The new law initially generated huge interest, with long lines at DMV offices in January and February. The DMV expects to see about one million more applicants over the next three years who are covered under the new law.
"We hope that all of those people will be able to pass the testing and have the necessary documents to obtain" a license, said DMV spokeswoman Jessica Gonzalez.
The State Department prepared for the influx by hiring 900 employees, extending business hours in 14 offices, increasing appointment availability from 45 to 60 days and offering Saturday hours in 60 offices, among other things, said Jaime Garza, a spokesperson for the department, to Fox News Latino.
"We're very, very happy with the result; things have been running very smoothly given the enormity of the program," Garza said.
Today, Gonzalez continues to educate people about the law and hopes they follow her lead by leaving fear behind.
"You shouldn't be scared of going to the DMV. It's better to drive with a license than to have the police stop you without identification."
She continued: "It's worth it. I sleep peacefully (now)."
The AP contributed to this report.