Obama's UN ambassador pick has history of controversial comments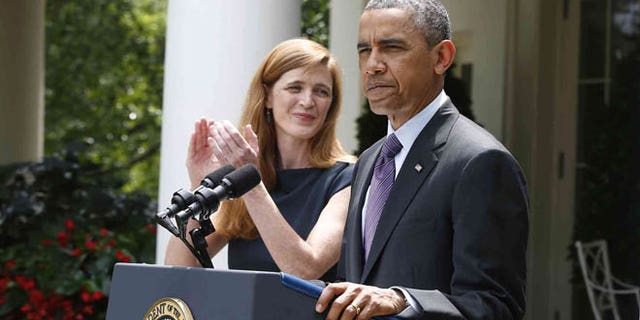 WASHINGTON – The former White House adviser and longtime Obama friend nominated Wednesday as the next U.S. ambassador to the United Nations has a history of controversial comments that could haunt her in confirmation -- including likening U.S. foreign policies to those of the Nazis.
In a March 2003 New Republic magazine essay, Samantha Power wrote that American foreign policy needs a "historical reckoning" which would entail "opening the files" and "acknowledging the force of a mantra we have spent the last decade promoting in Guatemala, South Africa, and Yugoslavia."
She continued: "Instituting a doctrine of the mea culpa would enhance our credibility by showing that American decision-makers do not endorse the sins of their predecessors. When (German Chancellor Willy) Brandt went down on one knee in the Warsaw ghetto, his gesture was gratifying to World War II survivors, but it was also ennobling and cathartic for Germany. Would such an approach be futile for the United States?"
Republicans in the Senate, which must approve Power for the diplomatic post, could press her during her confirmation hearing on a number of other topics, including comments she's made on Libya and Israel. If confirmed, Power would take over for Susan Rice, whom Obama appointed as his new national security adviser. Rice, unlike Power, will not face a confirmation hearing.
Power, aside from being a well-known foreign policy expert, is also married to Obama's former regulatory "czar" Cass Sunstein.
Asked Wednesday if the White House is girding for a contentious confirmation, Press Secretary Jay Carney said, "We would not expect one."
He lauded Power's "remarkable career" as a journalist and foreign policy adviser, as well as her "passion" for issues like shedding light on genocide.
But others say her views on the Middle East spark concerns about her position on Israel. She once suggested the possibility of military intervention in the Israeli-Palestinian dispute.
During a 2002 interview with Harry Kreisler, host of Conversations with History, a program produced by the University of California Berkeley Institute of International Studies, Power said America needs "a willingness to actually put something on the line in sort of helping the situation."
"Not of the old, you know, Srebrenica kind or the Rwanda kind, but a meaningful military presence, because it seems to me at this stage -- and this is true of actual genocides as well and not just, you know, major human rights abuses, which we're seeing there. But -- is that you have to go in as if you're serious, you have to put something on the line," she said.
The Republican Jewish Coalition questioned Power's nomination saying she "has a record of statements that are very troubling to Americans who support Israel."
"We urge members of the U.S. Senate to question her closely about her past statements and writings," RJC Executive Director Matt Brooks said in a written statement. "She must respond to the strong doubts about her views raised by that record. Senators should also examine her tenure as head of the President's Atrocity Prevention Board to see what results, if any, came out of her time there."
Carney defended Power's record on Israel, saying she "consistently led" against efforts to "delegitimize" the nation. He said she consistently has supported Israel's "right to defend itself," worked to block efforts to single out Israel at the U.N. Security Council after the deadly standoff with a Gaza-bound flotilla, and opposed the unilateral push for Palestinian statehood.
"Samantha Power is a proven friend and supporter of Israel and the U.S.-Israel relationship," he said.
President Obama, calling her "experienced, effective and energetic," urged the Senate to confirm Power "without delay."
Power would come into the role at a time when the U.S. is weighing whether to get more involved in the Syrian civil war. Power is on record supporting the U.S. decision to intervene militarily in Libya in 2011 which ultimately led to the toppling of the country's leader Muammar Qaddafi.
Power, a Pulitzer Prize winner, Harvard Law School graduate and Harvard professor, created a public ripple during the 2008 Democratic primary race when she was quoted in a foreign newspaper calling then-candidate Hillary Clinton names.
"She is a monster, too -- that is off the record -- she is stooping to anything," Power told The Scotsman, which published her comment.
"But if you are poor and she is telling you some story about how Obama is going to take your job away, maybe it will be more effective. The amount of deceit she has put forward is really unattractive," she added.
Power resigned from Obama's campaign following her comments.
"I made inexcusable remarks that are at marked variance from my oft-stated admiration for Senator Clinton and from the spirit, tenor, and purpose of the Obama campaign," Power said in 2008. "And I extend my deepest apologies to Senator Clinton, Senator Obama and the remarkable team I have worked with over these long 14 months."
In her role as professor, she taught courses on U.S. foreign policy, human rights and extremism. She's also the founding Executive Director of the Carr Center for Human Rights Policy.
According to Power's profile on the White House web site, she lives in Washington with her husband Sunstein and their son Declan.
Sunstein, whose friendship with Obama dates back to their days on the University of Chicago Law School faculty, used to head up the White House Office of Information and Regulatory Affairs.