Obama's Health Care Woes Challenge Trust And Credibility In The Eyes Of Supporters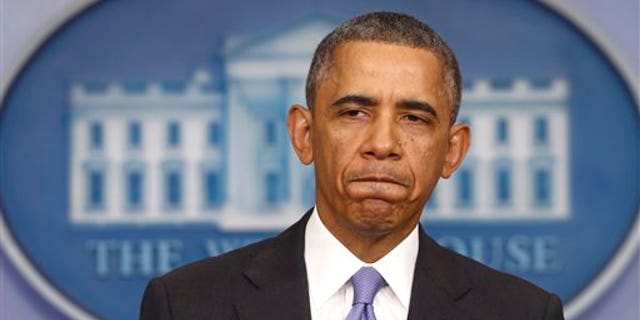 Washington (AP) – Throughout President Barack Obama's first four years in office, he prided himself on his ability to bounce back when much of Washington thought his presidency was in peril.
But the political challenge posed by Obama's disastrous health care rollout is far greater than those he overcame during the nasty debt ceiling fight with Republicans, his stumbling campaign debate in 2012 or even the painful recession.
This time, the president is fighting to regain trust and credibility with the American people. Those are the same qualities that helped keep him afloat during those earlier battles.
"It's legitimate for them to expect me to have to win back some credibility on this health care law in particular and on a whole range of these issues in general," Obama said during a news conference last week that turned into an extensive mea culpa for the health care failures consuming the White House.
As bad as things are for Obama, they may be worse for many members of Congress.
Democrats in both the House and Senate worry that the health care problems could dim their re-election chances next year. Republicans are saddled with historically low approval ratings and an internal debate over the direction of their party, though the heath law woes have proved a lifeline following the GOP's much-criticized handling of the government shutdown.
With Republicans sensing an opportunity in Obama's free fall, the president is sure to face a struggle in getting their support, particularly in the House, for White House priorities such as an immigration overhaul or broad budget deal.
Without success on other fronts to counteract the health care failures, Obama will have fewer chances to change the public's view that Washington, and the president himself, are ineffective.
"We appear to be stuck, whatever direction we look," William Galston, a senior fellow at the Brookings Institution, said about Washington's political landscape.
Obama's health care calamity began with the flood of computer problems that crippled HealthCare.gov, the website that had been billed as a quick and easy way for people to purchase insurance.
Those troubles were compounded when at least 4.2 million people started receiving cancellation letters from their insurance companies despite Obama's repeated assurances that anyone who liked his or her insurance plan could keep it.
The widespread problems have spurred questions about the normally cool and confident president's management style and his competence.
Why was the White House so poorly prepared for the long-anticipated rollout of Obama's major legislative achievement? Why did the president seem personally unaware of the extent the problems until they became publicly known?
For the public, those failures are changing how they view the president.
Many polls now show that Americans say Obama isn't honest or trustworthy, or a strong leader. For example, Quinnipiac University's poll of registered voters conducted this month found just 44 percent thought Obama was honest and trustworthy, down 10 points since earlier this fall. Only 48 percent felt he has strong leadership qualities, a low point in his presidency.
The polling is a blow for a White House that long has relied on the public's personal fondness for Obama to carry him through rough patches in his presidency. It's also made it harder for the president to dismiss criticism of the rollout as standard politicking from Republicans and Washington's chattering class, as his aides derisively refer to the pundits in the nation's capital.
Obama's advisers need only recall the Oval Office's last occupant to see the lasting damage that could be done if those numbers don't recover.
President George W. Bush's credibility and trust took a tumble as the public grew weary of the Iraq war and angry over the government's botched response to Hurricane Katrina. His presidency never recovered and he left office with negative job and personal approval ratings.
The comparisons to Bush already are percolating.
"This is an unfolding disaster politically, in a way that's something like the Iraq war was for the Republican Party," said Rep. Tom Cole, R-Okla. "If they don't get this fixed they're going to pay a horrific political price."
Democrats are well aware that they could be caught up in that web if the health care problems aren't solved quickly.
Even after Obama announced a change in the law aimed at helping some people whose coverage has been canceled, 39 House Democrats voted for legislation opposed by the White House that would let insurers sell individual health coverage that doesn't meet the law's new standards to anyone who wants it.
"My constituents are pretty upset, and so am I," said Rep. Ron Barber, D-Ariz., who is considered one of the most vulnerable Democrats in the House and voted for the measure. "The rollout has been a disaster.
Obama's mea culpa in the White House briefing room Thursday was a first step in trying to reassure his party and recapture the public's trust.
Shortly after he spoke, his chief of staff, Dennis McDonough, went to Capitol Hill to try to soothe concerns from worried Democrats. On Monday, Obama planned to try to shore up support from some of his strongest supporters in a conference call hosted by his political arm, Organizing For Action.
But the president knows it will take more than words to save his second term.
"I'm the head of this team," he said. "We did fumble the ball on it, and what I'm going to do is make sure that we get it fixed."
Follow us on twitter.com/foxnewslatino
Like us at facebook.com/foxnewslatino