Obama Touts Dip in Unemployment on Jobs Tour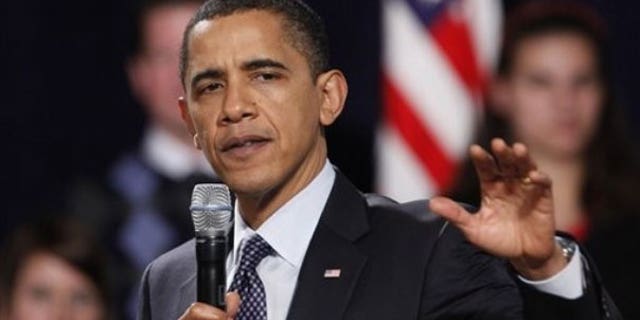 President Obama seized on the report Friday showing a slight dip in the jobless rate to put an upbeat face on the economy to an audience in a Pennsylvania region where 41,000 are out of work.
Speaking to a crowd in Allentown, Pa. -- the first stop on Obama's multi-city jobs tour -- the president touted Friday's government report showing the nation's unemployment rate dropped to 10 percent in November.
"Overall, this is the best jobs report that we've seen since 2007," Obama said, adding that U.S. employers cut 11,000 jobs in November, the lowest monthly job loss in nearly two years and 115,000 fewer than economists predicted.
"This is good news just in time for the season of hope," he said, "but we've got a lot more work to do before we can celebrate."
Too many Americans have "felt the gut punch of a pink slip" and "good trends don't pay the rent," he said.
The Labor Department's Friday report marked an improvement over October's 111,000 jobs lost. But the respite may be temporary, as many economists expect the jobless rate to keep climbing into next year as the economy struggles to generate enough jobs for the 15.4 million people out of work.
The unemployment rate fell to 10 percent from 10.2 percent in October, where economists expected it to remain.
If part-time workers who want full time jobs and laid off workers who have given up looking for work are included, the so-called underemployment rate also fell, to 17.2 percent from 17.5 percent in October.
There was other positive news in the report. The average work week rose to 33.2 hours, from a record low of 33 hours. Economists expect employers will increase hours for their current workers before hiring new ones.
The department also increased its job estimate for September, to a loss of 139,000 from 219,000, and for last month, to 111,000 from 190,000.
Swing voters in Pennsylvania's Lehigh Valley helped Obama win the pivotal, populous state. But the region's jobless rate inched up another half percentage point in October to 9.8 percent. About 41,000 people are currently unemployed, the highest number since 1984.
Small businesses that power the economy in the region are starved for credit and laying people off. Stimulus dollars for roads, bridges, schools and social services are mired in Washington and state bureaucracy.
"In the last two or three months people are getting disillusioned," Allentown Mayor Ed Pawlowski, a Democrat, told the Wall Street Journal in advance of Obama's speech. "If he's kicking off this tour and nothing of substance comes out of it, it's gonna kill him," he said.
Obama told Pennsylvanians Friday that he's optimistic that banks will ease lending next year and that should help businesses that want to expand and hire new workers.
When asked what his administration could do to loosen tight credit, especially for struggling small businesses, Obama said that banks were "way too easy in terms of giving credit" -- which he said contributed to the near financial collapse. Obama said banks now "have swung in the opposite direction" and that the administration will push them to lend to credit-worthy customers. The president said "they were used to saying yes to everybody and now they're saying no to everybody."
In a speech from Washington next Tuesday, Obama plans to unveil a proposal to "jump-start" business hiring across the country.
The president plans to send Congress a list of ideas he supports for a new jobs bill. He will endorse sending the biggest chunk of fresh money to cash-strapped state and local governments to stem their layoffs and on expanding a program that gives people cash incentives to fix up their homes with energy-saving materials. Obama will also endorse new tax breaks for small businesses that hire workers.
The nation's unemployment rate fell in November because the number of jobless Americans dropped by 325,000 to 15.4 million. The jobless rate is calculated from a survey of households, while the number of jobs lost or gain is calculated from a separate survey of business and government establishments. The two surveys can sometimes vary.
The rate also dropped because fewer people are looking for work. The size of the labor force, which includes the employed and those actively searching for jobs, fell by nearly 100,000, the third straight decline. That indicates more of the unemployed are giving up on looking for work.
The participation rate, or the percentage of the population employed or looking for work, fell to 65 percent, the lowest since the recession began. Once laid-off people stop hunting for jobs, they are no longer counted in the unemployment rate.
The economy has now lost jobs for 23 straight months, but the small decline in November indicates the nation could begin generating jobs soon.
Yet even as layoffs are easing, the slow pace of hiring is causing headaches for political leaders. The employment report comes a day after Obama hosted a "jobs summit" at the White House, where he told economists, business executives and union leaders that he is "open to every demonstrably good idea" to create jobs.
Continue reading at the Wall Street Journal.
The Wall Street Journal and The Associated Press contributed to this report.