Obama To Latino Families: 'You Are Punishing Yourselves' By Not Signing Up For Obamacare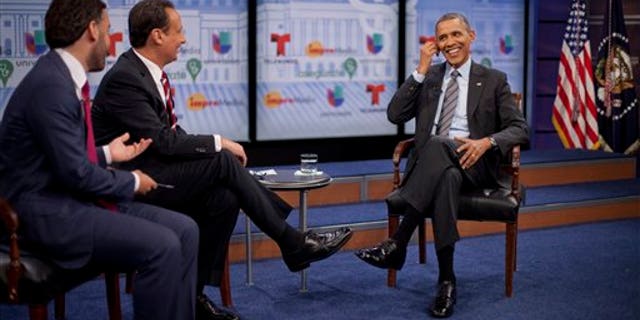 WASHINGTON (AP) – Issuing a last call for health care, President Barack Obama assured Latinos on Thursday that signing up for new insurance exchanges won't lead to deportation for any relatives in the U.S. illegally.
Facing fresh skepticism from one of his traditionally most loyal constituencies, Obama pushed back on the notion of some critics that he's become America's "deporter in chief," insisting that Latinos know that "I've got their back." In a virtual town hall meeting with Spanish-language media outlets, Obama disputed that his credibility had been undermined by the chaotic health care rollout and his failure to secure legal status for millions of Latinos in the U.S. illegally.
"The main point that I have for everybody watching right now is, you don't punish me by not signing up for health care," Obama said. "You're punishing yourself or your family if in fact there's affordable health care to be had."
Obama's push to boost enrollment comes as the end-of-March deadline to enroll is rapidly approaching — and with it, renewed concerns that if the Obama administration misses its target, the insurance pool could become unsustainable and undermine the broader law's success. The federal government has provided millions of dollars for advertising campaigns geared toward the Latino community, and top officials have been fanning out to spread the word, with first lady Michelle Obama appearing Wednesday in a predominantly minority neighborhood in Miami.
Enrolling Latinos, who are disproportionately uninsured in the U.S., has been a major priority, but the effort has been complicated by a cascade of obstacles including problems with the Spanish-language website. California's state-based exchange, which co-hosted Obama's event, has come under heavy criticism for lackluster efforts to sign up Latinos.
People in the U.S. illegally aren't eligible to sign up, Obama said, but those with a legal presence in the country — such as legal residents — can enroll. Obama sought to pre-empt concerns that information collected in the process of signing up could be used to identify and deport the relatives of citizens or legal residents.
"So for everybody out there who is in a mixed family, there is no sharing of the data from the health care plan into immigration services," Obama said. "They should feel confident."
Those assurances came from a president who has found himself squeezed this year between Latinos frustrated by the pace of progress on immigration and Republicans who say they distrust Obama's commitment to enforcing the law. Those competing forces have complicated Obama's push to secure an immigration overhaul in Congress — a task that will only become more difficult as the midterm elections grow nearer.
While some Republicans criticize Obama for unilaterally halting deportations for young people brought into the U.S. illegally by their parents, immigration activists have said Obama didn't go far enough and should halt all deportations. But Obama said his move to protect so-called Dreamers "already stretched my administrative capacity very far."
"I think the community understands that I've got their back and I'm fighting for them," Obama said. "Does that mean that there's not going to be frustrations when change doesn't happen as fast as it could? But of course, that's true for just about every population."
Follow us on twitter.com/foxnewslatino
Like us at facebook.com/foxnewslatino