Obama Statement on Israeli Construction Freeze Startles Prime Minister's Office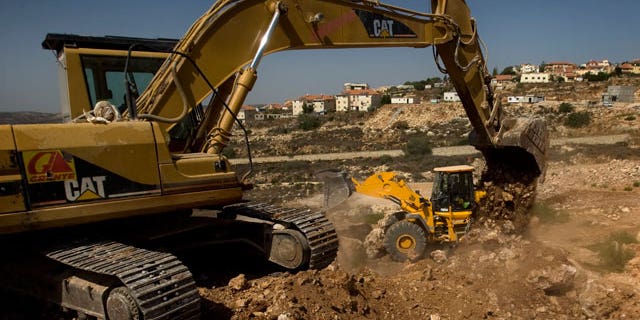 WASHINGTON -- President Obama's statement Sunday hailing Israeli Prime Minister Benjamin Netanyahu for proposing a new settlement freeze in the disputed West Bank sent Israeli officials scrambling to clarify that the cabinet has not yet approved any action to stop construction.
The 90-day suspension was discussed last week between Netanyahu and U.S. Secretary of State Hillary Clinton, and Netanyahu brought it to the table of at a cabinet meeting Sunday morning.
But Netanyahu spokesman Mark Regev said late Sunday that nothing had changed in between the time the cabinet met and the U.S. president's remarks.
During the meeting, Netanyahu outlined the U.S. proposal but told officials it is not yet final and is still being formulated by Israeli and the American teams.
"If and when it is complete, I will bring this proposal to the appropriate government forum, which in this case is the cabinet. In any case, I insist that any proposal meet the state of Israel's security needs, both in the immediate term and vis-à-vis the threats that we will face in the coming decade," Netanyahu told his cabinet, according to Regev.
But returning from a 10-day trip to Asia that saw few achievements in a global economic recovery plan or free trade deals, Obama commended Netanyahu for forwarding the freeze -- a demand by Palestinians who had refused to return to the negotiating table since a Sept. 26 end to a previous construction halt.
"I think it is promising," Obama said aboard Air Force One. "I think it's a signal that he's serious."
U.S. officials said Netanyahu's pledge to offer the plan was the reason for the president's upbeat assessment.
Obama tried to relaunch peace talks this summer with the goal of completing them in one year's time. But talks froze after the previous 10-month Israeli moratorium in the West Bank expired.
Earlier this week during a stop in Indonesia, Obama said he was concerned about the peace process and chided both sides to show more effort. But Sunday he commended Netanyahu for making a "very constructive step" toward creating an environment for peace.
The U.S. proposal calls for a halt on construction in the West Bank, but not in east Jerusalem, where 1,300 new homes are under development and which Palestinians wish to claim for a capital. The proposal would add three more months for the two sides to shape borders for side-by-side states.
Obama said he hopes the Israeli leader and Palestinian President Mahmoud Abbas start negotiations again soon.
The Associated Press contributed to this report.