Obama says he has lead, as poll shows Romney ahead and gaining among women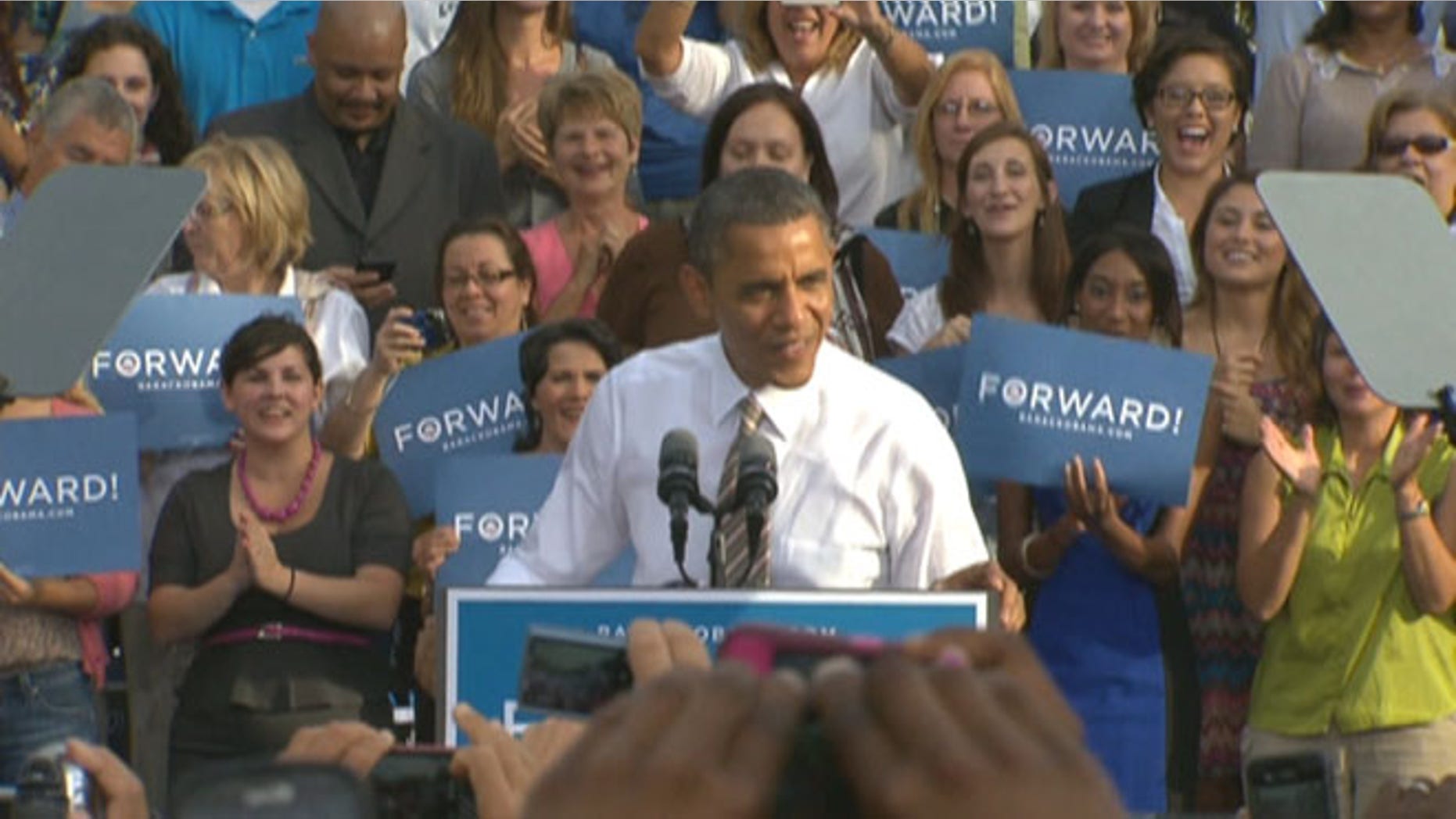 A day after an interview aired in which President Obama declared he still has the lead, another national poll showed Mitt Romney slightly ahead while erasing Obama's advantage among women.
The Associated Press-GfK poll showed Romney pulling 47 percent of likely voters to Obama's 45 percent -- a split within the margin of error, but which certainly challenges the president's claim of having the edge. Even in the battleground states, which decide the election, polls now reflect a series of tossups.
The president had claimed the advantage over Romney during an interview with NBC News. Asked about the polls showing a virtually tied race, Obama appeared to challenge the premise.
"Well, actually, I think that, you know, we always knew this was going to be a close race from the start. And what we have right now is a lead that we've maintained throughout this campaign," Obama said. "And we are going to just continue to drive home the message that there are two fundamentally different choices in this election about where we take the country."
Polls show Obama is ahead in states like Ohio and Pennsylvania. But Romney has long since taken the lead in Florida, North Carolina and elsewhere. And nationally, the Republican nominee typically has a very slight edge.
The Associated Press-GfK survey was no different. But significantly, the poll showed each candidate's gender advantage shrinking. The poll showed Romney erasing the president's 16-point lead among women, pulling to a 47-47 percent tie. Also, Romney's 13-point advantage among men had shrunk to 5 points in the poll.
The erosion of Obama's support among women, though, was more dramatic. And this week, the president was making a fresh attempt to appeal to that base -- trying to link Romney to comments made by a Republican Senate candidate in Indiana about rape. Richard Mourdock said during a debate that pregnancy resulting from rape can be "something God intended."
Romney has since distanced himself from the remark, with the campaign reiterating that Romney -- while pro-life -- condones abortion in cases of rape and incest. But the Obama campaign has nevertheless tried to link Romney to Mourdock, noting that the Republican nominee has not dropped his support for the Senate candidate and appeared in a new ad on his behalf.
The Obama campaign put out a web video Thursday morning tying Mourdock's position on abortion to Republican running mate Paul Ryan's. The ad reads: "Mitt Romney's 'solution' to extremism against women? Promote the extremists." It shows a split picture of Ryan and Mourdock.
The president also told late night host Jay Leno on Wednesday that, "I don't know how these guys come up with these ideas. Let me make a very simple proposition. Rape is rape."
The comments and video pick up the "war on women" claims that Democrats have been making about Republicans for months.
However, Romney has made an effort to show his moderate side and direct his economic pitch to a female audience -- and the latest poll suggests it was having an effect.
A month ago, women favored Obama over Romney on the economy 56 percent to 40 percent. Now, the split has shifted to 49 percent for Romney and 45 percent for Obama.
The poll still showed Obama with a hefty lead, 55 percent to 41 percent, among female likely voters on the question of which candidate would make the right decisions on women's issues.
Overall, people are significantly more optimistic about the economy and unemployment in the coming year than they have been at any point in AP-GfK polling going back to March 2011, when the poll first started asking those questions. Likely voters are even more optimistic than other adults.
Nearly six in 10 likely voters think the economy will improve in the next year, up from 46 percent last month. And 42 percent think the number of unemployed Americans will drop in the next year, up from 32 percent in September.
Obama launched a marathon two-day campaign journey Wednesday. In the 17th hour of his day, he spoke before thousands of supporters in Las Vegas. By then it was nearly 1 a.m. in Washington, where his day had begun.
After spending the night on Air Force One, Obama was campaigning in Florida, Virginia and Ohio before heading back to the White House.
The president was scheduled to stop in his hometown of Chicago to vote, becoming the first president to vote early in person.
Romney was kicking off a daylong swing through three Ohio towns, sharpening his focus on a state that is critical to his hopes of winning the White House. Public polling has shown Obama with a slim lead.
The Associated Press-GfK poll was conducted Oct. 19-23 by GfK Roper Public Affairs & Corporate Communications. It involved landline and cellphone interviews with 1,186 adults across the United States, including 839 likely voters. Results for the full sample have a margin of sampling error of plus or minus 3.5 percentage points; for likely voters it is 4.2 points.
The Associated Press contributed to this report.