Obama rallies Democrats and donors at Chicago fundraiser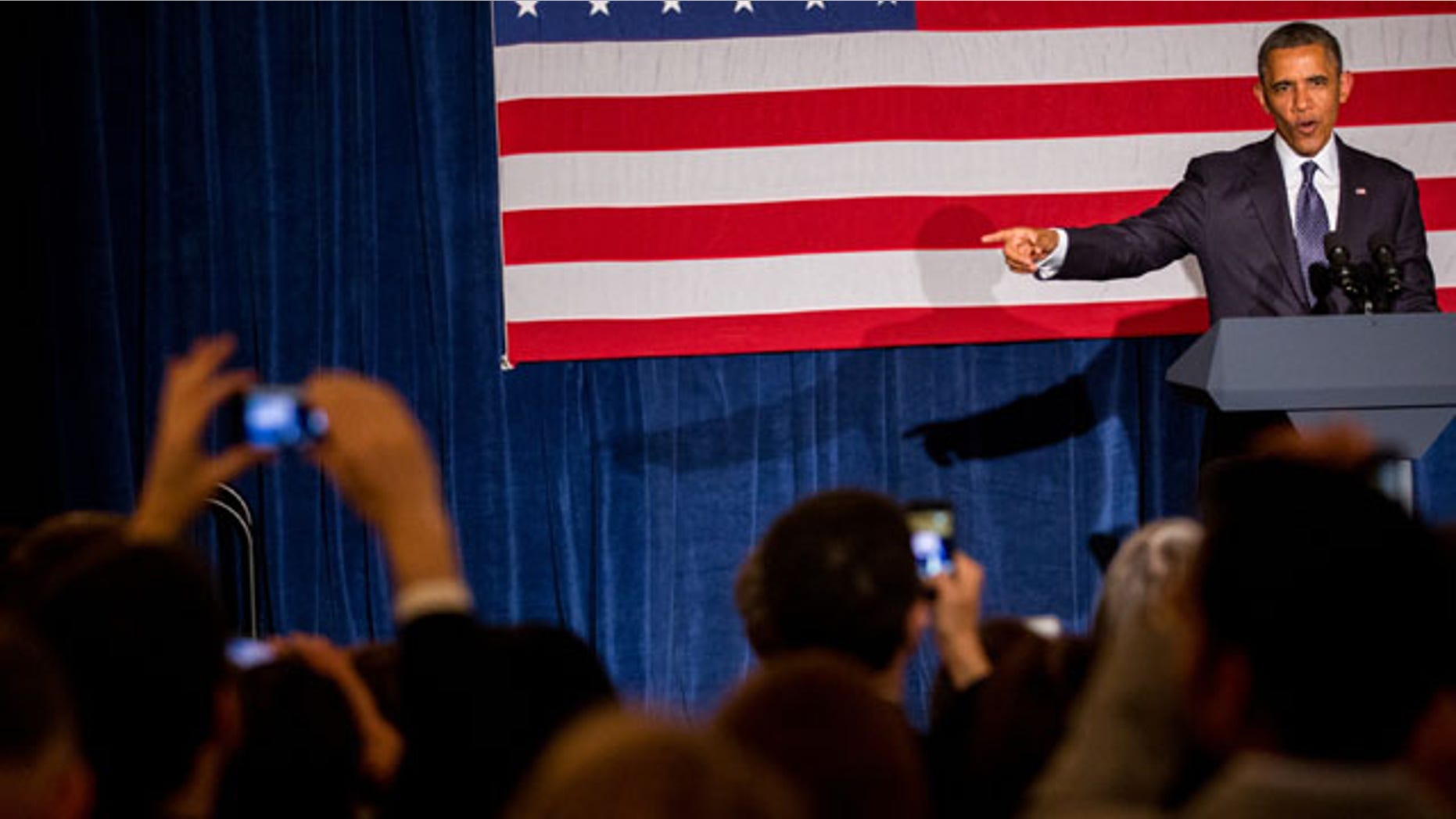 CHICAGO – Returning to the town that launched his political career, President Obama gave a boost Wednesday to Democrats chasing control of the House, telling donors he's still seeking compromise with Republicans -- but if that fails, it's up to Democrats to finish the job.
Joined by Mayor Rahm Emanuel, his former chief of staff, for a reception at a glitzy hotel in downtown Chicago, Obama said he said he is looking for Republicans in the House majority "for whom compromise is not a dirty word." But, he said, the best way to work around GOP obstructionism "is to have a Democratic House of Representatives."
Declaring that "we know the answers to so many of our challenges," Obama ticked through a list of priorities on Democrats' wish list that, as of yet, have gained little traction. He urged more investments in infrastructure projects, plugged his proposal to dramatically expand access to pre-kindergarten and made the case for expanding background checks for gun sales -- an effort that stalled in Congress despite what Obama claimed was overwhelming support from the public.
About 150 supporters, including House Minority Leader Nancy Pelosi, attended the reception, where tickets prices started at $1,000 per person. But the big bucks awaited Obama and his party at the home of two longtime supporters, where dinner tickets started at $10,000 and went up to $32,400 -- the legal maximum.
All told, Obama's events Wednesday were likely to bring in almost $1 million, at a minimum, for the Democratic Congressional Campaign Committee.
`We've got a great chance of taking back the House," Obama said. "I'm going to be working tirelessly, wherever I get the opportunity, to make the case to the American people that our ideas are the right ones to broaden the middle class."
Obama even lent his singing voice to the cause, leading a chorus of "Happy Birthday" for Rep. Steve Israel, D- N.Y., the chairman of the campaign committee.
Obama's trip to Chicago continued what has been a busy season of travel and fundraising for the president, making good on his vow to put his popularity and political might behind Democratic efforts to regain control of the House in 2014 and keep the Senate. But the feel-good gatherings with party faithful also come at a difficult time for Obama, whose administration is still working to recover from a trio of controversies that have detracted from his agenda -- including the Internal Revenue Service's admission that the government unfairly targeted conservative groups during the two previous election cycles.
Democrats need to gain 17 seats to recapture control of the House next year. It's an ambitious goal, Democrats acknowledge, considering the president's party typically loses seats during the sixth year in office. But after spending half a decade in the minority, confounding Obama's efforts to push his legislative agenda through Congress, Democrats have resolved to try. They're eyeing potential pickups in places like Florida and Texas and courting moderate, outsider candidates they believe they can sell as more pragmatic than incumbent Republicans.
Although criticized by some in his party for doing too little to help the cause in his first term, Obama has shown himself to be a formidable fundraising force. He raised $3.25 million for House Democrats last month at fundraisers in San Francisco -- among the 20 or so events Obama has agreed to headline ahead of the 2014 elections for House Democrats, Senate Democrats and the Democratic National Committee, which is still retiring debt the party racked up helping Obama get re-elected last year.
First lady Michelle Obama got in on the action Wednesday, too, raising cash in Massachusetts for a Democrat running in a special election for a U.S. Senate seat, then dashing off to New York for a pair of fundraisers for the DNC. At one event along Central Park, the DNC's annual lesbian, gay, bisexual and transgender gala, Mrs. Obama was joined by singer Sara Bareilles and by NBA player Jason Collins, who the president praised effusively in April after he became the first active player in one of the four major U.S. pro sports leagues to come out as gay. About 350 people attended, with tickets ranging from $1,250 to $32,400.
Obama's Chicago stops also attracted a number of protesters, whose muffled chants could be heard as he arrived at the hotel for the first event. Groups that had planned protests near the fundraisers included anti-abortion activists, environmentalists urging Obama to nix the Keystone XL pipeline and immigration advocates opposing deportations by the Obama administration.