Obama Huddles With Top Afghanistan Commander, Envoy Ahead of Hearings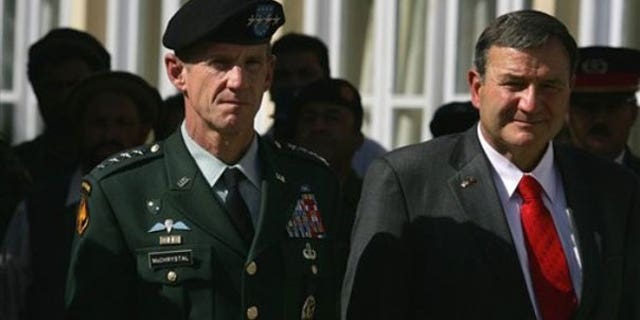 NEWYou can now listen to Fox News articles!
Days after Sen. John McCain raised questions about a civilian-military rift in Afghanistan, President Obama sat down with his lead commander and lead diplomat in the country as the administration prepares to present a united front on his new war strategy.
Gen. Stanley McChrystal and Ambassador Karl Eikenberry met with the president and Vice President Joe Biden in the Oval Office Monday afternoon. The meeting comes ahead of a string of congressional hearings this week at which the two will testify on Obama's plan to surge 30,000 troops into Afghanistan and to begin bringing them home in July 2011.
Joint Chiefs Chairman Adm. Mike Mullen, Defense Secretary Robert Gates and Secretary of State Hillary Clinton had their turn on the Hill last week and vigorously backed the new plan. But the appearance of McChrystal and Eikenberry presents an opportunity for potentially more prying questions from lawmakers, since it was Eikenberry who raised influential and late-in-the-game concerns about McChrystal's request for troops.
McCain, R-Ariz., suggested last week that leaked cables in November from Eikenberry that expressed reservations about a troop increase could speak to deeper problems and tension at the U.S. Embassy in Kabul.
During a Senate Armed Services Committee hearing Wednesday, McCain called for the civilian and military sides of the Afghanistan war to be "unified" on all fronts and suggested the officials in question should forge the kind of close ties demonstrated by their former counterparts in Iraq.
"I'm also concerned by reports of divisions in our embassy, and by major differences between our commander and our ambassador," McCain said.
"We can only succeed in Afghanistan if we have a joint civil-military campaign plan -- unified at every level, from top to bottom -- much as Ambassador (Ryan) Crocker and General (David) Petraeus established in Iraq during the surge. I look forward to hearing what progress we are making on creating such a joint civil-military effort."
Asked about the disconnect, Clinton said her team is entirely on board.
"There is no division, there is absolute unity and a commitment to carrying out the mission," she said.
Petraeus also told "Fox News Sunday" that the months of deliberation over the war strategy had brought the national security team closer together.
"I think, interestingly, as I think back on this process, this several-month period of deliberations and of pretty intense intellectual discussion about topics and assumptions and concepts, there's a bit of some team-building that took place in all of this as well," Petraeus said.
Though McChrystal did not get all the troops he asked for, the general has strongly supported the president's strategy. He said in a statement last week that Obama "has provided me with a clear military mission and the resources to accomplish our task."