Obama Draws Criticism for Sitting Out Berlin Wall Anniversary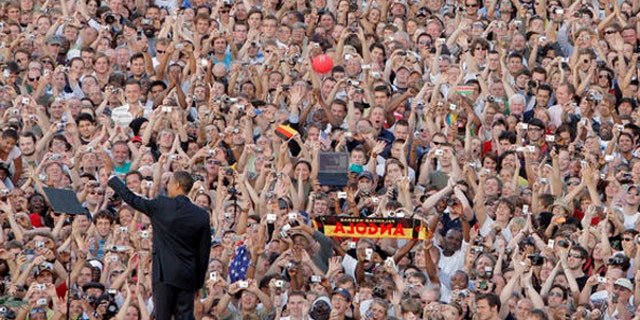 NEWYou can now listen to Fox News articles!
President Obama squeezed in a trip to Copenhagen last month to lobby, unsuccessfully, for Chicago to host the 2016 Summer Olympics. He plans to travel to Oslo next month to accept the Nobel Peace Prize, an award that even Obama has said he does not deserve. And this coming week, he sets out on a weeklong tour of Asia.
But the president does not plan to travel to Germany to attend the 20th anniversary celebration Monday of the fall of the Berlin Wall, drawing heated criticism from those who say he's ignoring a shining triumph of American-inspired democracy.
"A tragedy," is how former House Speaker Newt Gingrich described Obama's absence.
Some question whether the decision not to go was a nod to Russia, with which the Obama administration is trying to mend relations, or just another attempt to play down the perception of the United States as an exceptional superpower.
For its part, the administration is citing a scheduling conflict. The White House says the president simply does not have the time to go, with the trip to Asia starting Wednesday.
"Obviously we have a lot to work on here and we have commitments for an upcoming Asia trip," White House Press Secretary Robert Gibbs said Tuesday, noting that a "very senior delegation" of U.S. officials would attend.
That delegation is led by Secretary of State Hillary Clinton, who traveled to Berlin Sunday ahead of the festivities -- the first stop for the secretary on a trip through Europe and Asia.
Obama acknowledged the anniversary of the fall of the wall last week during his meeting with German Chancellor Angela Merkel.
"We are now moving towards the 20th anniversary of the Berlin Wall coming down and Germany being reunified after so many painful years," Obama said. "And this is a special moment for Chancellor Merkel, as somebody who grew up in East Germany, who understands what it's like to be under the shadow of a dictatorial regime, and to see how freedom has bloomed in Germany, how it has become the centerpiece for a extraordinarily strong European Union."
He said the U.S.-Germany alliance is an "extraordinary pillar of the transatlantic relationship."
But some saw Obama's decision not to travel personally to Berlin as a snub to Merkel, Germany and the history behind the anniversary.
"Barack Is Too Busy," Germany's Der Spiegel magazine declared in a headline last month, writing that Obama had declined Merkel's invitation.
While Obama has traveled to Germany since taking office, he has not as president traveled to Berlin -- the site of his major speech in July 2008 during his overseas campaign tour. During that speech, he acknowledged Berlin's struggle, saying, "This city, of all cities, knows the dream of freedom."
Why then, critics asked, would the U.S. president not revisit that site to mark the culmination of that dream? After all, he has established himself as an intrepid traveler in office, setting off on a slew of overseas trips during his first 10 months on the job.
On several of the stops he has expressed regret for past American behavior, but the Berlin Wall anniversary was seen as an opportunity for the president to honor an American and Western victory for which the U.S. need feel no regret.
"It is a true shame that the president of the United States -- this man who cloaks himself in the rhetoric of hope -- won't be pausing to remember," Gingrich wrote in a column last week in The Washington Examiner.
The National Review's Rich Lowry wrote that the decision speaks to Obama's "dismissive view of the Cold War as a relic distorting our thinking."
"John F. Kennedy famously told Berliners, 'Ich bin ein Berliner.' On the 20th anniversary of the last century's most stirring triumph of freedom, Obama is telling them, 'Ich bin beschaftigt' -- i.e., I'm busy," he wrote. "Obama's failure to go to Berlin is the most telling nonevent of his presidency. It's hard to imagine any other American president eschewing the occasion."
Fox Forum: Why Has Obama Refused to Honor the Fall of Berlin Wall Anniversary?