Obama Draws a Crowd for Patrick in Massachusetts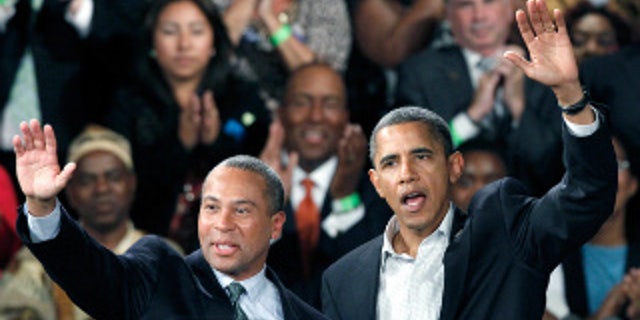 Supporters waited for hours in a winding line outside the Hynes Convention Center in Boston to get inside this afternoon's rally, where a cheering crowd welcomed President Obama to the stage. Thousands arrived to hear Obama speak and tout the credentials of Massachusetts incumbent Governor Deval Patrick.
The president did not shy away from acknowledging his long-time friendship with Patrick but said he also respects the governor as a leader who stuck to his convictions during difficult times.
"This election is a choice, and the stakes could not be higher," President Obama said, urging Democrats to vote on Election Day or else risk allowing Republicans to turn back the clock on progress made since he was elected.
With just 17 days to go before the midterm elections, Democrats are hoping Obama will rally a base that analysts say does not have the momentum GOP voters feel.
In Massachusetts, Democrats make up 37 percent of registered voters; Republicans account for just under 12 percent, and nearly 52 percent are independent voters. The independent voters broke hard for Republican Scott Brown in January and add a level of unpredictability to the race.
The president and First Lady Michelle Obama will hit the trail together Sunday for the first time since 2008, headlining fundraisers in Ohio. They'll stump for Democratic Governor Ted Strickland in Cleveland and raise money for the Democratic National Committee in Columbus. Strickland is locked in a tight race with Republican challenger John Kasich. The most recent University of Cincinnati poll shows Kasich widening his lead over the incumbent governor, at 51 percent to Strickland's 43 percent.