Obama administration looks to transfer 2 Gitmo detainees to Algeria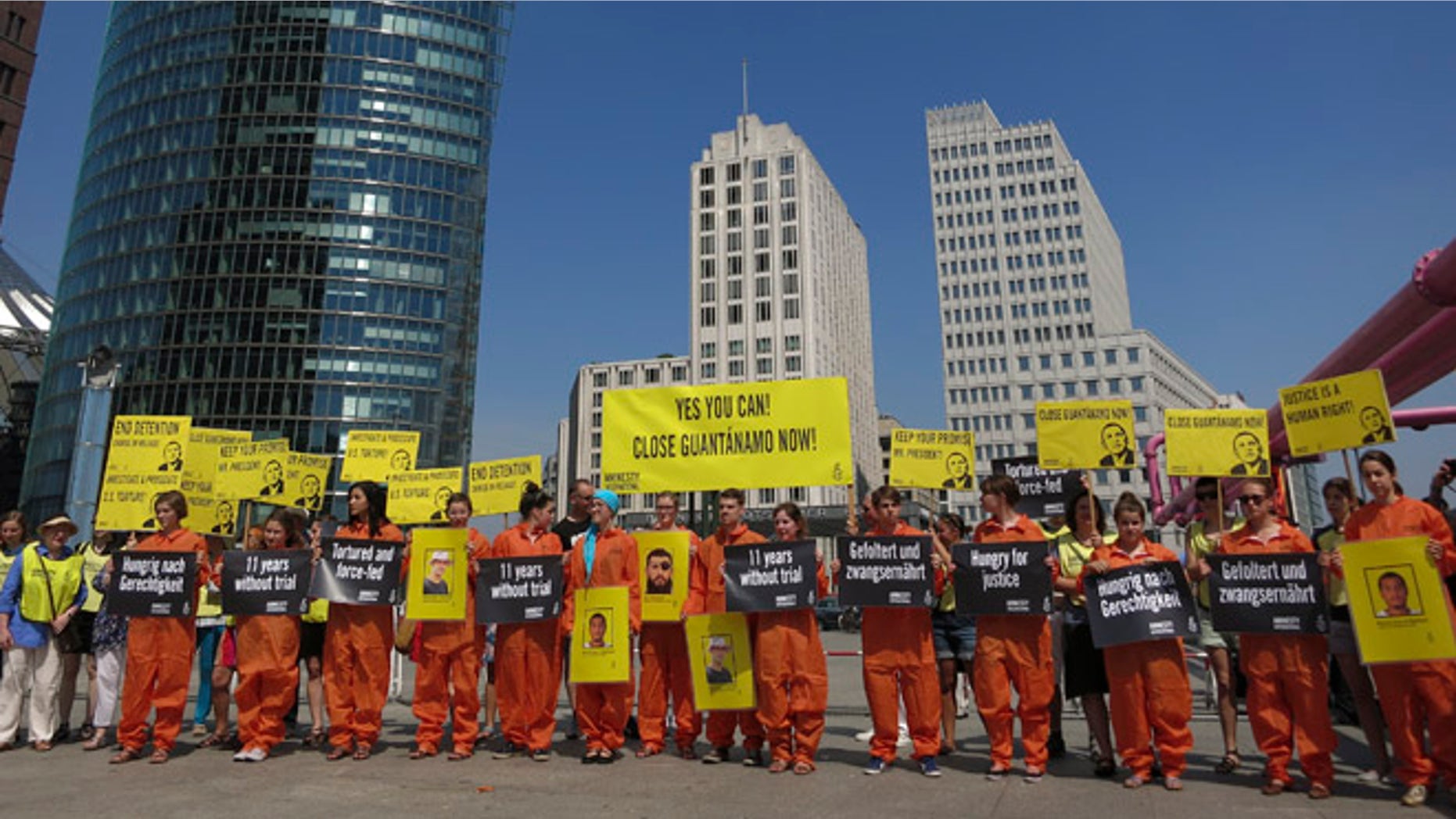 WASHINGTON – The Obama administration said Friday it planned to transfer two detainees from Guantanamo Bay to Algeria, the first movement of prisoners out since the president announced a renewed push to close the military-run detention center in Cuba..
The White House said it was starting the transfers as part of Obama's goal to close the prison, a campaign promise that has eluded him since he took office. "We are taking this step in consultation with the Congress, and in a responsible manner that protects our national security," Obama press secretary Jay Carney said in a statement.
Pentagon spokesman Lt. Col. Todd Breasseale said that under long-standing policy, the names of the two detainees will not be released until after the transfer. He also wouldn't say what security assurances they had from the Algerian government as part of the arrangement. "We will not discuss the sensitive, diplomatic arrangements associated with the transfer," Breasseale said.
A spokesman for the House Armed Services Committee said the panel received the certification, which requires the defense secretary to ensure that in transferring a detainee to another country that the individual will not engage in terrorist activities.
An administration official said the detainees were chosen because Algeria is a close U.S. ally that has successfully managed detainees in the past -- none of the previous 12 to be released have returned to terrorist activities, unlike some returned to other countries. The official, speaking on a condition of anonymity without authorization to publicly discuss the process, said it has been in the works since several months before Obama announced his intention this spring to push anew for closure.
Pentagon Press Secretary George Little said Defense Secretary Chuck Hagel signed off on the transfer based on the recommendation of an interagency team after a monthslong review. "Secretary Hagel fully supports the president's goal of closing Guantanamo Bay and this upcoming transfer brings us closer towards reaching that goal," Little said in a statement.
That's a high bar that had slowed the transfer process. Under Obama, the U.S. has transferred 242 prisoners out of Guantanamo. The U.S. had transferred more than 500 under President George W. Bush, according to Human Rights First. The U.S. last transferred a prisoner out of Guantanamo when Omar Khadr was sent back to his native Canada in September 2012 to serve the remainder of his sentence for a war crimes conviction by a military tribunal.
"As president, I have tried to close Gitmo," Obama said in May 23 speech at the National Defense University. "I transferred 67 detainees to other countries before Congress imposed restrictions to effectively prevent us from either transferring detainees to other countries or imprisoning them here in the United States. These restrictions make no sense."
Georgia Sen. Saxby Chambliss, the top Republican on the Senate Intelligence Committee, was quick to criticize the move because of security concerns.
"Sending them to countries where Al Qaeda and its affiliates operate and continue to attack our interests is not a solution," Chambliss said in a statement. "With the recidivism rate now at 28 percent, no detainee should be transferred to any place unless we are absolutely confident he will be effectively monitored and cannot renew terrorist ties."
Despite Obama's effort to shutter the prison, a bipartisan group of lawmakers in Congress have repeatedly resisted. The House voted 247-175 Tuesday to reject an amendment that would have allowed Obama to begin closing the facility.
Some of the 166 prisoners began a hunger strike earlier this year to protest conditions and their indefinite confinement. As of Friday, the military said 68 of the 166 prisoners met the criteria to be classified as being on hunger strike, but officials have said most of the men are eating at least occasional meals and none is in immediate detainer. Of the 68, 44 prisoners have lost enough weight that the military says they meet the criteria to be force-fed if necessary.
Obama has stepped up the pressure to close the prison, driven in part by his revised counterterrorism strategy and the stain of the government force-feeding Guantanamo prisoners on hunger strikes to prevent them from starving to death.
During his speech at the National Defense University, Obama announced a renewed push to transfer approved detainees to their home countries and the lifting of a ban on prisoner transfers to Yemen. The majority of the prisoners eligible for transfer are Yemeni. Obama halted all transfers to the poor Middle Eastern nation in 2010 after a man trained in Yemen was convicted in a failed bombing attempt of an airliner over Detroit.
Obama promised other steps that have yet to be taken. He appointed Clifford Sloan, a Washington attorney, to reopen the State Department's Office of Guantanamo Closure. But he has yet to name an envoy at the Defense Department who would negotiate the transfer of detainees to third countries.
He also directed the Defense Department Defense to designate a site in the United States that could hold military commissions, a special tribunal for wartime offenses. That site has yet to be announced, however.