Nuke base airmen under investigation for illegal drug use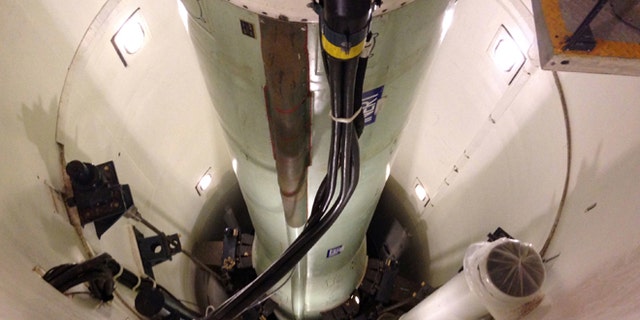 The Air Force is investigating and has removed from their posts 14 airmen at a nuclear missile base in Wyoming for alleged illegal drug use, in some cases possibly including cocaine, defense officials said Friday.
Air Force Gen. Robin Rand, commander of Air Force Global Strike Command, said at a press conference that the alleged activity occurred while the airmen were "off-duty" but would not comment publicly on the types of drugs potentially involved.
The accused airmen at F.E. Warren Air Force Base, home of the 90th Missile Wing, were assigned to a 1,300-person security forces group tasked with protecting the base -- and its 150 nuclear missiles.
The probe is a fresh blow to a nuclear missile corps that has been under intense scrutiny for a string of lapses in training and personal conduct over the past three years.
Air Force Global Strike Command is responsible for the entire fleet of Minuteman 3 land-based nuclear missiles; one-third of the Minuteman 3 force is operated by the 90th Missile Wing.
The airmen under investigation are mainly or entirely members of a security force at the 90th Missile Wing, officials said. The allegations do not involve officers who control the Minuteman missiles from command centers, officials said.
Security forces at nuclear missile bases are entrusted to patrol the missile fields and respond to any security emergencies. They are highly trained and given enormous responsibility. Just last month, Deputy Defense Secretary Robert Work visited F.E. Warren and observed a demonstration by security forces of the techniques and equipment they would use to recapture a missile silo that had been taken over by intruders.
Officials said those under investigation have been suspended from their duties while their cases are being investigated.
Two years ago, while then-Defense Secretary Chuck Hagel was visiting the 90th Missile Wing at F.E. Warren, officials disclosed that a number of launch officers, known as missileers, were under investigation for drug use. That investigation led to the discovery that dozens of missileers had been cheating on their proficiency tests at Malmstrom Air Force Base, which also operates Minuteman 3 missiles.
Hagel then ordered a broad investigation of problems inside the Air Force nuclear missile corps, which had been extensively documented by The Associated Press starting in May 2013. At the time, he said, "Personnel failures within this force threaten to jeopardize the trust the American people have placed in us to keep our nuclear weapons safe and secure."
The Hagel-ordered review led to numerous changes, including elevating the rank of the commander of Global Strike Command, which is responsible for the Minuteman 3 force, from three-star to four-star. Rand is the first four-star to hold the job.
Fox News' Lucas Tomlinson and The Associated Press contributed to this report.