North Korean defector Ji Seong Ho lifts crutches in defiance of regime during State of the Union
NEWYou can now listen to Fox News articles!
With tears in his eyes, North Korean defector Ji Seong-ho stood up and pumped a pair of crutches proudly in the air as President Donald Trump applauded his bravery and slammed Kim Jong-un's authoritarian regime during his first State of the Union address on Tuesday.
"We are joined by one more witness to the ominous nature of this regime," Trump said as he introduced Seong-ho, who was sitting in first lady Melania Trump's gallery box alongside the parents of Otto Warmbier, the American college student who died after suffering injuries while being detained in North Korea.
To say Ji had a "rough" childhood would be an understatement.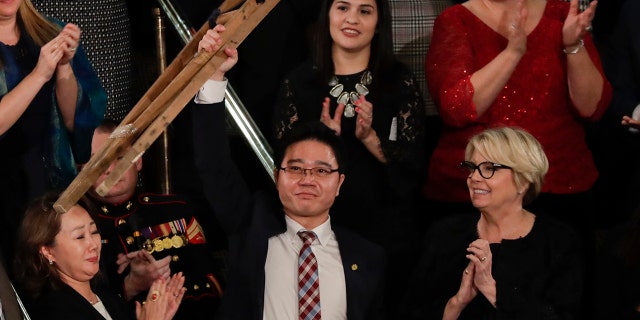 Growing up under North Korea's grueling famine in the '90s, Ji and his siblings were in constant pain from hunger.
"One day, he tried to steal coal from a railroad car to barter for a few scraps of food," Trump explained during the State of the Union. "In the process, he passed out on the train tracks, exhausted from hunger. He woke up as a train ran over his limbs."
He survived, but lost his leg in the process.
"Later, he was tortured by North Korean authorities after returning from a brief visit to China," Trump continued. "His tormentors wanted to know if he had met any Christians. He had -- and he resolved to be free."
Ji trekked thousands of miles on crutches across China and Southeast Asia to escape his homeland.
Ji now lives in Seoul, South Korea, where he helps other defectors like himself. He studies law at Dongguk University and serves as the president of Now Action and Unity for Human Rights, a position that allows him to broadcast into North Korea "what the regime fears the most — the truth," Trump said.
The young man has a new leg, but he uses the crutches as a symbol of how far he's come, Trump added.
Trump used Ji's story to highlight the problems that plague North Korea, and the threat its government poses to the U.S.
"No regime has oppressed its own citizens more totally or brutally than the cruel dictatorship in North Korea," Trump said. "North Korea's reckless pursuit of nuclear missiles could very soon threaten our homeland. We are waging a campaign of maximum pressure to prevent that from happening."