Non-citizens nearly twice as likely to be on welfare, conservative think tank finds
A majority of non-citizens are using the U.S. welfare system and nearly twice as likely to be on welfare as Americans, a new study shows, reinforcing President Trump's claims of the cost of immigration.
The Center for Immigration Studies used 2014 Census data to estimate the welfare use among various households in the country.
It found that 63 percent of non-citizens are receiving some form of a welfare program. The study also indicated that within 10 years, the percentage of non-citizens using welfare will increase.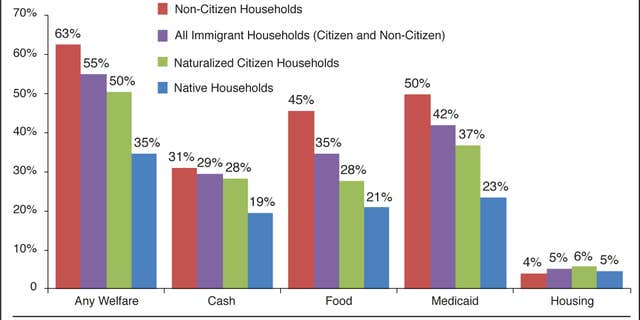 Just over half of "all immigrant households (citizen and non-citizen)" are receiving welfare in some capacity, while half of "naturalized citizen households" receive welfare.
In comparison, only 35 percent of native households are on welfare, according to the study.
CARAVAN MIGRANTS BEGIN TO BREACH BORDER AS FRUSTRATION WITH SLOW ASYLUM PROCESS GROWS
Non-native households were also found to more likely use Medicaid, food, or cash welfare programs, with the only outlier being housing programs, where native households are on par with immigrant households.
The think tank said their report bolsters the Trump administration's claims that non-citizens often impose costs on the government.
"The Trump administration has proposed new 'public charge' rules making it harder for prospective immigrants to qualify for lawful permanent residence -- green cards -- if they use or are likely to use U.S. welfare programs," said the think tank, according to the Washington Examiner.
The Trump administration has long called for changes in laws so that new immigrants wouldn't rely on welfare.
MS-13 MEMBER FROM MEXICO ARRESTED IN ARIZONA DURING IMMIGRATION STOP, CBP SAYS
In a 447-page proposal posted online in September, the Department of Homeland Security called for immigrants to be denied permanent residency if they've received or are likely to receive benefits such as food stamps, Medicaid or housing vouchers.