NJ Gov. Christie Holds Ceremonial Signing Of In-State Tuition Bill For Undocumented Students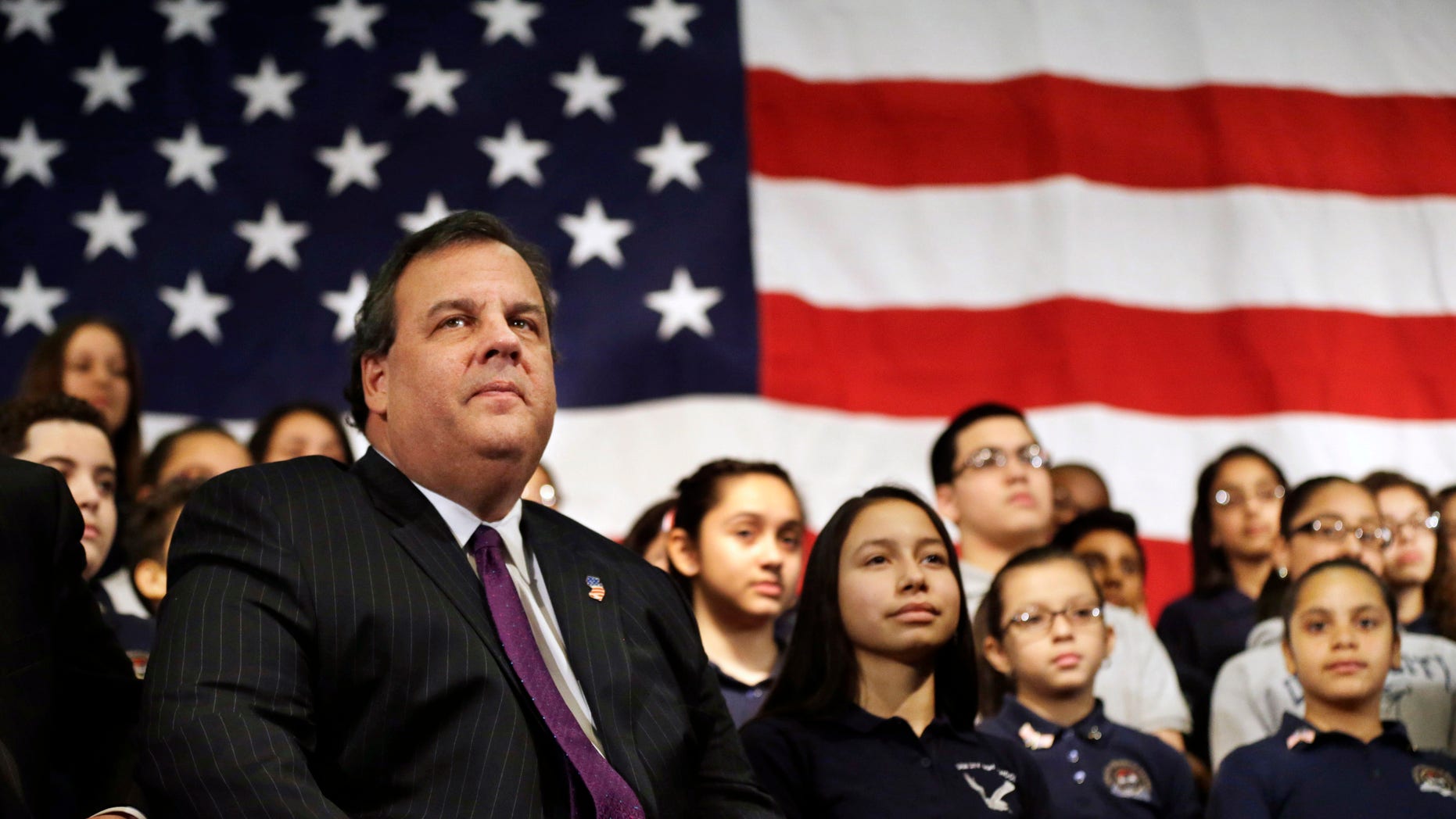 Gov. Chris Christie held a public signing of a bill Tuesday in Union City that allows undocumented students in New Jersey to attend public college at the same tuition rate as other residents of the state.
Christie, a Republican who was elected to a second term in November, signed the bill privately last month, the day after the Legislature agreed to drop financial aid eligibility for the students.
New Jersey is one of the most recent states to pass legislation extending cheaper in-state tuition rates to qualifying students who were brought illegally to the U.S. as children.
Christie had been scheduled to participate in the ceremonial signing of the bill on Monday, but that was rescheduled to accommodate all those who want to attend, a spokesman said. The Tuesday event was held at the Colin Powell Elementary School.
Union City is a square-mile city, just outside Manhattan, that for decades has been a gateway for immigrants from all over the world. It traditionally has been a Democratic stronghold.
The issue had become a distraction for the Republican and possible 2016 presidential candidate.
For several years, Christie expressed opposition to the idea of providing discounted college tuition to undocumented immigrants. But in October, he said he supported the idea.
In a keynote speech at a gala of the Latino Leadership Alliance of New Jersey, Christie said that Congress needed to work on comprehensive immigration reform and expressed support for "tuition equality."
"I believe every child should be given the opportunity to reach their God-given potential...that's a moral requirement," Christie said. "We need to get to work in the state legislature, on things like making sure that there's tuition equality for everybody in New Jersey."
He then challenged the state legislature to pass a bill, and they did. Bills calling for in-state tuition opportunities for undocumented students had languished for years in New Jersey.
Christie received a slight majority of the Latino vote in the November election – a feat that he did not hesitate to broadcast, even to his own party leadership nationwide.
He made his last campaign stop in Union City, flanked by the city's Democrat mayor, Brian Stack, who endorsed Christie, and New Mexico Gov. Susana Martinez, who is Republican.
As part of the pact between Christie and the New Jersey legislature, lawmakers agreed to drop a provision that would have also made the students eligible for state financial aid if they qualified under income guidelines. Christie had resisted going that far, saying it would be costly for the state and also make New Jersey a magnet for students in the country illegally but living in other states.
The Democrat-controlled Legislature acquiesced to Christie's position.
By agreeing when they did, lawmakers gave up something they wanted but managed to get the new tuition rates put in effect for the semester that began this month at most state colleges and universities.
Until now, foreign-born students who are not citizens have paid the more expensive out-of-state tuition rate.
The difference is significant. At Rutgers, the state's flagship public university, the in-state tuition is $10,700 annually — $14,000 less than the out-of-state cost. Full-time students also pay nearly $3,000 in fees, and room and board are extra.
Some 15 states have similar laws, including Texas and California, the two states with larger foreign-born populations than New Jersey.
Such bills often are dubbed "Dream Act" measures, though the actual federal proposed DREAM Act is about a totally different matter.
The DREAM Act, and various variations of it that have stalled in Congress, provides undocumented immigrants brought to the United States illegally as minors a chance to obtain a path to legal status.
Provisions usually provide legal status to undocumented youth who entered the U.S. as children, graduated from U.S. high schools, and attend college or enter the military, and have not committed crimes.
Versions of the federal bill allow states to make their own decision about whether to allow undocumented students to attend public colleges at the same tuition rates as other residents.
Sen. Robert Menendez, a Democrat from New Jersey who has been a vocal proponent of comprehensive immigration reform, praised the ceremonial signing of the bill.
"Today, New Jersey becomes a more welcoming and inclusive state for immigrants and their families," said Menendez, who grew up in Union City. "This commonsense policy will ensure that New Jersey high school students aren't denied a college education and the chance to pursue the American dream."
"We have already invested in these young men and women and they deserve the same opportunity to harness their talents and reach their full potential as anybody else who grew up and attended school in New Jersey."
The Associated Press contributed to this report.
Follow us on twitter.com/foxnewslatino
Like us at facebook.com/foxnewslatino