Nixon cracks under pressure, will Holder help?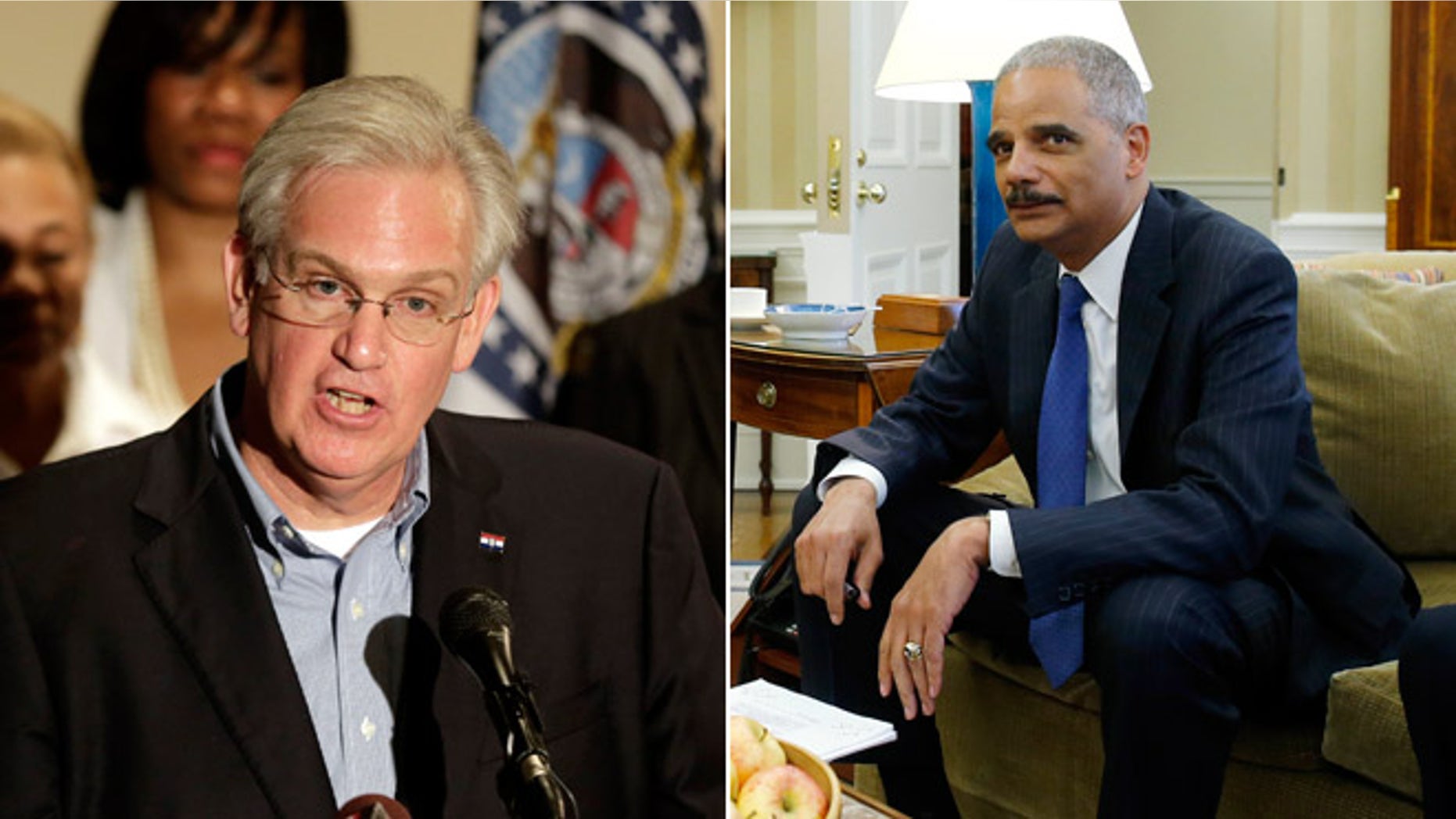 **Want FOX News First in your inbox every day? Sign up here.**
Buzz Cut:
• Nixon cracks under pressure, will Holder help?
• Obama under pressure to defeat Islamists after beheading video
• Pick Six Double Feature: Alaska and Louisiana crack Reid's firewall
• Power Play: Swinging into Minnesota
• Mom!
NIXON CRACKS UNDER PRESSURE, WILL HOLDER HELP?
A week into the racial unrest and riots in suburban St. Louis, Missouri's white, Democratic governor, under pressure from members of his party for his response, veered sharply and called for the "vigorous prosecution" of a white police officer who shot a black man on August 9. After 10 days of muddled response, Jay Nixon appears to have chosen exactly the wrong moment to be bold. Nixon's press team claimed that the governor was not prejudging an officer who may have acted in self-defense, but when Nixon spoke in a scripted video message of the need "to achieve justice" for the family of the slain man and described the shooting as taking place in "broad daylight," a term usually reserved for crimes, his message wasn't hard to decipher. After protesters increasingly focused their ire on the Nixon first for neglect and then his deployment of troops to the town of Ferguson, the second-term governor seemed eager to curry favor with those calling for the arrest of the officer in the case.

[Four dozen arrested overnight - St. Louis Post Dispatch: "Missouri Highway Patrol Captain Ron Johnson … said some 'criminals and agitators' threatened police, threw glass and plastic bottles — some filled with urine — at officers and hid behind members of the media covering the protests.]

Feeling the heat - But Nixon's aggressive posture came just hours before grand jurors might begin considering charges in the case. There has been similar pressure on the St. Louis County's Democratic prosecutor, Bob McCulloch, deemed suspect by activists because he comes from a police family and his father was killed in the line of duty 50 years ago by a black suspect. The governor having appeared to prejudge the police officer the day before the grand jury is set to begin its probe will not make life any simpler for McCulloch who has refused calls from members of Congress, state lawmakers and others to step aside in the case.

[Juan Williams writing in WSJ: "If we are to stop angry clashes between police and poor black men, it is time to admit that thuggish behavior creates legitimate fear in every community."]

Holder helping or hurting? - Meanwhile, Attorney General Eric Holder is headed to Missouri today and bringing with him the full force of the national outrage among civil rights groups over the killing. If Nixon is still nursing any of the presidential (or vice presidential) aspirations revealed in his recent Iowa visit and a huddle with major Democratic donors, Holder's arrival could hardly be considered good news. If Holder, who has become an iconic figure for liberal Democrats, feels obliged to set things right in a Democrat-led town in a Democrat-led county in a Democrat-led state, it's not a good sign. Remember, Missouri Democrats have long relied on black voters in St. Louis and Kansas City to win elections in the Republican-leaning state. Nixon seems to have found a way to both anger black voters and the moderate Democrats.

["The problem for Jay Nixon is … he's seen as having had aspirations maybe trying to be Hillary Clinton's running mate or future aspirations in 2016. The reality is that if you're in a Republican-leaning state in order to take power, in order to get elected you have to have unified support among black voters in St. Louis and Kansas City, otherwise there is no way  in. He's tremendously obliged to black voters in Missouri." –Chris Stirewalt on "The Kelly File"]

The takeaway - What Nixon and his fellow Missouri Democrats need from Holder today is cover, but Holder, who has warned of a return to Jim Crow-era race laws, he seems unlikely to oblige. As Holder keeps the pressure on, look for more cracks from his fellow Democrats and more outrage from Republicans.

[We've been here before - When it comes to the violence that sometimes follows racially charged police actions, Americans mostly think of the weeklong Los Angeles riots of 1992 that left large sections of the city in ruins and dozens dead. But the agony of St. Louis this summer is a familiar one to many American cities in recent decades: Miami (twice),  St. Petersburg, Cincinnati and, most recently, Oakland.]

OBAMA UNDER PRESSURE TO DEFEAT ISLAMISTS AFTER BEHEADING VIDEO
Fox News: "The Obama administration was working early Wednesday to confirm whether a video released by Islamic militants purportedly showing the beheading of American journalist James Foley was authentic…Fox News has learned that the video, which is being taken seriously by U.S. officials, is being analyzed by a special group within the US intelligence community that specializes in media exploitation. The group, formerly known as the Islamic State of Iraq and Syria, is believed to have other Americans in their custody. At the end of the video, a militant shows a second man, who was identified as another American journalist, Steven Sotloff, and warns that he could be next captive killed. Sotloff was kidnapped near the Syrian-Turkish border in August 2013."

[In faith alone, our hopes abide - "If nothing else, prayer was the glue that enabled my freedom, an inner freedom first and later the miracle of being released during a war in which the regime had no real incentive to free us. It didn't make sense, but faith did." – A letter of thanks from James Foley to his alma mater, Marquette University, thanking students, faculty and alumni for their prayers during his 2012 captivity in Libya.]

Cameron comes back, creates new pressure for Obama - Sky News: "David Cameron has arrived back in Downing Street after cutting short his holiday following the beheading of a US journalist. The Prime Minister's return follows the release footage appearing to show a masked man - speaking with a British accent - killing James Foley, who was seized by armed men in Syria in November 2012. Mr. Cameron, who had been on a family break in Cornwall, did not respond to questions from waiting journalists, heading instead straight into No 10 holding his official red box. Earlier, he said: 'If true, the murder of James Foley is shocking and depraved. I will today chair meetings on the situation in Iraq/Syria.'"

WITH YOUR SECOND CUP OF COFFEE...
The "new normal" for Americans doesn't include much vacation. Evan Soltas looks at government data that shows American workers have traded weeklong vacations for shorter breaks and fewer total days off a year. One week breaks were down nearly 30 percent since 1976 and many workers fail to use all of their time off: "There aren't any shortage of possible explanations: lessened job security, stagnant median incomes, rising part-time employment, and an increasing share of households with more than one member employed could all be parts of the story." There are more benign answers, too: availability of cheap air travel allowing for more quick trips, young adults waiting longer to marry and changed attention spans that don't favor long stays in single locations. But whatever the reasons, as Soltas observes, "Clark Griswold can forget about driving all the way to Walley World."

Got a TIP from the RIGHT or LEFT? Email FoxNewsFirst@FOXNEWS.COM

POLL CHECK
Real Clear Politics Averages
Obama Job Approval: Approve – 41.6 percent//Disapprove – 52.4 percent
Direction of Country: Right Direction – 27.2 percent//Wrong Track – 64.5 percent
Generic Congressional Ballot:  Democrats – 41.2 percent// Republicans – 39.8 percent

PICK SIX DOUBLE FEATURE: ALASKA AND LOUISIANA CRACK REID'S FIREWALL
Sullivan Storm in store for Begich - The fading hopes of Democrats trying to keep control of the Senate took another blow Tuesday as former state attorney general Dan Sullivan staved off a late surge by a tea-party challenger Joe Miller to win Alaska's Republican Senate primary. The results of the three-man contest show that despite extensive and expensive Democratic meddling, Republicans emerged from the primary with a strong candidate to take on vulnerable Sen. Mark Begich, D-Alaska. Sullivan was able to marshal a well-funded campaign to defeat Miller and Lt. Gov. Mead Treadwell and counter a flood of outside money aimed at the frontrunner from Democratic groups like Harry Reid's Senate Majority PAC. Sullivan's victory adds to a string of GOP solid challengers to shaky Democratic Senate incumbents this cycle, with the Republicans needing to pick up a net six seats to gain control of the upper chamber. Just one glimmer remains for Democrats, who hope that Republican insurgent candidate Rob Manes will muck up the waters for establishment GOP candidate Bill Cassidy in Louisiana's Senate race. But right now, Majority Leader Harry Reid's recent chipper assessment that he'll keep his job is looking more and more like a long shot.
[Watch Fox: Correspondent Dan Springer is in Alaska to size up the Frontier State battle that could decide control of the Senate.]
Battle for the bayou - Mired in a controversy over using taxpayer funds for campaign plane travel, Louisiana Democratic Sen. Mary Landrieu's, chances of navigating the swamp and keeping her job are looking increasingly dim. The flap adds to the vulnerable incumbent's efforts to distance herself from the Obama administration's energy policy and ObamaCare in the red state. Landrieu faces a formidable challenger in Republican Rep. Bill Cassidy. Complicating the picture for Cassidy: a tea-party challenge by retired Air Force Col. Rob Manes. Democrats hope Mannes will draw votes from Cassidy. But in the state's jungle primary on Nov. 4, if no candidate receives more than 50 percent of the vote – at this point is looking doubtful for Landrieu –  then the top two-vote getters proceed to a December runoff. Meaning after election day all eyes could be on the Bayou state to decide which party controls Congress' upper chamber for the last two years of President Obama's term.

[Watch Fox: Campaign Carl Cameron is in Louisiana to examine how the state's pivotal Senate race is shaping up.]

Ad: Landrieu's lost touch with Louisiana - The conservative group Americans for Prosperity, is airing a new ad hitting Sen. Mary Landrieu for being "out-of-touch with sound economic policy" after spending decades in Washington.  The ad says Landrieu has voted with President Obama 97% of the time, including votes for more debt and supporting ObamaCare, and exhorts voters to "Tell Landrieu: Enough Washington."

Landrieu deflects questions on plane flap - Shreveport [Louisiana] Times: "U.S. Sen. Mary Landrieu said Monday her use of campaign funds to pay for some campaign flights was an internal office mistake, but then tried to deflect the controversy by accusing opponent U.S. Rep. Bill Cassidy of ducking debates with her….While admitting 'it shouldn't have happened,' Landrieu deflected criticism by taking her own shot at Cassidy. 'If Congressman Cassidy would say 'yes' to debates instead of ducking them, I'd to happy to talk about (the flights) and other issues,' she said."

PICK SIX:  A WAVE OF PICK-UPS?
The status quo will change dramatically in Washington if Republicans are able to gain an additional six Senate seats. The six Democrat-held seats Fox News First Readers feel could be the most likely GOP pickups are: Arkansas (13.6%), Montana (12.1%), Louisiana (11.7%), West Virginia (11.3%), South Dakota (10.8%) and North Carolina (9.5%).  Reader Wayne Hendon of Mesquite, Texas feels if the GOP sees a wave in November, "Republicans will pick up Minnesota, Colorado, and New Hampshire." If November  turns out to be a wave election for Republicans, what seats do you feel could be in play? We want to know!

Share your top six picks. Email them – just your top six, please – to FOXNEWSFIRST@FOXNEWS.COM or tweet @cstirewalt.

-- 76 days until Nov. 4 --

POWER PLAY: SWINGING INTO MINNESOTA
Why is Wisconsin considered a swing state, but not Minnesota?  President Obama won both states by 53 percent in 2012. While incumbent Sen. Al Franken D-Minn., currently holds a double-digit lead, so did former Sen. Norm Coleman, R-Minn., at this time in 2008, the man Franken defeated. Franken is not taking his GOP opponent Mike McFadden lightly and has been fundraising through his old Hollywood cohorts. Will those moves be enough to defeat a pro-business, "Romney-like" candidate in McFadden this November? Watch as Chris Stirewalt breaks down the Race in 90 seconds here.

MCCONNELL BACKERS RAMP UP AIR WAR
Washington Examiner: "The Kentucky Opportunity Coalition, a 501(c)4 advocacy group that is backing [Senate Minority Leader Mitch McConnell's] re-election, will spend $660,000 on a new 30-second ad attacking Kentucky Secretary of State Alison Lundergan Grimes, the Democratic candidate. It will also spend $870,000 to air a positive ad that it has run before."

ARKANSAS AIR ASSAULT
The National Republican Senatorial Committee is hitting the airwaves charging Sen. Mark Pryor, D-Ark., voted to "give social security benefits to illegal immigrants" in a new ad. The attack is part of the committee's $1.9 million advertising blitz between now and election day. In a competing ad, the Democratic Senatorial Campaign Committee is charging Rep. Tom Cotton, R-Ark., is lying about his support of funding for Arkansas' Children's Hospital.

GOP PLUMPS FOR TILLIS IN TOUGH TAR HEEL SENATE CONTEST
Roll Call: "The National Republican Senatorial Committee is launching a coordinated TV ad buy next month with North Carolina Senate hopeful Thom Tillis. The $1.4 million buy begins Sept. 2 and runs through Sept. 22 on broadcast and cable, according to the Tillis campaign…Last week, the Democratic Senatorial Campaign Committee kicked off a $9.1 million ad campaign for [Sen. Kay Hagan, D-N.C,] which was set to run through Election Day."

STEYER BASHES ERNST OVER BIO-FUELS
Billionaire Democrat Tom Steyer is using his wealth to attack Iowa Republican Senate candidate Joni Ernst for her support from, billionaires. In a new ad from Steyer's political group, viewers see a graphic of Ernst and the conservative Koch brothers as a narrator says, "Joni Ernst and her big oil backers, too close for Iowa's comfort." The attack is part of Steyer's $2.6 million campaign he launched last month to save the seat for Democrats.

Gardner- Steyer's NexGen Climate PAC is hitting Republican Senate candidate Rep. Cory Gardner's, R-Colo., pro-life and pro-family stances along with his skepticism of climate change in its first ad buy in the Centennial State's Senate race.

CROSSROADS ROCKS UDALL OVER OBAMACARE SUPPORT
The conservative group Crossroads GPS is criticizing Sen. Mark Udall, D-Colo., for saying if he had to, he would vote for ObamaCare again in a $450,000 ad buy.

PRO-BUSINESS GROUP PUTS BIG BUCKS BEHIND GOP CANDIDATES
Washington Examiner: "The National Federation of Independent Business plans to spend up to $2 million on favored candidates in the November elections, mostly on paid advertising…the NFIB has endorsed GOP candidates in six Senate races that could determine the balance of power: Kentucky, Arkansas, Colorado, Michigan, West Virginia and Iowa."

BRALEY BLASTED FOR MISSING KEY VETS VOTES
Iowa Democratic Senate contender Rep. Bruce Braley is being slammed in a second ad from the conservative group Crossroads GPS charging he missed 75 percent of votes as a member of full House Veterans' Affairs Committee. From the ad: "What if American veterans never showed up on D-Day?...Tell Congressman Braley to get to work and give veterans the health care they deserve."

MERKLEY PLAYS UP TRADE WAR IN OREGON RACE
Sen. Jeff Merkley, D-Oreg., is highlighting his efforts to stop outsourcing in a new ad. From the ad: "…As men and women clock in across the state, thousands of hands are building a stronger Oregon. But there are still special interests who want to give tax breaks to corporations who ship our jobs overseas. So I wrote a bill to make China play fair on trade."

RGA RIPS HICKENLOOPER FOR BUDDYING UP TO OBAMA
A recent game of pool with President Obama is coming back to bite Gov. John Hickenlooper,  D-Colo. In their latest punch, the Republican Governor's Association has released a new ad featuring footage of the pair playing pool during a recent visit by the president with a narrator saying, "Gov. Hickenlooper is a fun guy to shoot pool with. But when it comes to making the tough decisions Hickenlooper won't step up to the table."

But Crist is cool with it - Tamp Bay Tribune: "With [President Barack Obama's] approval ratings lately barely cracking 40 percent, plenty of Democrats will keep their distance from the president heading into the midterms, just as Alex Sink did she when ran for governor in 2010. Not Charlie Crist, who said…he hopes to be campaigning side by side with the president. 'I hope so,' he said when asked about campaigning with Obama. 'I hope everybody does.'''

Sheriff Joe to stump for Malloy - Vice President Joe Biden heads to Connecticut today to attend two fundraisers for Gov. Dan Malloy, D-Conn., as he faces a tough re-election campaign. Biden will join Malloy an afternoon fundraiser benefiting the Democratic Governors Association at a private home in Greenwich, Conn., and another fundraiser that evening for the state's Democratic party, according to the White House. Malloy faces a rematch with Republican Tom Foley, whom he beat by less than one point in 2010.

PERRY TURNS INDICTMENT TO ADVANTAGE
Fox News: "Texas Gov. Rick Perry was defiant as he turned himself in to authorities Tuesday on the heels of his indictment for alleged abuse of power, vowing to 'prevail' in the case.  The Republican governor spoke to a cheering crowd outside the Travis County …Aides said the case wouldn't prevent Perry from maintaining his packed upcoming schedule, which includes visits to the key presidential battleground states of Iowa, New Hampshire and South Carolina in the next two weeks. Perry also has a Thursday speech on immigration at the Heritage Foundation in Washington."

[Gov. Perry's RickPAC is rallying support with a new Web video featuring unflattering police footage of the drunk driving arrest and detention of a Texas district attorney Rosemary Lehmberg.]

TOGETHER AGAIN: ROMNEY TEAMS UP WITH RYAN FOR BOOK TOUR
Chicago Sun-Times: "Onetime Republican presidential nominee Mitt Romney and U.S. Rep. Paul Ryan [R-Wis.] have taken their show back on the road — except this time, it's a book tour. The 2012 Republican presidential ticket running mates will land at the Union League Club in Chicago on Thursday evening to promote Ryan's new book: 'The Way Forward.'''

STUDY: SUPPORT FOR COMMON CORE CRUMBLING
A study by the conservative Hoover Institution has found a significant drop in support of the Common Core education standards. The report found 53 percent of those surveyed still favor Common Core, representing a marked decline from 65 percent in 2013. Teachers represent the largest blocs who are now souring on the federal education standards with 46 percent supporting it as a opposed to 76 percent who did last year.

MOM!
KUTV: "An 86-year-old Salt Lake woman has published her first novel, a romance, which she says is steamy. Georgia Gorringe is a wife, mother, even a great-great grandmother. Now, she's an author, having published her first novel earlier this year. The book is a romance novel called "No Good-Bye." It's written under her pen name, Georgie Marie. … 'It is quite an accomplishment,' added her daughter, Bobbie Posey. But readers beware—this is not the innocent love story you might expect. It's full of 'steaminess,' as Posey describes it. 'It's about a bored housewife, and she listens to talk radio,' said Gorringe. 'And that voice on the radio, oh, he had a magic voice! And it just turned her on!' Indeed, the book's subject matter is very mature in parts. 'Sometimes I'm like, mother, how could you do that? How can you write that?' said Posey. 'But she did!' … But the big question for many who know Gorringe is: How much of this scandalous story is true? 'I keep telling people, it's all fiction,' insists Gorringe. 'It is, but a lot of it is actually real life,' said Posey. 'I mean, we know who she's talking about.'"

Chris Stirewalt is digital politics editor for Fox News. Want FOX News First in your inbox every day? Sign up here.