New York City Mayor Asks Court To Block Law Allowing Lawsuits Over Police Actions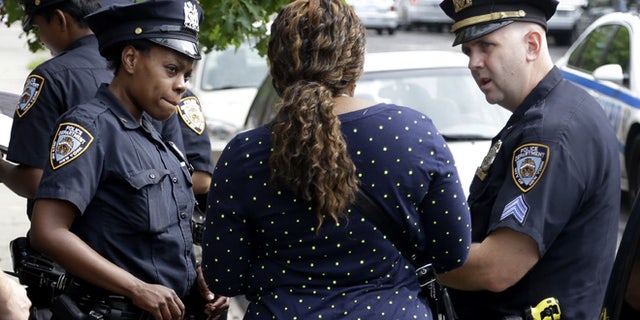 Arguing that police must be able to do their job without intimidation, Mayor Michael Bloomberg is fighting a law that would make it easier for people to sue over stop-and-frisk or other police techniques.
He asked a court on Tuesday to block the law.
The mayor's lawsuit, which he had indicated he'd file, argues that the measure treads into an area governed by state criminal law. It includes a section explaining when and how police can stop, question and pat down people, for instance.
"It is intended to be a uniform and complete set of laws for the entire state," and city lawmakers have no business setting their own, the mayor's lawyers wrote in the state Supreme Court suit.
The City Council passed the local law last month over Bloomberg's veto. Council Speaker Christine Quinn, a Democrat running to succeed Bloomberg as mayor, opposed it but has said lawmakers had the authority to pass it.
"Mayor Bloomberg can sue all he wants, but at the end of the day, we will successfully beat back this ill-advised litigation and ensure the prerogative of the City Council to reform stop and frisk," she said in a statement Tuesday.
The suit comes as the city fights a federal judge's finding that the New York Police Department's use of the stop-and-frisk tactic was racially discriminatory. The judge appointed a monitor to steer changes. Two weeks later, the City Council overrode Bloomberg's vetoes to create another watchdog, an inspector general, and to ease some standards for lawsuits claiming racial profiling or other forms of police bias. The suits can seek policy changes but not money.
Civil rights advocates hail the new laws and federal court ruling as needed oversight. Bloomberg, an independent who is leaving office after three terms, says they will interfere with an effective police department.
Besides responding to the outcry over stop-and-frisk, the new laws were propelled by concern about the NYPD's extensive surveillance of Muslims, as disclosed in stories by The Associated Press.
City Councilman Brad Lander, a Democrat and sponsor of the measures, said Tuesday he and his fellow council members are "well within our legal authority — and our responsibility — to protect the civil rights of New Yorkers."
He noted that Bloomberg signed a 2004 law that prohibited racial profiling by police. The law didn't give people the legal recourse the new law does.
Bloomberg, too, has noted his support for the earlier law.
"Racial profiling is already against the law," he said in his weekly radio address Aug. 25. "This (new) bill will only make it easier for people to sue the police department — and harder for police officers to do their jobs."
Bloomberg also vetoed the inspector general law, but his administration doesn't plan legal action over it.
Based on reporting by The Associated Press.
Follow us on twitter.com/foxnewslatino
Like us at facebook.com/foxnewslatino