New mayor of Mo. city met by police, suspended over alleged voter fraud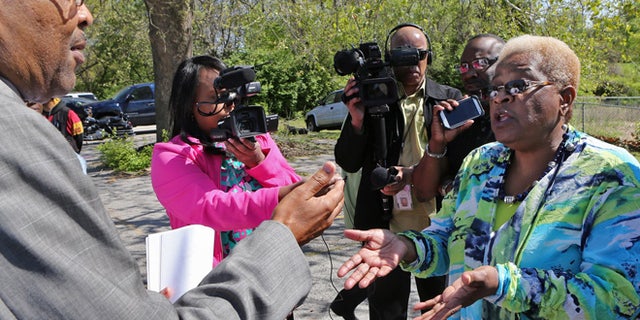 NEWYou can now listen to Fox News articles!
The new mayor of a Missouri city had a tough first day on the job when she was met by police at City Hall and informed she had been suspended over allegations of voter fraud.
Betty McCray, the newly elected mayor of the city of Kinloch, was met in the parking lot at City Hall Thursday by police officers and the city attorney holding articles of impeachment, the St. Louis Post-Dispatch reported.
"You can't come in as mayor," attorney James Robinson told McCray. "You have been suspended."
McCray, however, was defiant, telling Robinson, "You may be the attorney now, but I promise you, you won't be later."
The city, located between Ferguson and Lambert St. Louis Airport, has fewer than 300 residents and is plagued by shady land deals and bitter political fights, according to the Post-Dispatch.
"I won. The people spoke," McCray said, according to MyFox2Now.com. "I was sworn in by the St. Louis County. Today I take office. I want them out, I want the keys."
Concerns had been raised to the St. Louis County Board of Elections and the Missouri Secretary of State about voters registered in Kinloch who no longer live there.
On April 7, McCray defeated Mayor Darren Small 38 votes to 18. However, the outgoing administration refused to administer the oath of office to her after the allegations surfaced. She was later sworn in by a St. Louis County court clerk.
The city found that two of the apartments, where six people were registered to vote, were vacant and stripped of furniture and appliances. In one, only a jar of pickles and two used oxygen tanks remained among other debris, the Post-Dispatch reported.
McCray dismissed the allegations as absurd.
"It never came up until I ran for mayor," McCray said.
This was not the only legal trouble facing the new mayor. In March, the city filed a lawsuit alleging she obtained a house fraudulently from the city in 2008, claiming that former mayor Keith Conway – who served time in prison for charges of wire fraud, theft from a federal program and witness tampering – gave her the house for free. McCray says she bought the four-bedroom house for $9,000.
"I didn't defraud the city of anything," McCray told The Post-Dispatch. "They are trying to get those homes back, so they can get the money and put it in their pocket."
McCray said she intended to file an injunction with the St. Louis County courts, and to return and try to enter City Hall again on Friday.
Click for more from the St. Louis Post-Dispatch.
Click for more from MyFox2Now.com