New Jersey Democratic Sen. Menendez wins second term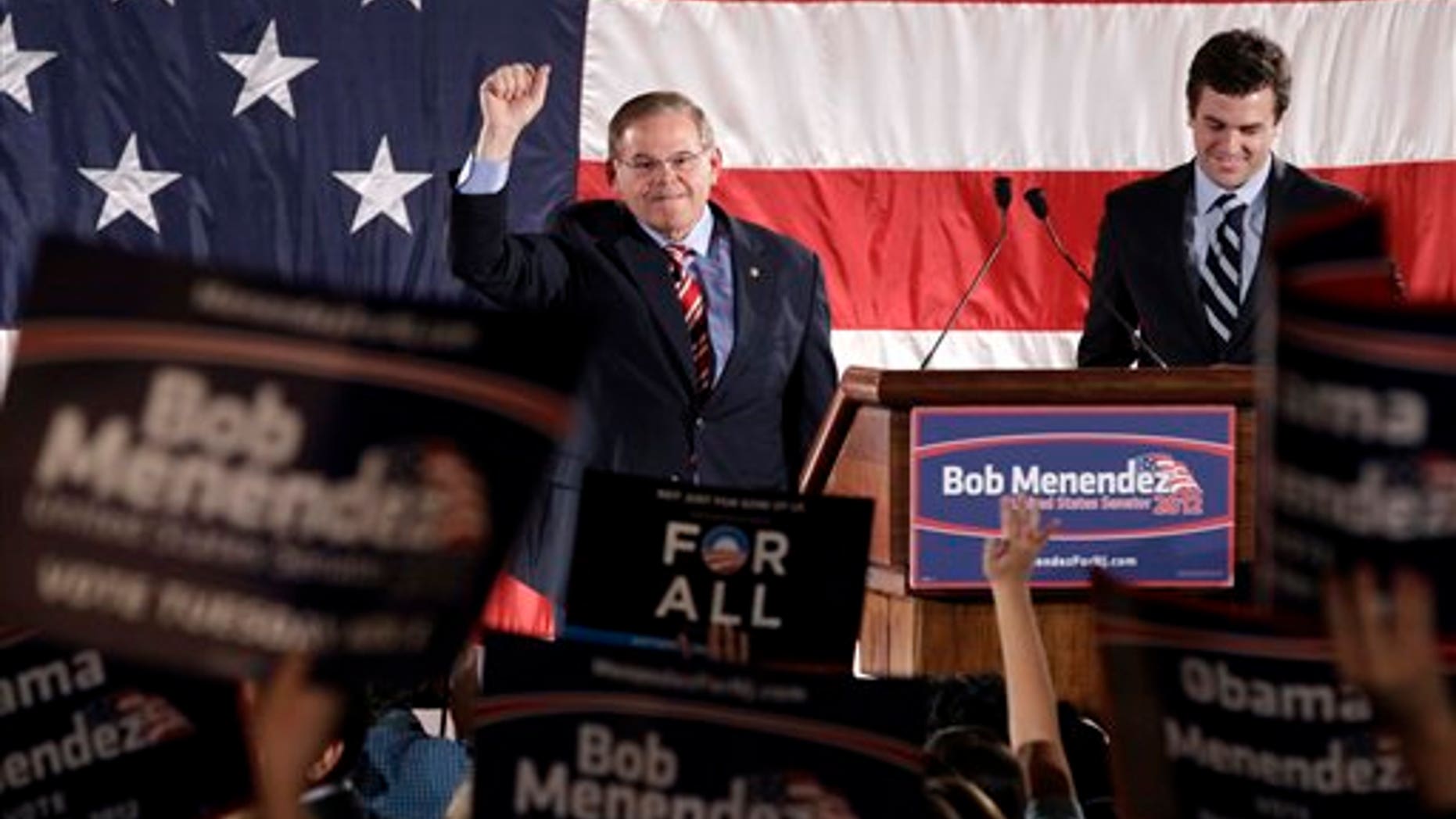 TRENTON, N.J. – New Jersey voters on Tuesday sent U.S. Sen. Bob Menendez back to Washington for another six-year term in a lopsided race in which the Republican challenger never figured out a way to dent the better-known, cash-flush incumbent.
Menendez, a 58-year-old Democrat, easily defeated veteran state Sen. Joe Kyrillos, 52, who was making his first bid for Senate. He ran for Congress in 1992, his only other losing campaign in a quarter-century political career.
Menendez also outraised Kyrillos nearly 3-to-1, according to the latest federal election filings.
"In this election, I wanted to run a positive campaign that ended the politics of personal destruction that we have seen over the last decade in New Jersey," Menendez said.
"In this election I looked straight at you in the camera and told you this is where I came from, this is who I am, this is what I have done for you the last six years in the U.S. Senate," he said.
In conceding, Kyrillos complained about being "significantly out-funded" and said it was time to take another look at campaign finance reform. But he said he had no regrets about running.
"Tonight we end this great effort," Kyrillos said. "I've loved this campaign. I've loved every minute of it."
President Barack Obama won New Jersey to claim its 14 electoral votes. Obama's re-election campaign devoted little time or money to the Democrat-leaning state.
Republican Gov. Chris Christie was the first governor to endorse GOP presidential candidate Mitt Romney and raised millions for him during the campaign. But Christie also heaped praise on Obama for his help with the state's recovery from Superstorm Sandy.
In other statewide decisions, voters approved two ballot measures, one that authorizes $750 million in higher education borrowing and another allowing the state to require judges to contribute more to their pension and benefits packages.
Early returns showed 10 incumbent members of the U.S. House retaining their seats, including longtime Democratic Rep. Bill Pascrell, who defeated celebrity Rabbi Shmuley Boteach in the 9th District. Donald Payne Jr. was elected to fill the seat held by his late father, Donald Sr., in the 10th District. The most closely watched race was between Republican Rep. Jon Runyan and Democratic challenger Shelley Adler in the 3rd District. It remained undecided.
Kyrillos ran a low-key campaign "that didn't draw any distinctions between him and Bob Menendez. He didn't even tout his 24 years of service in the Legislature," said political scientist Patrick Murray of Monmouth University, near Kyrillos' hometown of Middletown.
Menendez entered the race with obvious advantages. He had Obama anchoring the party's ticket in a state with 662,000 more registered Democrats than Republicans. He's from heavily populated Hudson County, which has more registered Democrats than any other county. And as an incumbent, he was known by far more voters -- 6 out of 10 registered voters polled by Monmouth University in late September reported not knowing enough about Kyrillos to have an opinion.
Menendez had $8.3 million on hand heading into October compared with Kyrillos' $1.6 million.
Voters didn't love Menendez, polls showed, but they didn't hate him, either.
The race lacked any defining issues and the challenger remained largely unknown, Murray said, a combination that tends to send voters "to the default position, which is to give the incumbent another term," Murray said.
Perhaps most telling, New Jersey residents haven't sent a Republican to the Senate since the `70s.
Kyrillos pulled out his most effective weapon down the stretch -- Christie, his pal of 20 years. But Christie's pledge to campaign with Kyrillos down the stretch was curtailed by Superstorm Sandy, which ravaged the New Jersey coast a week before the election. Kyrillos' home county was among those hardest hit.
The governor and the legislator go way back; Christie and his wife, Mary Pat, double-dated with Kyrillos when he took his wife on their first date.