National Archives says full set of Kavanaugh documents not ready until October
The National Archives said Thursday that it will not be able to completely review more than 900,000 pages of documents related to Supreme Court nominee Brett Kavanaugh's time in the George W. Bush White House until the end of October.
The documents, requested by Republicans, cover Kavanaugh's time in the White House counsel office and his nomination to be a judge. Democrats have sought a broader cache of files from Kavanaugh's time as Bush's staff secretary.
Republicans have hoped to confirm Kavanaugh to replace the retired Justice Anthony Kennedy by the time the Supreme Court's next term begins Oct. 1. At a news conference Thursday, Senate Judiciary Committee Chairman Chuck Grassley, R-Iowa, said he hoped to hold a confirmation hearing "sometime in September."
In response to the letter from Archives General Counsel Gary Stern, Grassley spokesman Taylor Foy said the Judiciary Committee will still be able to undertake its review along the same timeline set previously, which would put Kavanaugh on track for confirmation in early October.
Senate Minority Leader Chuck Schumer, D-N.Y., said that the Archives letter "confirmed our worst fear" — that even the documents requested by Republicans may be limited because they will be screened by Bush's lawyer under the Presidential Review Act.
"This unprecedented process appears to be designed intentionally by Republicans to deny the Senate and the American people the information they need to evaluate this critically important nomination," Schumer said.
At Thursday's news conference, Grassley and other Senate Republicans blasted the Democrats' demands as delay tactics.
Standing before stacks of boxes that will be filled with documents from Kavanaugh's other jobs — an initial cache of 125,000 documents is expected later this week — Grassley and other top GOP senators argued there would be ample paperwork to review, including Kavanaugh's 300 cases as an appellate judge.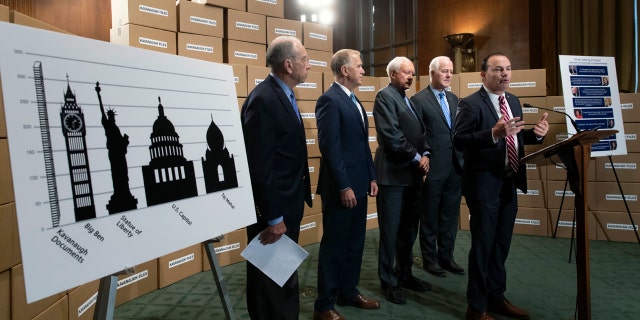 Grassley called it probably the "deepest dive" ever conducted on a Supreme Court nominee. Since several Democratic senators already have announced their votes against Kavanaugh, he questioned "the sincerity of demands" for more.
"What more do they need to know to vote no?" Grassley said.
"It's just amazing to me they make such a farce of this," said Sen. Orrin Hatch, R-Utah. He urged the Senate not to continue "down this partisan, picky, stupid" path.
Sen. Thom Tillis, R-N.C., said the documents already being sought would stack as high as the Capitol dome. Sen. Mike Lee, R-Utah, said they would stretch 11.9 miles — "Kavanaughtical" miles, he called them.
At the White House, press secretary Sarah Sanders backed up the GOP senators: "We don't want a taxpayer-funded fishing expedition."
The paperwork battle was expected to be the potential tripwire for the Yale-educated Kavanaugh, whose long record in public service comes with a document trail that could provide insight to his views on key issues.
His job as staff secretary has been described as the president's inbox and outbox, touching more than 1 million pages that passed the commander in chief's desk — including prominent Bush-era issues such as the detention and interrogation of terror suspects.
Separately, Democrats have become particularly concerned about Kavanaugh's views on the special counsel law, views that were shaped by his experience on Kenneth Starr's team investigating President Bill Clinton.
The issue has become more pressing as Trump tweets, as he did Wednesday, that Attorney General Jeff Sessions should end special counsel Robert Mueller's probe of Russian interference in the 2016 election. Kavanaugh earlier had suggested such investigations could impede a president's ability to govern.
As Kavanaugh visits with senators on Capitol Hill — he has met with 47 senators so far, all but one of them Republicans — questions about his approach to the special counsel law have been raised, senators said.
Tillis said Kavanaugh did "a good job" in discussing the issue.
Grassley said it remained his belief that Mueller should be allowed to finish his probe.
Democrats said the additional documents they requested were crucial to understanding all aspects of Kavanaugh's background.
But the dispute also could be seen as a way to slow the GOP's drive to confirm Kavanaugh and potentially build opposition. Protesters flooded some halls in the Capitol complex this week as Kavanaugh went door-to-door meeting with senators.
"Getting the documents is especially important," said Sen. Ron Wyden, D-Ore. He pointed to the recent confirmation battle over Ryan Bounds, whose judicial nomination was derailed after new writings were unearthed from his college days.
Fox News' Chad Pergram and The Associated Press contributed to this report.