More Stimulus? Analysis Finds Funds for Roads, Bridges Has Had No Impact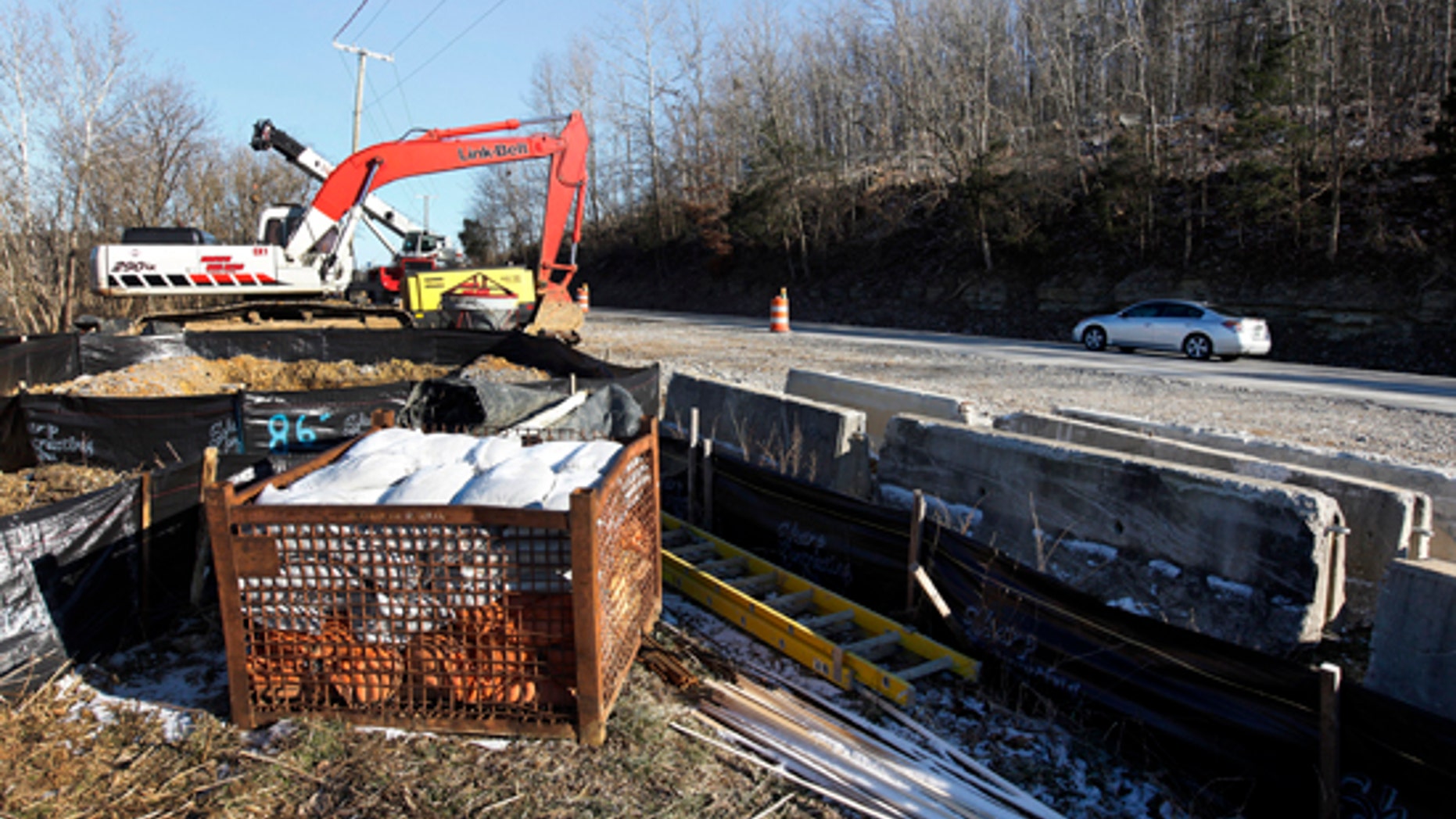 WASHINGTON -- President Obama's top economist gave administration support for a new $75 billion stimulus plan that passed the House last month, but a new analysis shows the government has stimulated little in the past year through one of its most vaunted programs -- road construction.
In fact, regions and states that received ample stimulus funding for building roads and bridges had equally high unemployment rates as areas that didn't get cash from the $787 billion recovery package signed in February of last year, a new Associated Press analysis found.
The figures put to the test Obama's argument that more road money would address an "urgent need to accelerate job growth."
Construction spending would be a key part of the Jobs for Main Street Act, a $75 billion second stimulus to revive the nation's lethargic unemployment rate and improve the dismal job market for construction workers. The House approved the bill 217-212 last month after House Speaker Nancy Pelosi, D-Calif., worked the floor for an hour; the Senate is expected to consider it later in January.
On Sunday, White House Council of Economic Advisers chief Christina Romer said the Recovery Act "has been incredibly important" in encouraging the private sector to start hiring, even though she acknowledged that the jobs picture "is still terrible."
She said the House package for $75 billion for infrastructure and targeted aid like unemployment insurance and COBRA health care benefits would also help kick-start the flailing economy.
But Romer could not say whether economic growth is "going to be strong enough to really add a lot of people back into employment." And she said expiring provisions of the Recovery Act -- like longer unemployment benefits and state fiscal relief -- should be extended.
Romer said Obama wants to target specific actions like tax incentives for small businesses to hire, for instance, "the so-called cash for caulkers" program that could "jump-start energy retrofits" and $5 billion more for clean energy manufacturing.
So far, however, economists say transportation construction spending has been a dud.
AP looked at the more than 700 counties that got the most stimulus money per capita for road construction, and the more than 700 counties that received no money at all. It reviewed Transportation Department data on more than $21 billion in stimulus projects in every state and Washington, D.C., and the Labor Department's monthly unemployment data.
In its statistical models, it found no difference in unemployment trends between the group of counties that received the most stimulus money and the group that received none.
Five universities offered up economists to review AP's conclusions, which looked only at bridge and road spending and not the unemployment benefits, tax cuts or money for states that Romer promoted.
"My bottom line is, I'd be skeptical about putting too much more money into a second stimulus until we've seen broader effects from the first stimulus," said Aaron Jackson, a Bentley University economist who reviewed AP's analysis.
Obama Transportation Secretary Ray LaHood quickly fought back, saying using the roads and bridges funding as a measure of overall construction employment is "comparing 'apples and oranges.'"
"You see, the highway and road construction industry totals about 258,000 jobs out of an overall national work force of 132 million jobs. If you're keeping score at home, that means only two-tenths of one percent of the American employment is in highway and road work," LaHood wrote on a White House blog, arguing that transportation construction is only a "sliver of the total construction picture.
Last week the Labor Department reported that the number of construction jobs overall fell another 53,000 in December, bringing the total unemployment rate for construction workers to 22.7 percent with job losses throughout the industry.
Employment in construction has fallen by 1.6 million since the recession began, the Bureau of Labor Statistics reported.
Part of the reason for the minimal impact is the small percentage transportation spending consumes in the nation's $14 trillion economy -- even with "shovel ready" projects ready to go.
"It would be unlikely that even $20 billion spent all at once would be enough to move the needle of the huge decline we've seen, even in construction, much less the economy. The job destruction is way too big," said Kenneth D. Simonson, chief economist for the Associated General Contractors of America.
Another analyst said the effect of transportation construction on the economy was so small, it's comparable to "trying to move the Empire State Building by pushing against it."
"As a policy tool for creating jobs, this doesn't seem to have much bite," said economist Thomas Smith of Emory University.
LaHood did not dispute that notion, saying that transportation stimulus dollars make up only 7 percent of the overall stimulus package. He wrote that despite that small percentage, "public construction" rose by $8.3 billion from November 2008 to November 2009, 5.7 percent higher year on year.
"By contrast, overall construction spending was down 13 percent from a year ago, to the lowest level in six years," he wrote.
But Reps. James L. Oberstar, chairman of the House Transportation and Infrastructure Committee, and Peter A. DeFazio, chairman of the panel's Highways and Transit Subcommittee, also said AP was giving too little credit to the transportation funds' effect on jobs.
"To dismiss them as having no effect at all is like saying it is a waste of time to feed a homeless family because that one act does not cure poverty," they said.
A second explanation for the sluggish figures may be due to the nearly impossible task of tracking the cash.
The Department of Transportation reported late last month that it had given out $21.8 billion for 10,000 projects nationwide. The department is responsible for $26.6 billion in highway projects funded through the Recovery Act.
In a press release, the department reported that "6,092 highway projects are underway. This money is helping employ tens of thousands of men and women and significantly improving more than 27,000 miles of roads and bridges."
"Highway projects are moving forward across the country," said Federal Highway Administration Administrator Victor Mendez. "Thanks to the Recovery Act, drivers, pedestrians, and cyclists will see significantly improved roadways in 2010."
"Federal stimulus spending is reducing that drastic shortfall in other public transportation spending, making it possible for tens of thousands of workers to retain their jobs and never even hit the unemployment rolls. Indeed, DOT-administered stimulus spending is the only thing propping up the transportation construction industry," LaHood added Monday.
But according to watchdog groups, large portions of stimulus money are going to nonexistent congressional districts and zip codes. For instance, the Transportation Department gave $247 million in stimulus cash to New Mexico, but New Mexico.watchdog.org said that $26.5 million of $1.6 billion in cash allocated to the state overall went to 10 New Mexico congressional districts that do not exist and is credited with creating 61.5 jobs. It did not say the source of the unexplained dollars.
Another $500,000 was granted to three zip codes that do not exist and paid for five jobs. According to Recovery.gov, which lists all stimulus projects allocated, the New Mexico Department of Transportation received more than $207 million in stimulus funding, the top recipient of federal cash to the state.
New Mexico is just one state in which watchdogs have found allocations going to phantom recipients. The state's unemployment rate was 7.8 percent in November, below the national average, but up 70 percent from 4.6 percent in November 2008.
The analysis concluded that transportation spending is an attractive sell because money can be spent quickly and a tangible payoff is visible. But Daniel Seiver, an economist at San Diego State University who reviewed the analysis said while transportation funds may have a long-term payoff in the way of an improved infrastructure, "in terms of an immediate impact on construction jobs it doesn't seem to be showing up."
"A program like this may be justified but it's not going to have an immediate effect of putting people back to work," he said.
The Associated Press contributed to this report.