Missouri lawmaker who said she hopes Trump gets assassinated is censured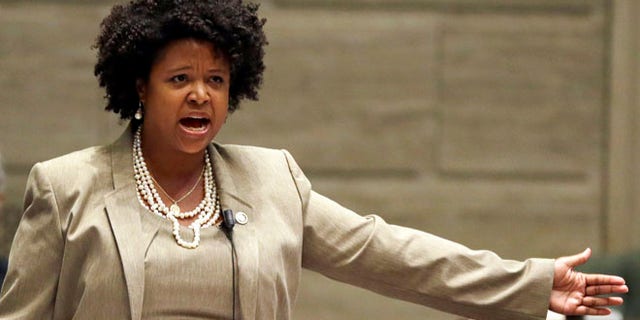 The Missouri Senate voted to officially censure one of their lawmakers on Wednesday for a comment she made in August on Facebook hoping for President Trump's assassination.
After the violent protests in Charlottesville, Va. last month, lawmaker Maria Chappelle-Nadal posted on her personal Facebook page, "I hope Trump is assassinated!"
She later deleted the post, but not before a screenshot was posted to Twitter, causing both Republicans and Democrats in Missouri to call for her resignation.
Instead of ousting her, like some Republicans wanted, the Missouri Senate instead voted to publicly censure her. In Wednesday's resolution, they again called for her to resign and warned that she could still be kicked out later.
She soon apologized for the comment, saying it was made in frustration over Trump's response to white supremacist violence in Charlottesville, but refused to resign.
Chappelle-Nadal told KMOV in August, "I posted something on my personal Facebook and I should not have done that, and for that I am sorry for that. But I am not going to shy away from what caused that anger at all, I'm not going to shy away from that."
Chappelle-Nadal had previously been removed from her committee assignments.
MISSOURI SENATOR WHO URGED TRUMP ASSASINATION BOOTED FROM COMMITTEES
The Missouri House took a different course of action on Wednesday against one of their Republican members. Instead of censure, they referred a complaint against Rep. Warren Love to an ethics panel.
In August, Love shared an article on Facebook about a vandalized Confederate statue with the added comment, "This is totally against the law. I hope they are found & hung from a tall tree with a long rope. National Veterans Cemetery in Springfield, MO."
The post was also taken down but still led his colleagues to call for his resignation.
"It was a harsh statement, I shouldn't have said that," Love said in August.
He claimed he was using old cowboy jargon but Democrats argued that his words evoked images of lynchings of black residents.
Love remains on committees, though House Speaker Todd Richardson said Wednesday that he still could be removed pending the outcome of a bipartisan House Ethics Committee review.
The Associated Press contributed to this report.