Missouri Gov. Greitens says he won't resign after new claims of wrongdoing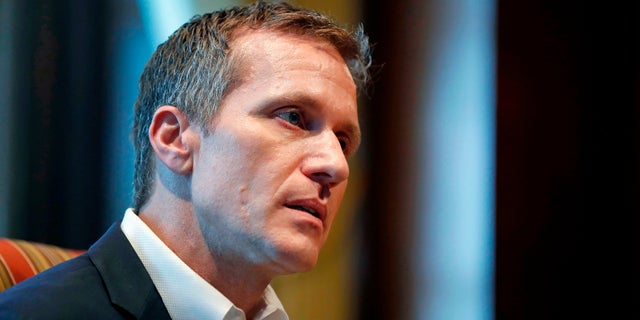 NEWYou can now listen to Fox News articles!
Missouri Gov. Eric Greitens vowed that he would not resign Tuesday night, hours after the state's attorney general suggested that Greitens had illegally used a charity donor list for political purposes.
In a statement, the Republican governor responded to calls from the state's GOP legislative leadership for him to step down over the findings by Attorney General Josh Hawley as well as Greitens' indictment on a felony invasion of privacy charge.
"I will not be resigning the Governor's office," Greitens said in a statement on Twitter. "In three weeks, this matter will go to a court of law—where it belongs and where the facts will prove my innocence. Until then, I will do what the people of Missouri sent me here to do: to serve them and work hard on their behalf."
Senate President Pro Tem Ron Richard said that after speaking with Hawley, "I believe the governor has no other respectable option than to resign from office."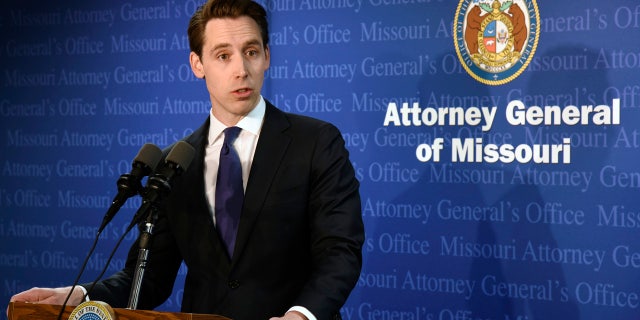 House Speaker Todd Richardson and two other House Republican leaders said "we believe the governor needs to take responsibility for his actions."
"In our view, the time has come for the governor to resign," they said.
Greitens, who was elected governor in 2016, is accused of taking and transmitting a nonconsensual photo of a partially nude woman with whom he had an affair in 2015. A separate House investigatory panel released a report last week containing testimony from the woman alleging that Greitens restrained, slapped, grabbed, shoved and threatened her during a series of sexual encounters that at times left her crying and afraid.
The case is scheduled to go to trial on May 14.
Greitens' legal troubles deepened Tuesday afternoon when Hawley told reporters that an investigation by his office shows that Greitens took computer data listing the top donors to The Mission Continues without the consent of the St. Louis-based veterans' charity he had founded and used it to raise money for his gubernatorial campaign.
"Within the past several days, we have obtained evidence of potential criminal violations," Hawley said. "These potentially criminal acts were committed by Governor Eric Greitens."
Hawley said he referred the matter to St. Louis Circuit Attorney Kim Gardner, who has jurisdiction to decide whether to charge Greitens with a crime -- and whose office is prosecuting Greitens in the invasion-of-privacy case. Hawley also referred his findings to the special House committee, which is considering whether to recommend impeachment proceedings to try to remove Greitens from office.
Greitens accused Hawley -- a Republican running for the U.S. Senate against Democratic incumbent Claire McCaskill -- of being "better at press conferences than the law."
"Anyone who has set foot in a Missouri courtroom knows these allegations are ridiculous," Greitens went on. "Josh has turned the 'evidence' he claims to have over to St. Louis Circuit Attorney Kim Gardner— a liberal prosecutor funded by George Soros who allegedly suborned perjury, falsified documents, and withheld evidence. We will dispense with these false allegations."
A spokeswoman for Gardner said St. Louis prosecutors met with officials from the attorney general's office Monday and are "reviewing the evidence" related to The Mission Continues donor list.
Hawley indicated that the legal deadline is fast approaching to charge Greitens with a crime of tampering with computer data. He said Greitens could be charged with a felony because the donor list produced a gain to Greitens' campaign of more than $500.
Federal law bars 501(c)(3) charities such as The Mission Continues from intervening in political campaigns on behalf of candidates. The Internal Revenue Service has ruled charities cannot give donor lists to politicians but can rent them at fair market value if made available to all candidates.
Mission Continues spokeswoman Laura L'Esperance said Tuesday that Greitens had access to the donor list as CEO but did not have permission to later use it for his campaign.
"The Mission Continues did not authorize the use of any donor information for political purposes, nor did we promote Governor Greitens for political office," she said.
The Associated Press first reported in October 2016 that Greitens' campaign had obtained a Mission Continues spreadsheet showing the names, email addresses and phone numbers of donors who had given least $1,000. The spreadsheet properties show it was created by a Mission Continues employee in 2014, shortly before Greitens stepped down as CEO, and had last been saved in March 2015 by Michael Hafner, who had been working for Greitens' gubernatorial exploratory committee. The AP reported that Greitens had raised nearly $2 million from donors who previously gave significant amounts to The Mission Continues.
In October 2016, Greitens initially denied using the list for his campaign. But in April 2017, he agreed to pay a small fine to the Missouri Ethics Commission for failing to report that his gubernatorial campaign had, in fact, received the charity's donor list. Greitens campaign filed amended finance reports valuing the list as a $600 in-kind contribution received March 1, 2015, from Danny Laub, who was listed as Greitens' campaign manager at the time.
The St. Louis Post-Dispatch reported in February 2018 that it had obtained a copy of an email indicating that a Greitens employee had shared The Mission Continues donor list with Hafner and Laub in January 2015.
The Associated Press contributed to this report.