Migrant children held in 'tender age' shelters after being separated from parents : report
At least three "tender age" facilities in South Texas are holding babies and young children that have been separated from parents under the federal government's "zero-tolerance" policy at the southern border, a report said.
The Associated Press reported that hundreds of "preschool-age children in crisis" are being housed at the sites in Combes, Raymondville and Brownsville, Texas, with the government planning a fourth shelter in Houston.
"The thought that they are going to be putting such little kids in an institutional setting? I mean it is hard for me to even wrap my mind around it," Kay Bellor, vice president for programs at Lutheran Immigration and Refugee Service, told the AP. "Toddlers are being detained."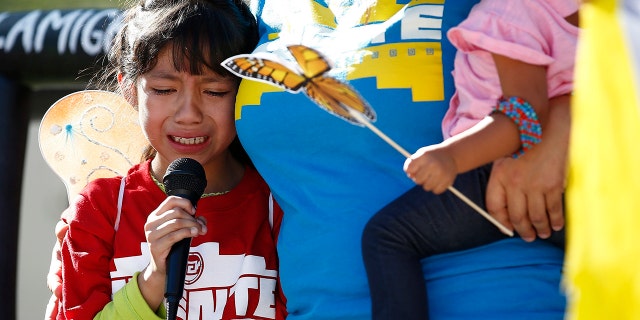 While doctors and lawyers who have visited the shelters described them as clean and safe, they said the kids were acting out from the stress of not knowing where their parents were.
"The shelters aren't the problem, it's taking kids from their parents that's the problem," said South Texas pediatrician Marsha Griffin, who has visited some facilities.
The "zero-tolerance" policy has overwhelmed the federal government with caring for the new influx of children, who are often much younger than the teen immigrants who have typically been traveling alone to the U.S.
"The shelters aren't the problem, it's taking kids from their parents that's the problem."
After Attorney General Jeff Sessions announced the policy, nearly 2,000 children were separated from their families during a six-week period in April and May, many of them of a "tender age." A Department of Health and Human Services official told the AP that "tender age" children are defined as being under 13-years-old.
The Office of Refugee Resettlement said it was seeking applicants who can provide services for a diverse population "of all ages and genders, as well as pregnant and parenting teens" as they search for more caregivers for the influx of children from Central America.
But providing the children with qualified caretakers won't be the solution to immigration many are looking for, with top Republicans having said there had been progress on a legislative solution to the separation of illegal immigrant children from their parents at the border.
A dozen Republican senators said in a letter addressed to Sessions that separating families isn't consistent with American values and ordinary human decency.
Sen. Ted Cruz, R-Texas, is expected to introduce the "Protect Kids and Parents Act" which will mandate that immigrant families remain together unless there's a criminal record or a threat to the children, the Austin American Statesman reported.
Senate Majority Whip John Cornyn, R-Texas, also told Fox News that a solution could be coming in a "matter of days."
Fox News' Gregg Re and the Associated Press contributed to this report.