Midterm election strategy: "Do it Like McCain"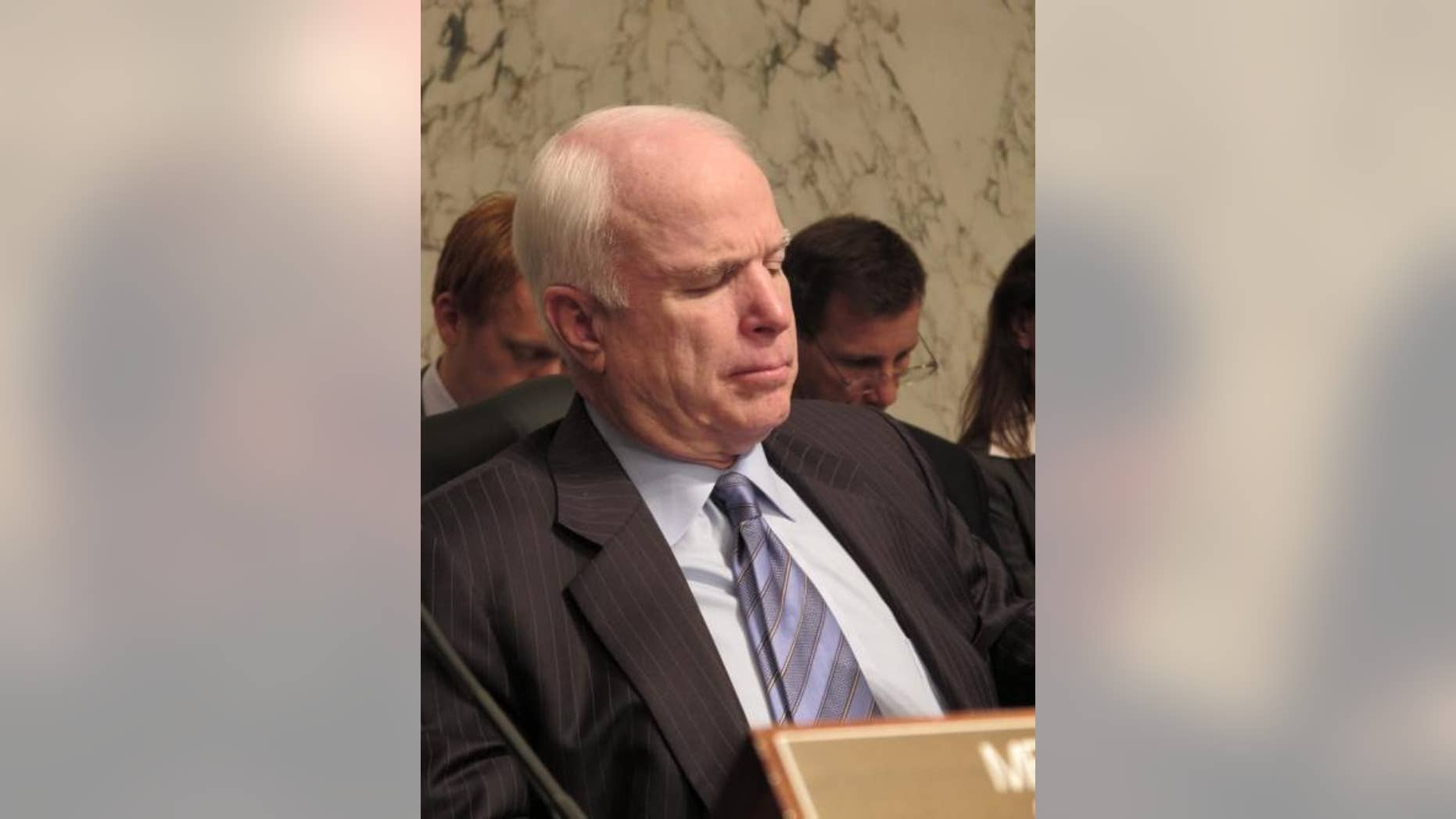 Establishment Republicans, political experts, and historians alike, will no doubt be picking over and arguing about the 2010 GOP primary results for years to come, to figure out just what happened, particularly after seven of the Washington leadership's own Senate picks went down to defeat at the hands of more conservative candidates, this as Delaware Republicans head to the polls Tuesday to make a similar choice.
But one theme appears to be emerging: they should have "done it like McCain."
Sen. John McCain, R-Ariz., that is.
There is no question, McCain is a perennial target for some Republicans in his home state (and beyond), so he is no stranger to conflict. And there is also no question that his GOP primary opponent, former Congressman J.D. Hayworth, who McCain beat last month, had his own set of baggage heading into the race. But this time around, a number of Senate Republican aides and political experts agree, McCain's strategy for dealing with the opposition was spot on.
McCain's approach: hit 'em early, hit 'em hard, and hit 'em often. "You define your opponent, before they define you," the senator's spokeswoman, Brooke Buchanan, put it recently.
And "define" is exactly what McCain did, launching radio ads more than a month before Hayworth, a popular conservative radio show host, even announced, hitting the congressman for supporting the infamous "Bridge to Nowhere" in Alaska, a veritable poster child for pork barrel spending that went down to defeat under the crush of media and public scrutiny.
McCain's long time fight against earmarks happened to be the right message at the right time for a ripe audience.
"Instead of allowing J.D. Hayworth to continue to attack McCain on air for free (he had been doing so for more than a year, because of McCain's one-time support for comprehensive immigration reform), we decided to take him on on his own turf and define him early," Buchanan said.
McCain also maintained a veteran political campaign staff, with two of his presidential campaign communications staffers staying on - Buchanan and Brian Rogers. Long time McCain operatives (and friends), Mark Salter, Rick Davis, and Mark Buse ramped up for battle, along with his long time pollster, Bill McInturff. Most campaigns do not have the deck stacked quite this much experience, to say the least.
And in some ways, you could say President Obama helped his former rival win. The raucous town halls of 2008 over Obama's health care reform initiative opened McCain's eyes to the real anger among American voters, according to staff, an anger that gave rise to the very movement that was to surprise so many establishment Republicans.
McCain immediately positioned himself front-and-center among the loyal (health care) opposition, holding townhall meetings in his own state and around the country, making heated Senate floor speeches denouncing the reform effort.
"The only race you can't lose is an unopposed one," says Dr. Larry Sabato, director of UVA's Center for Politics. "Politicians tend to overestimate how much they are loved and how grateful people are for all their years of service. They forget that most voters often won't say to their face what they really think."
Another critical "take-notice" moment was Sen. Scott Brown's upset victory in Massachusetts, a moment that showed the Tea Party movement's real power, as well as, the anti-Democratic, and some say anti-establishment, fervor that was taking hold in the heartland.
Then there was the surging candidacy of Tea Party candidate Rand Paul in Kentucky, over Trey Grayson, the favorite of Senate Republican Leader Mitch McConnell, R-Ky.
All of that together spelled trouble to anyone who had spent decades in Washington, something that did not seem to occur to Sen. Lisa Murkowski in Alaska where Tea Party candidate Joe Miller walked away with the GOP nomination in late August.
"McCain has received a great deal of criticism in the press for abandoning his 'maverick' status, but if he hadn't, he might well be finishing out his final days in D.C. instead of preparing for another six-year term," Sabato said.
"I think if Lisa Murkowski put any kind of effort forward, she would have won," said Scott Rasmussen, founder and president of Rasmussen Reports, a polling firm whose own polls early in the cycle showed the incumbent in danger.
Sen. Robert Bennett, R-Utah, likewise did not take the "hit 'em early" approach and was ousted in his state's unusual primary system where the winner is chosen by a convention. "McCain had the 'I feel your pain' approach. Bennett did not, opting to stick to his positive message, rather than feeling the anger," said one senior Republican strategist.
This is not to say that outside forces cannot sway a race, particularly a major force like an endorsement from former Alaska Gov. Sarah Palin, a Fox contributor, so for this reason, Rasmussen cautions that the McCain strategy "can be overstated." But, Rasmussen added, "(McCain) treated it very seriously on all fronts, spent a lot of money, and defined his opponent well. That certainly was key."
Murkowski, for her part, did try to reach out and help a fellow Republican with advice that she, herself, had not taken. Fox's Carl Cameron reports that the incumbent senator, now considering a possible write-in candidacy to save her job, warned Rep. Mike Castle, R-Del., three days before her defeat that he should watch out.
And Castle seems to have taken that caution to heart, although whether or not it will be in time remains to be seen.
Shortly after Murkowski's defeat, Castle pounced on his Tea Party Express-backed opponent, Christine O'Donnell, with radio ads labeling her "a financial nightmare," for her well-documented problems with money in her own life. It was a strategy not without risk in this blue state and from a popular, normally-positive, amiable politician.
Castle manager Mike Quaranta told AP at the time that his team was expecting the Tea Party Express involvement. "We have planned for that action, and we have a campaign plan, and we're just going to continue to work it."
O'Donnell, however, has spun that "nightmare" into something of a campaign slogan and badge of honor, saying Castle just doesn't get what ordinary Americans, like her, are going through in this rough economy (back to that "feel your pain" strategy -- something Tea Party candidates have done well this year).
The Delaware race is seen by many in Washington as crucial to Senate Republicans' path to the majority, with the prevailing opinion that Castle would win against the Democrat, Chris Coons, while O'Donnell would lose. Again, that is an assumption that could be upended by this topsy-turvy, down-is-up election year.
Regardless, if Castle does lose, you can bet Republicans will say he did not "do it like McCain" early enough.
"If Castle loses, he obviously missed opportunities to knock O'Donnell out earlier in the race. It's possible he and the GOP leadership awakened just in time, but...we'll see," said Sabato.
As for McCain, he's still charging ahead, even though he is more than the odds-on favorite against his Democratic opponent, ex-Tucson Vice Mayor Rodney Glassman.  Any incumbent can easily be sent packing in this kind of election environment, even McCain.
"We continue to take it very seriously now, even though we're up 30 points. It's a matter of taking nothing for granted," Buchanan said, a message that many Republicans are likely to take to heart.