Michelle Obama says Lean In is 's---' that doesn't work during book tour stop in New York
Speaking Saturday night at the 19,000-seat Barclays Center in Brooklyn as part of her promotional book tour, former first lady Michelle Obama shocked attendees by comparing a prominent piece of feminist self-help advice to "s---" that often "doesn't work."
Obama told the sold-out crowd that women can't experience equality in both their professional and personal lives "at the same time," calling the idea a "lie" and arguing that "marriage still ain't equal, y'all."
Then, in an unguarded moment that sent the crowd and social media ablaze, she added: "And it's not always enough to lean in, because that s--- doesn't work all the time."
Obama, seemingly flustered, quickly remarked, "I forgot where I was for a moment" as attendees laughed and applauded.
"I thought we were at home, y'all," she added. "I was gettin' real comfortable up in here. Alright, I'm back now. Sometimes that stuff doesn't work."
Facebook chief operating officer Sheryl Sandberg popularized the "lean in" concept with her 2013 book, "Lean In: Women, Work and the Will to Lead," which argues that women should take assertive action to overcome workplace inequities and obtain leadership roles. Critics have charged that the book downplays sexism and places blame on women. Sandberg also founded the website Leanin.org.
MICHELLE OBAMA LUNCHTIME VISIT SURPRISES NEW YORK GIRLS
The rest of the event, which featured poet Elizabeth Alexander discussing both current events and personal topics on-stage with Obama, proceeded without incident. Obama memorialized President George H.W. Bush, who died on Friday, and told Alexander that "marriage is hard work."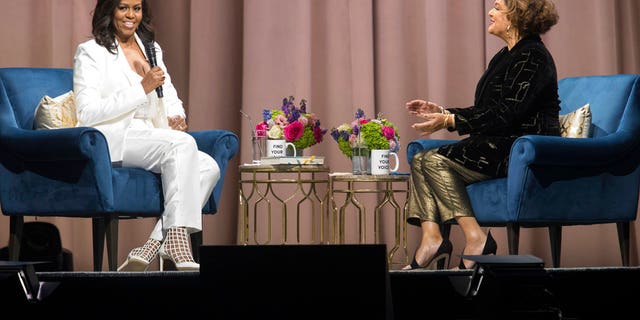 Concluding the event, Obama told an anecdote about a visit by children to the White House, when one child hugged the president and said he had saved her life by being caring.
"That's why Barack and I are careful about what we say," the former first lady said. "Except when we are in an arena full of people."
Liberal commentator Touré, writing on Twitter, called Obama's unusual slip-up a "cute moment" and said the moment had "overshadowed" her other remarks because society has a "fetish" for "civility over all else."
Ten percent of proceeds from tickets at the Saturday night event — priced at $129 to $500 — are going to New York community groups.
Obama's "Becoming," which came out Nov. 13, is selling at a pace rarely seen for a political memoir, or any nonfiction book. Combined hardcover, e-book and audio sales in the U.S. and Canada topped 2 million copies in the first 15 days, Crown Publishing announced Friday.
By comparison, former first lady Hillary Clinton's memoir "Living History" needed a month to sell 1 million copies. Former President George W. Bush's "Decision Points" took several weeks to reach 2 million. Former President Bill Clinton's "My Life" quickly sold 1 million copies but took far longer to hit 2 million.
Obama wrote in her memoir that she assumed Trump was "grandstanding" when he announced his presidential run in 2015. She expresses disbelief over how so many women would choose a "misogynist" over Hillary Clinton, "an exceptionally qualified female candidate." She remembers how her body "buzzed with fury" after seeing the infamous "Access Hollywood" tape in the weeks prior to Election Day.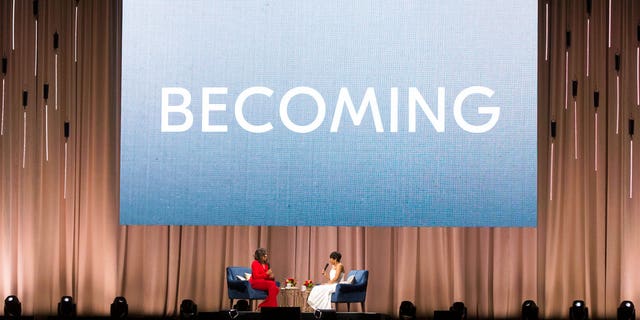 She also accuses Trump of using body language to "stalk" Clinton during an election debate. She writes of Trump following Clinton around the stage, standing nearby and "trying to diminish her presence."
Trump's message, according to Obama, in words which appear in the book in darkened print: "I can hurt you and get away with it."
Interest in the sold-out Barclays evening was so great that Obama is set to return there on Dec. 19 for a discussion moderated by actress Sarah Jessica Parker. Former first lady Hillary Clinton and husband Bill Clinton are also in the midst of a book tour -- although early events have reportedly featured large swaths of empty seats going for as little as $15.
ANALYSIS: ARE BILL AND HILLARY CLINTON FINALLY RUNNING OUT OF BATTERIES?
Sandberg, once a progressive hero, has faced calls to resign from left-wing groups in recent weeks after a New York Times report that Facebook had paid a public relations firm to investigate liberal billionaire George Soros, on the heels of his major speech trashing the social media giant as a "menace" to society at the World Economic Forum in Davos, Switzerland.
Facebook has said it was looking into whether Soros was planning to short the company's stock. Soros has owned shares of Facebook this year through his investment fund, according to publicly available documents filed with the Securities and Exchange Commission. The hedge-fund billionaire has also given money to one of the ten organizations that support Freedom from Facebook, an activist group that wants to see the company broken up by spinning off its various business units.
Fox News' James Rogers and The Associated Press contributed to this report.