Michelle Obama apparently mixes up Colorado Senate candidates at campaign event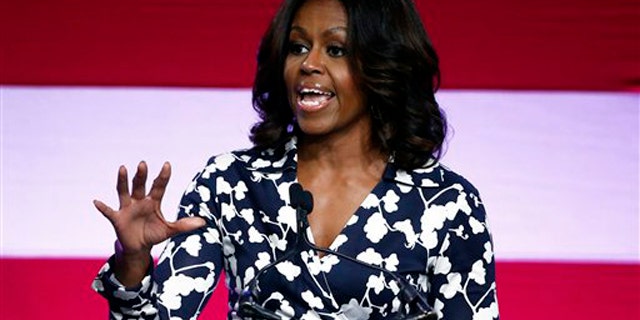 Michelle Obama made yet another flub on the campaign trail Thursday when she apparently confused Colorado Democratic Sen. Mark Udall with his Republican rival.
Obama spoke in Denver Thursday as part of a campaign event for Udall, who is engaged in a heated battle with his Republican opponent, Rep. Cory Gardner.
She touted Udall's Senate record in her speech, and called him a "fifth-generation Coloradan."
"Mark understands what makes this state special," she said.
The only problem? Udall is not a fifth-generation Coloradan. In fact, he was born in Arizona and his father, former Rep. Mo Udall, served as a congressman from that state for decades.
It is Gardner who is a fifth-generation Colorado resident, a fact he touts frequently on the campaign trail. His website states he has "family roots dating back to 1886" in the state.
The incident followed another gaffe earlier this month by the first lady and the White House as they campaigned for Democratic Senate candidates.
While campaigning for Iowa Democratic Rep. Bruce Braley, who is in a tight Senate race against Republican Joni Ernst, the first lady repeatedly botched the candidate's name, calling him "Bruce Bailey."
At her second campaign stop for him, she got it right. But then the White House made another mistake in the transcript of the event. The transcript identified Braley as the Democratic candidate for governor instead of the candidate for Senate.
In wake of the incidents, one senior Senate Democratic aide was quoted telling the National Journal that "the ineptitude of the White House political operation has sunk from annoying to embarrassing."
However, White House Press Secretary Josh Earnest on Wednesday defended the administration's support of fellow Democrats.
"I think the fact that the first lady was campaigning in Iowa yesterday in support of Congressmen Braley's campaign, and that the vice president is headed there next week says all you need to know about the White House's commitment to the success of Democrats like Mr. Braley," Earnest said.