Mexico To Buy $680 Million In Black Hawk Helicopters From U.S. To Combat Drug Trafficking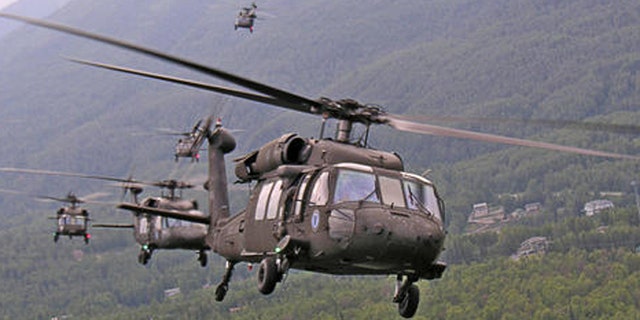 The Obama administration notified Congress that it approved the possible sale of 18 UH-60M Black Hawk helicopters, equipment and logistical support to Mexico for $680 million, the Defense Security Cooperation Agency, or DSCA, said.
The State Department approved the foreign military sale, which was requested by Mexico, and notified Congress last Thursday of its plans, the DSCA said in a statement.
Lawmakers have 30 days, as of April 17, to express objections or else the sale will be final.
"This proposed sale will contribute to the foreign policy and national security of the United States by helping to improve the security of a strategic partner. Mexico has been a strong partner in combating organized crime and drug trafficking organizations," the DSCA said.
The sale covers 18 UH-60M Black Hawks, 40 T700-GE-701D engines, navigation systems, 36 M134 7.62 mm machine guns and other gear.
"Mexico intends to use these defense articles and services to modernize its armed forces and expand its existing army architecture in its efforts to combat drug trafficking organizations," the DSCA said.
According to Defense News, Mexico purchased three UH-60Ms in 2011, but the large number of helicopters involved in this purchase will bolster Mexico's "capability to provide in-country airlift support for its forces engaged in counter-drug operations," the DSCA said.
The contractors involved in the deal are Sikorsky Aircraft Company in Stratford, Connecticut, and General Electric Aircraft Company, or GEAC, in Lynn, Massachusetts.
The announcement appeared to be timed to coincide to Defense Secretary Chuck Hagel's trip to Mexico and Guatemala later this week.
Based on reporting by EFE.
Follow us on twitter.com/foxnewslatino
Like us at facebook.com/foxnewslatino