Mexican President Proposes Sweeping Changes To Social Programs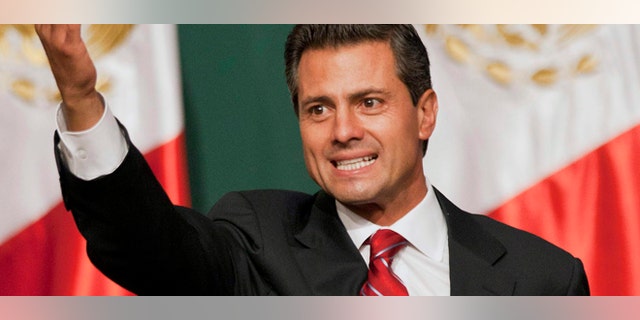 Mexico President Enrique Peña Nieto surprised his nation when he went far beyond proposing an expected tax system overhaul to unveil plans for sweeping changes to the nation's social programs.
Peña Nieto on Sunday unveiled a plan for the country's first nationwide pensions and unemployment insurance to be financed in part by cutting tax loopholes for big business.
Peña Nieto's proposal had originally been billed as solely an overhaul of the tax system, and it would cut most of the industry-specific tax loopholes written into Mexico's tax codes over decades.
But in his announcement, Peña Nieto went much further. He proposed the country's first carbon tax on fossil fuels used by industry, a levy often touted as a way to combat climate change. He also called for a tax on soft drinks, which he said is needed to combat Mexico's high rate of obesity.
"The tax reform is a social reform," Peña Nieto said in a speech at the presidential residence announcing the plan.
He said he would allow slight deficit spending in 2013, and a 1.5 percent-of-GDP deficit in 2014, to spur the flagging economy, offer incentives to lure the 60 percent of Mexicans who work in the "informal" sector into tax compliance, and create a stabilization fund to save excess tax revenues from boom years for use during lean times.
Some Mexican local governments, and particularly Mexico City, have experimented with small supplementary payments to the unemployed and people older than 70, but the country as a whole has not had unemployment insurance and it now has a patchwork of pension plans. A privately managed individual retirement system instituted in the 1990s includes only a minority of workers, most of whom have built up only very small balances in their accounts.
Peña Nieto did not provide specifics of the social program plans or tax changes, but said that "those who have more income will pay more." The proposal includes a slight income tax increase for top wage brackets.
He proposed to institute taxes on capital gains and dividends, but in a move sure to please smaller businesses, he also pledged to abolish the unpopular alternative minimum corporate tax as well as a tax on cash deposits at banks.
The proposals must be approved by both houses of congress and a majority of state legislatures because they involve constitutional changes.
Seeking to spur specific industries, Mexico over the decades has granted special tax deferments, depreciation allowances, tax consolidation and other benefits to companies.
"Those privileges that have no reason to exist will end," Peña Nieto said, while predicting his plan would boost the government's tax revenues by 1.4 percent of GDP in 2014 and 3 percent by 2018.
Mexico's long-coddled big business sector appeared to bear the brunt of many of the changes. But industry isn't likely to get much sympathy in a country with enormous income disparity — Mexico is home to the world's richest man, telecom magnate Carlos Slim, while nearly half the population lives in poverty.
"I think there are very positive things, especially on the social program side, but what we see in the (proposal) to increase tax revenues by 1.4 percent, well, that will basically be paid for by the private sector," Gerardo Gutierrez, president of Mexico's Business Coordinating Council, told local media.
Few had expected the president, whose centrist Institutional Revolutionary Party is known for its close ties to business, to go so far.
Indeed, some had expected him to push the widely unpopular idea of extending the sales tax to food and medicines. He said he didn't adopt that approach because it would hurt the poorest Mexicans. But he said he would follow through with periodic increases in gasoline prices, which is aimed at phasing out fuel subsidies in Mexico.
The changes are part of a series of ambitious reforms that Peña Nieto hopes to push through in his first year in office.
Some, like educational reforms that introduce teacher evaluations, have sailed through congress, but others face an uphill fight.
Earlier in the day, thousands of people rallied in Mexico City to oppose Peña Nieto's plan to open the state-owned oil sector to profit-sharing contracts with private firms.
Leftist leader Andres Manuel Lopez Obrador told the rally that the proposal constitutes "treason" and "a filthy, shameless robbery." He vowed to block attempts for greater private sector involvement with "peaceful civic mobilization" and called for more protests later this month.
"This is an act of treason equal to or greater than that of Antonio Lopez de Santa Anna," he said, referring to the 19th century Mexican president blamed for losing half the nation's territory to the United States by the end of the 1846-48 Mexican-American War.
Peña Nieto proposed the energy overhaul in August, saying state-owned oil monopoly Pemex has to offset falling production by exploiting shale gas and deep-water reserves and it needs foreign know-how and investment to do that.
Mexico expropriated foreign companies and nationalized its oil industry in 1938, and that move has been a popular symbol of national sovereignty ever since. Polls say a solid majority of Mexicans still oppose private or foreign investment in the industry even though oil production is down and easy-to-reach, shallow-water reserves are declining.
"They want to take away our natural resources, which is all that we have left," Maria Elena Chavez, a 58-year-old protester, said as she handed out copies of Mexico's constitution while wearing a white Pemex hard hat painted with the slogan "Pemex isn't for sale."
Like the tax changes, the oil reform requires changing the constitution.
Peña Nieto's Institutional Revolutionary Party and the conservative National Action Party have enough votes combined to secure the two-thirds majority needed in the Senate to pass the plan. They could do the same with the support of a small, allied party in the Chamber of Deputies. The plan would then have to be approved by at least 17 of the country's 32 state legislatures.
Based on reporting by The Associated Press.
Follow us on twitter.com/foxnewslatino
Like us at facebook.com/foxnewslatino