Melania Trump's 'I really don't care' jacket causes stir on border visit
First lady Melania Trump's visit to a Texas facility housing migrant children separated from their parents threatened to be overshadowed Thursday by a jacket she wore bearing the words: "I really don't care, do u?"
The first lady was pictured wearing the jacket as she boarded a flight to the border at Andrews Air Force Base in Maryland. She wore the same jacket when she departed the aircraft after returning to the D.C. area Thursday evening.
The Daily Mail reported that the army green anorak-style jacket came from Spain-based retailer Zara and could be bought for $39. It was not available online as of Thursday afternoon.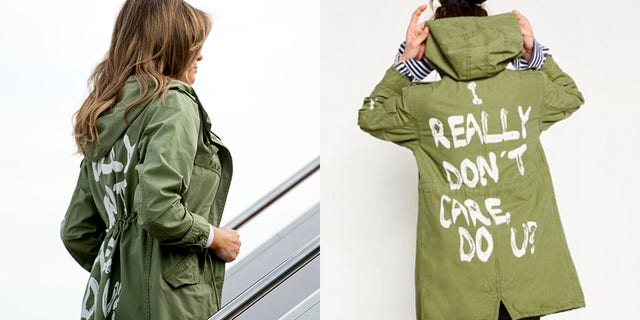 The first lady wore a different pale yellow jacket when the plane landed in McAllen, Texas, for a visit to the Upbring New Hope Children's Center, which houses 55 migrant children.
FLASHBACK: FIRST LADY'S OFFICE CALLS FOCUS ON HIGH HEELS 'SAD'
When contacted for comment, spokeswoman Stephanie Grisham said in an email: "It's a jacket. There was no hidden message. After today's important visit to Texas, I hope the media isn't going to choose to focus on her wardrobe. (Much like her high heels last year)."
Grisham was referencing Melania Trump's decision to wear stiletto heels this past August when she and her husband traveled to Houston in the aftermath of Hurricane Harvey. Her footwear prompted mockery on social media, though she changed into sneakers before she left Air Force One.
Later Thursday afternoon, Grisham tweeted: Today's visit w the children in Texas impacted [the first lady] greatly. If media would spend their time & energy on her actions & efforts to help kids - rather than speculate & focus on her wardrobe - we could get so much accomplished on behalf of children." Grisham added the hashtags "#SheCares" and "#ItsJustAJacket".
However, the president appeared to contradict Grisham later Thursday, tweeting that the jacket "refers to the Fake News Media."
"Melania has learned how dishonest they are, and she truly no longer cares!" Donald Trump said.
In previous public appearances, the first lady has worn designs by Dolce & Gabbana, Del Pozo, Christian Dior, Emilio Pucci, Givenchy and Valentino, often with daringly high Christian Louboutin heels.
Fox News' Jennifer Bowman, Alexandra Deabler and The Associated Press contributed to this report.