Marco Rubio fires back at the New York Times over article criticizing his finances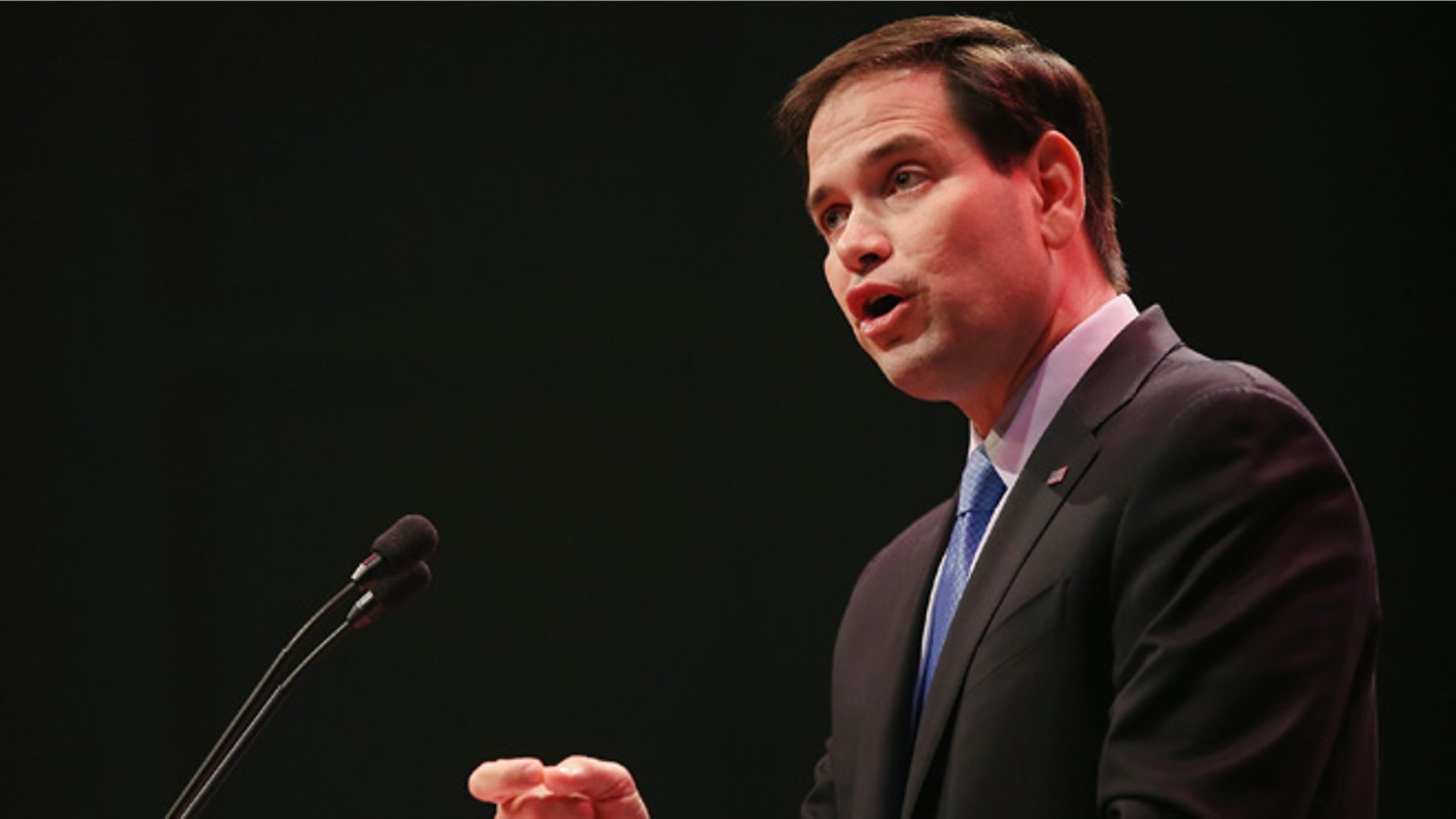 Marco Rubio has fired back at the New York Times after the newspaper ran a story focusing on the Republican presidential candidate's purported financial struggles and his family's traffic offenses.
"The New York Times today attacked Marco because he could not afford to pay for college, arrogantly describing his student loan debt as 'a deep financial hole of his own making,'" said Rubio Communications Director Alex Conant in an email.
"The attack from the Times is just the latest in their continued hits against Marco and his family," he added.
The New York Times also described an "extravagant... luxury speed boat" that Rubio had purchased with an $800,000 advance in 2012 for his memoirs, but Conant refutes that description of the vessel.
"That is not accurate. It's a family fishing boat," the spokesman said.
The New York Times piece, which cites a review of the Florida Senator's financial records and sources close to him, claims that Rubio bought the $80,000, 24-foot speedboat and $50,000 Audi Q7 while struggling to pay off a student loan debt and second mortgage.
Along with the article, the paper also posted a photo of Rubio's home in West Miami with the caption,"The Rubios live in a home in West Miami that is one of the more expensive ones in the area." However, the residence is modest by South Florida standards.
"I know these attacks are part of running for president, but the fact remains that we can't rely on the media to tell our campaign's story," Rubio said in a statement sent supporters.
The article also indicated that doubts about Rubio's financial choices prompted former presidential candidate Mitt Romney to flag him during the vetting process for vice president.
"Marco Rubio was thoroughly vetted for vice president. Our team was confident that, if chosen, his legislative record and high personal character would have been a great asset to Mitt on the campaign trail and in office," Matt Rhoades, Romney's 2012 campaign manager, told Fox News Latino. "I asked the vetting team if there was anything in Marco's past that would disqualify him as vice presidential candidate – including his finances – and they said there was not. "
The New York Times piece is only the latest in a series of recent articles that call into question Rubio's financial management. Last week the politician finally sold the Tallahassee home that he co-owned with scandal-plagued former Florida Congressman David Rivera. The three-bedroom house had foreclosure proceedings initiated on it in 2010 by the bank that held the mortgage.
He also recently consolidated the debt on his primary residence in West Miami, Florida. The original mortgage required only payments of interest on the principal in its first decade. Rubio has only paid off about 4 percent of overall principal since buying the house.
At end of last year, Rubio was worth no more than $355,000, according to an analysis of his personal financial disclosures records filed with the Senate. That does not include any equity he may have in his West Miami home or proceeds expected from his second book, published in December.
In an effort to clear up what it calls a smear campaign by the New York Times, Rubio's campaign released a series of facts about his personal finances. Among other things, the campaign stated that Rubio has a single debt, the mortgage on his home, and that he paid off over $150,000 in student loans from his undergraduate and law degree.
Last week, the Times also published an article that was widely criticized by conservatives and media watchdogs for its report that Rubio, along with his wife, Jeanette, had received 17 moving violations — Rubio only picked up four moving violations in approximately 20 years, which The Miami Herald wrote was a "yawner" in Florida.
"Four tickets in 18 years makes you, if not a model driver, at least a pretty typical one," Miami Herald political journalist Patricia Mazzei wrote.
The Associated Press contributed to this report.