Man-bunned protester turns out to be 'full-time human guinea pig' and aspiring comedian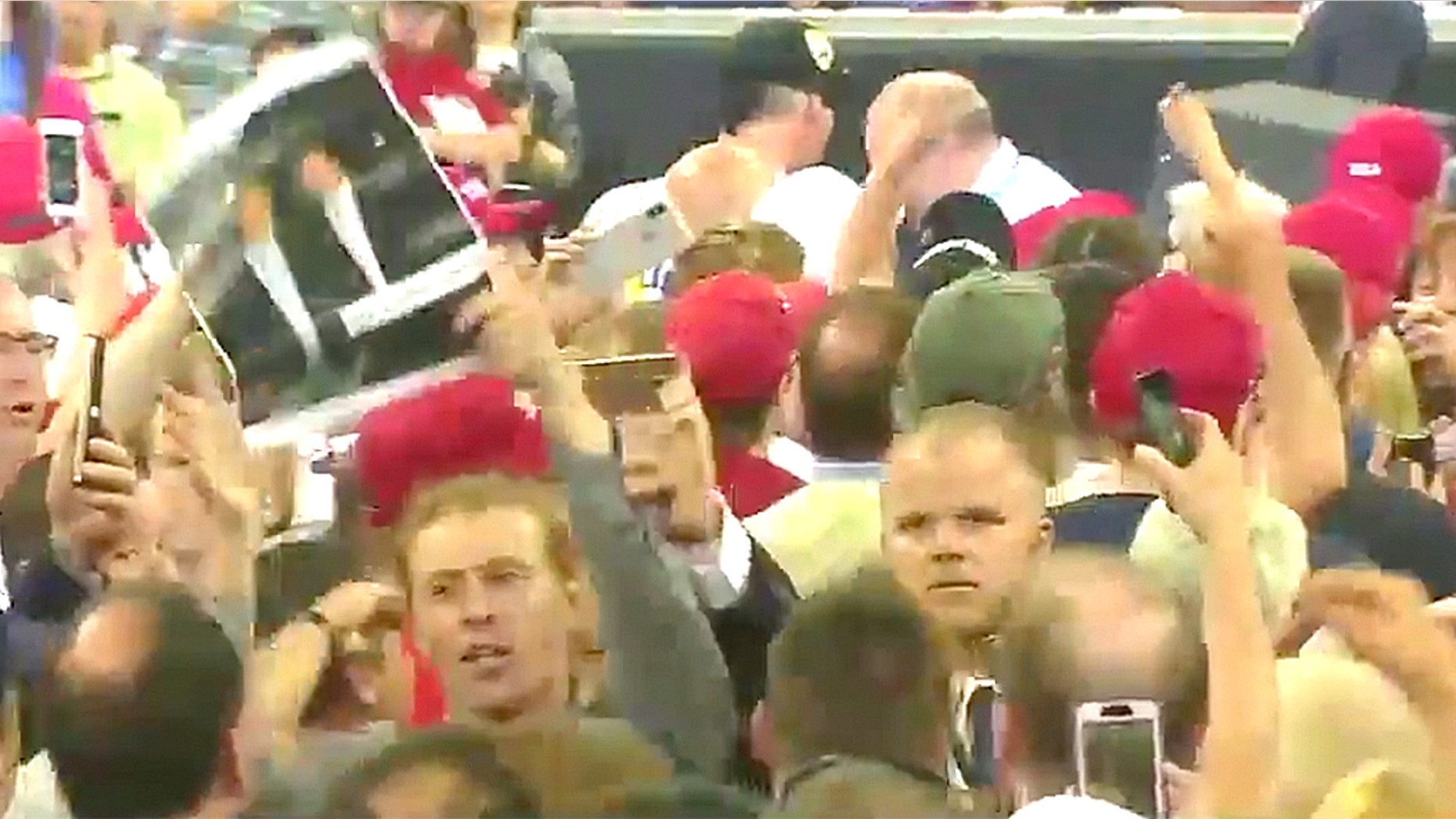 The man-bunned protester who was thrown out of President Trump's Minnesota rally on Wednesday night appears to be an aspiring comedian and self-described "full-time human guinea pig."
Sam Spadino, who was mocked for his man-bun hairdo by Trump, was booted from Duluth's Amsoil Arena by security staffers. This, after he allegedly yelled at Trump and called him a rapist. Spadino was also carrying a large photo of Trump alongside financier and registered sex offender Jeffrey Epstein.
On his Twitter account, Spadino posted, "Trump just asked me if I'm a man or a woman and honestly I don't even know any more," alongside hashtags including #Bernie2020 and #trumpisachildrapist.
Spadino was featured in a 2016 interview with Vice where he talks about being a human lab rat in Phase 1 clinical trials.
"[My first trial was] testing out a new delivery system of fentanyl, a pretty hardcore painkiller," Spadino told Vice. "I also did a study that was with synthetic THC, and I got a little high off of that."
Spadino's Twitter account features a photo of him along with pornographic actress Stormy Daniels – who is suing Trump and his former attorney Michael Cohen to dissolve a confidentiality agreement that prevents her from discussing a purported sexual relationship with Trump in 2006.
A search for Spadino's name on the internet also brings up a number of strange stand-up comedy routines and a fake game show that he hosts, where the winner gets a baby.
Spadino's interruption of Trump came only hours after the president signed an executive order stopping the controversial practice of separating children from parents who ca=ome to this country illegally. Trump and his supporters were met with numerous protests during his brief visit to Minnesota.
More than 1,000 people marched past the arena on Wednesday, drawing taunts and middle fingers from some Trump supporters. Following the speech, two protesters were handcuffed after they refused to stop yelling at and crowding a supporter of the president outside the arena.
The two were cited and released – one for disorderly conduct and the other for obstructing the legal process.
Despite the protests, Duluth police said the day remained relatively civil as thousands of supporters greeted the president in the arena.
"Thousands of people and overwhelming civility was a good day for Duluth," Police Chief Mike Tusken wrote on Facebook.