Maliki Says He Won't Budge on 2011 Troop Pullout, Raising Security Questions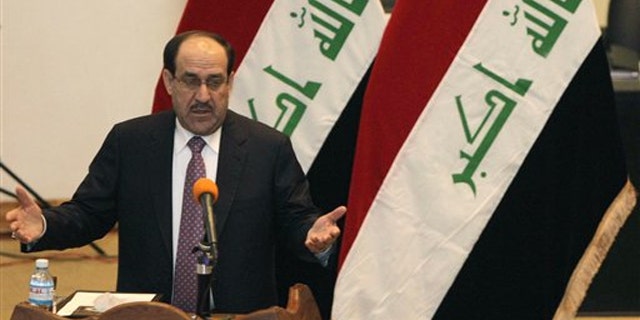 Iraqi Prime Minister Nouri al-Maliki is getting ahead of himself by staking a hardline position on eliminating U.S. troop presence within a year, experts say, because the country's security is still fragile and easily could deteriorate as troops withdrawal.
Maliki, in an interview with The Wall Street Journal, said the so-called Status of Forces Agreement calling for U.S. troops to leave next year is "sealed" and not open to change, meaning U.S. troops will not be allowed in Iraq after 2011 under virtually any circumstance.
"The last American soldier will leave Iraq," he said, expressing confidence that once-troublesome militias were being folded into the political system and dispelling concerns that his country would drift toward Iran. Maliki called the idea of such an alliance with its historical enemy "impossible."
But stability remains elusive with the pullout looming. The Maliki comments were published a day after twin suicide bombings hit a government building in Iraq's western Anbar province. The attack was the second in less than a month on the compound. According to one report, family members of security workers killed in the Dec. 12 attack had just arrived at the building to pick up compensation when the attacker detonated a car bomb by the main gate. A second bomb was detonated after the first attack drew people to the scene. An Iraqi official told Reuters that 17 people were killed, while dozens were reported wounded.
John Bolton, former U.S. ambassador to the United Nations, said Tuesday that even if security deteriorates further, it's doubtful Maliki will reverse course on the U.S. troop presence.
"I think (Maliki's position is) clearly wrong," Bolton said. "But he's in a very strong position because he can say, 'What are you complaining about? All I'm doing is agreeing with President Obama.'"
Bolton predicted that security will in fact deteriorate and in turn harm U.S. interests but said of Maliki, "You can't be more American than the American president."
About 50,000 U.S. troops remain in Iraq. Maliki clarified in his interview that the only way any could stay beyond next year would be if both nations negotiated a new agreement with the backing of Iraq's Parliament -- an unlikely scenario. It took the Iraqis nine months to seat a new government after their March election.
Ben Rhodes, deputy national security adviser for strategic communications, told Fox News on Tuesday that the president has repeatedly talked about his plans to have all U.S. troops out of the country by 2011, "consistent with our existing agreement with the Iraqis."
"We have always planned on that basis," he said.
A senior White House official called Maliki's characterization "exactly right." The official said the United States is "on track" to remove all U.S. forces by the end of 2011 and that any residual presence would require a new agreement.
But while the Obama administration in public upholds the country's commitment to a full troop withdrawal in 2011, top officials have stressed the need for long-term involvement of some kind.
A senior administration official noted that even as the United States removes troops from Iraq, the country will have a substantial military and security presence in the region in Afghanistan, Kuwait and the Persian Gulf to deter a broad range of threats, including Iran.
Vice President Biden, speaking at a Veterans of Foreign Wars convention in August, said the administration was planning a "long-term relationship" with Iraq and would not so much leave in 2011 as begin "the transition."
After Iraq's parliament approved the new government last week, Obama said in a statement that the United States "will continue to strengthen our long-term partnership with Iraq's people and leaders as they build a prosperous and peaceful nation."
Maj. Gen. Bob Scales, a Fox News military analyst, said Maliki's military is still "fragile" and continues to face a substantial threat from insurgents in his country's major cities. He described Maliki's comments as a ploy to win political support at home but said the United States could still leave some semblance of a security presence after 2011.
Bolton said the president's desire to avoid a political challenge from the left will prevent him from stalling on the Iraq withdrawal.