Maine GOP Gov. LePage ends town hall meeting after Democrat flings Vaseline jar at him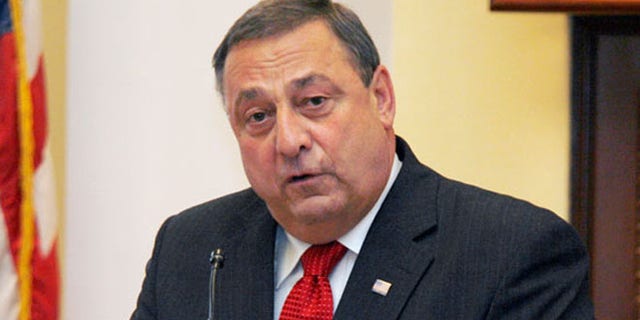 NEWYou can now listen to Fox News articles!
Maine Gov. Paul LePage abruptly ended a recent town hall meeting after a Democratic politician disrupted the event by angrily confronting the Republican governor, then tossing a jar of Vaseline at him.
The incident occurred Thursday when former state legislator and Biddeford Mayor Joanne Twomey shouted a question and strode toward LePage who was trying to explain his budget proposal.
Twomey complained that the budget will hurt low-income residents, then flipped the Vaseline at the stage on which the governor was standing before being escorted out by security.
The Vaseline is in reference to a crude remark LePage made in 2013 about a state lawmaker, who LePage said "claims to be for the people but he's the first one to give it to the people without providing Vaseline."
"What he's about to do to this state, you have to be out of order," Twomey said afterward, defending her actions. "You cannot live with those policies."
Still, some residents were upset that her outburst ended the meeting.
"I'm very frustrated," resident Chris Johnson told CBS 13. "I've been trying for several weeks to understand the governor's budget."
The governor said Friday that Twomey, like all Americans, has the right of free speech.
LePage, elected last year to a second term, also said he's "not going to back down" from his plan to push a ballot initiative to eliminate the state's income tax. He is expected to hold additional town hall events.
The Associated Press contributed to this story.