Luke Messer campaign slams report Senate hopeful hid DUIs before replacing rep killed by drunk driver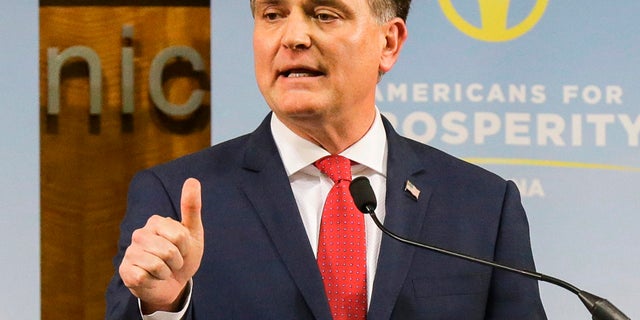 Rep. Luke Messer's Senate campaign is pushing back against a report that he attempted to hide his multiple DUI charges when he first ran for public office in a successful bid to replace a state lawmaker who had been killed by a drunk driver.
According to the Indianapolis Star, Messer, a Republican who is now running for U.S. Senate in Indiana, didn't disclose his two drunk driving convictions — to local, county or district party leaders — when he first ran for a legislative seat in 2003, replacing a state representative who was killed by a drunk driver.
Messer's first public disclosure of the convictions was in a 2009 news report, the Indianapolis Star reported.
Messer's campaign called the story — which was published less than a month before the primary election — "misleading" and "politically motivated," claiming Messer privately informed some legislatures and party leaders of the charges before he ran for office, just not everyone.
"Luke has acknowledged and apologized for these mistakes which occured more than 23 years ago," Chasen Bullock, Messer's campaign manager, said in an emailed statement to Fox News.
The first drunk driving conviction was in 1990 when Messer was still in college, Messer's campaign confirmed to Fox News; the second was in 1995 when he was 26 years old and working for a law firm.
"The question here is, should he have disclosed this information to the people making that decision, and then of course, it's pure speculation as to what kind of impact that would have had on the race," Tony Cook, an Indianapolis Star reporter who co-wrote the report, told WXIN-TV. "But certainly some folks we talked with said he probably wouldn't have been a candidate if that information had been known at the time."
Messer's campaign blamed Rep. Todd Rokita, a Republican gunning for the same Senate seat, for the story, saying it is a "last minute dirty trick from Rokita's failing campaign."
Messer, 49, is in a contentious three-way battle for the Republican nomination with Rokita and former state Rep. Mike Braun. The general election is considered a toss-up: whoever wins the Republican primary on May 8 will go on to face Sen. Joe Donnelly, the Democratic incumbent who assumed the office in 2013.
Nathan Brand, a spokesman for Rokita, told Fox News the Indianapolis Star report should make voters ask: "If Luke Messer failed to disclose two DUIs when he replaced a State Rep who was killed by a drunk driver … what is he failing to disclose to voters now that he is running for the US Senate?"
"Voters deserve the truth, and Messer has gone to great lengths to mislead on the important issues in this race," he added.
Messer's campaign told Fox News the family of state Rep. Roland Stine, who was killed in April 2003, was aware of Messer's past and had even "encouraged him to pursue public office." But the Indianapolis Star said the late state lawmaker's wife and daughter could not recall if he told them before or after he was elected.
Stine's daughter, Suzanne Meredith, told the newspaper Messer's charges were "disappointing to hear," but everyone makes "mistakes in [their] past."
"We've forgiven and moved on," she said.