Letter with white powder for Trump Jr. calls him 'awful,' says he'll get what he 'deserves'
The written contents of an envelope containing a white powder received Monday by Donald Trump Jr.'s wife said the president's son would get what he "deserves," the NYPD confirmed to Fox News on Tuesday.
"You're an awful person and now you get what you deserve," the threatening note read, according to police.
President Trump's daughter-in-law, Vanessa, opened the letter addressed to her husband around 10 a.m. She was subsequently taken to the hospital as a precaution, along with two others, police said.
DONALD TRUMP JR.'S WIFE TAKEN TO HOSPITAL AFTER OPENING ENVELOPE WITH WHITE POWDER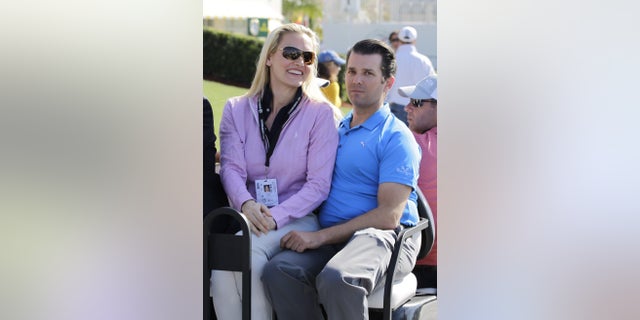 A team of hazmat workers began decontaminating the couple's apartment in New York City and the substance was eventually deemed "non-hazardous" after being tested, officials said.
The "white powder," according to the New York Post, was thought to be cornstarch.
Trump Jr. tweeted Monday about the "scary situation," saying it was "Truly disgusting that certain individuals choose to express their opposing views with such disturbing behavior."
DONALD TRUMP JR., CONWAY TO END SECRET SERVICE PROTECTION
The U.S. Secret Service confirmed in a statement that they, along with authorities in New York, were investigating the incident.
Trump Jr. is the eldest son of the president. He married Vanessa in 2005. The couple has five children, but it was unclear if any were home at the time of the incident.
Fox News' Katherine Lam and Shira Bush contributed to this report.