Legislation prompted by Olympic sports doctor scandal heads to Trump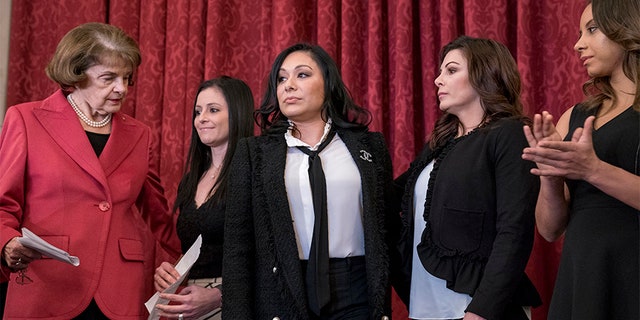 NEWYou can now listen to Fox News articles!
In the wake of sexual abuse claims against U.S. Olympic sports doctor Larry Nassar, lawmakers passed legislation Tuesday requiring amateur sports organizations to report claims of abuse to law enforcement.
The bill was first passed by the Senate in November, but the House made changes to the legislation, requiring the Senate to vote on it again.
The latest version of the bill extends the statute of limitations for victims up to 28 years old or up to 10 years after the discovery of the abuse.
The legislation also requires the governing bodies for amateur athletes to put in place "reasonable procedures" to limit one-on-one interactions between minors and adults, except in emergencies.
The bill passed the House on Monday by a vote of 406-3. It unanimously passed in the Senate the next day.
The bill's main sponsor, Sen. Dianne Feinstein, D-Calif., attributed the success of the bill to "the incredibly courageous women who decided to come forward, share their pain and do all they could to make sure this dark chapter is never repeated."
Sen. John Thune, R-S.D., added that the "horrific sexual abuse and tepid responses from organizations that exist to support the careers of U.S. Olympic athletes are nothing short of a betrayal."
After being found guilty last week of sexually abusing more than 150 women and girls over the last 25 years, a federal judge sentenced Nassar to up to 175 years in prison.
The bill now awaits the President Trump's signature.
Fox News' Chad Pergram and The Associated Press contributed to this report.